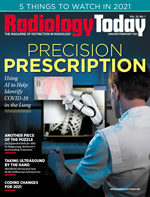 Taking Ultrasound by the Hand
By Keith Loria
Radiology Today
Vol. 22 No. 1 P. 18
Recent trends indicate that handheld ultrasound may be the stethoscope of tomorrow.
In 2020, many clinicians continued to explore novel uses for ultrasound to address a growing list of critical medical needs. Users have looked to manufacturers for improved image quality and updates to the instrument's size and capabilities to solve long-standing challenges, eg, user discomfort and complex workflows, requesting product designs that improve mobility, cleanability, and usability.
Handheld and mobile technologies are seeing new, expanded use, with innovation proving especially useful as clinicians include ultrasound in the triage and treatment of patients suffering from COVID-19. Even before COVID-19, the worldwide point-of-care ultrasound (POCUS) market was forecast to reach $1.5 billion in 2024 and grow at 9.5% annually, according to industry analyst Klein Biomedical Consultants. Handheld ultrasound is forecast to lead the industry's growth. 
Anders Wold, president and CEO of GE Healthcare Ultrasound, notes that the shift towards devices with smaller footprints that can be more easily deployed across a variety of use cases has been underway for the past few years, but their efficiency, flexibility, and safety have made them breakout stars during the COVID-19 pandemic. "Institutions using data, analytics, and connected devices have had greater confidence in their ability to see and understand the availability of critical resources during the pandemic," he says. "Rich stores of data that existed across care environments and the growth in connectivity and proliferation of connected devices represent an enormous opportunity for driving operational efficiency, improving productivity, and contributing to more resilient health care systems globally."
Trendy Pick
John Martin, MD, CMO for Butterfly, says while POCUS began a decade ago in emergency medicine, it has accelerated in 2020. "Physicians are now buying their own devices and incorporating ultrasound into their initial patient assessments routinely," he says. "This is not limited to emergency medicine or critical care; it is spreading across all disciplines. Medical schools are now purchasing them for their students, and graduate medical education programs are incorporating training into their residency programs."
There has also been a rapid advancement of AI tools that can accelerate learning and physician interpretation. "Our Butterfly iQ+ product, launched in 2020, includes this, as clinicians can calculate bladder volume automatically using the AI-based Auto Bladder Volume tool, allowing faster decisions at the bedside," Martin says. "We believe and the data suggest that it will accelerate adoption, improve the efficiency of health care, and improve outcomes at a lower cost."
Laurent Pelissier, CEO of Clarius, says handheld ultrasound is the company's focus and believes tremendous clinical value is being created. "Specifically, in hospitals, where there is increased awareness of infection control, there is a need for ultrasound imaging systems that provide the performance of traditional carts and laptops, but with a smaller footprint, better ease of use, and rapid disinfection," he says. "Clarius wireless scanners are uniquely suited for use in environments where infection control is important."
The company's ultrasound scanners are fully self-contained with no cords, which can contaminate a sterile environment, and are also waterproof and fully immersible for disinfection. They can also be completely encased in sterile bags. "With the proliferation of handheld ultrasound systems, Clarius will continue to focus on physicians who want to invest in premium quality handheld ultrasound," Pelissier says.
Wold says the health care industry has seen expanded use of handheld diagnostic technologies that can be operated in a variety of clinical and nonclinical settings. "Already, we have seen increased demand for smaller, more portable diagnostic devices that can be used directly at a patient's bedside to increase efficiency and reduce risk of spreading COVID-19 infection," he says. "We are also seeing increasing consumer familiarity with and demand for these technologies."
That's why, he says, ultrasound devices that can be used at the point of care—such as GE Healthcare's Vscan Extend, Venue, and Venue Go technologies—have seen unprecedented demand as they offer users efficiency, flexibility, and timely access to diagnostic information that can help them make fast decisions for patients across a variety of care settings.
"In the COVID-19 environment, these tools can help providers manage patients with respiratory conditions, offering cleanability, portability, and powerful AI-enabled auto tools that support lung and cardiovascular ultrasound exams," Wold says.
The latest Clarius App Release was in response to the increased need for bedside cardiac ultrasound. "Our Clarius PA HD is now available for high-resolution cardiac imaging, which offers clear cardiac imaging and fast frame rates comparable to traditional hospital ultrasound systems," Pelissier says. "For procedural settings, such as interventional procedures and regional anesthesia, a tablet on a rolling stand, combined with Clarius scanners, is a powerful solution that provides similar clinical performance to a traditional system, yet is completely wireless and takes up less space."
Sandeep Akkaraju, CEO and founder of Exo, says other big trends for POCUS include the development and integration of AI to make ultrasound faster and easier to use, increase diagnostic performance, and, potentially, lower the cost of care. In addition to these trends, image quality continues to be a key area of advancement for handheld ultrasound systems, and each innovation that improves image quality allows providers to help treat their patients with more confidence.
COVID Imaging
Handheld ultrasound systems have also been utilized effectively with COVID patients. In fact, the American Society of Echocardiography has recently recognized the value and prevalence of POCUS on the front lines of the fight against COVID-19, noting that "the rapid bedside assessment of the heart, chest, and vessels using POCUS has propelled this tool to the front lines of the fight against the COVID-19 pandemic … to obtain real-time information for management decisions."
"Due to the COVID-19 pandemic, the biggest trend we've seen this year is a dramatic increase in the use of handheld ultrasound to triage and monitor patients," Pelissier says. "Those of us on the forefront of handheld ultrasound innovation are focused on making sure our scanners deliver the same hospital-grade image quality as traditional ultrasound systems used by physicians on the front lines. This is critical to ensure they have the confidence to make fast decisions."
There are several reasons why frontline health care workers are adopting handheld ultrasound scanners to treat COVID patients. Pelissier notes POCUS reduces exposure to other personnel by keeping patients in their beds. Plus, traditional cart-based ultrasound systems are large and time consuming to disinfect, with multiple probes and cords, while wireless handheld scanners, such as the Clarius PA HD and Clarius C3 HD, are waterproof and can be fully encased or immersed for rapid infection control.
"Another advantage is telemedicine," Pelissier says. "With novice users now adopting ultrasound, they are relying on [telemedicine] to help guide, monitor, and review exams with colleagues from anywhere, including from COVID diagnostic centers."
Akkaraju notes that POCUS, specifically lung ultrasound, has been so successful that the University of Arizona Health Sciences is developing a lung ultrasound education program for rural emergency medicine providers who don't have as many tools at their disposal as metro area hospitals. "Some studies show point-of-care ultrasound to be more effective than X-ray at detecting which patients are more likely to have COVID-19," he says.
As the pandemic has progressed, so has the understanding of the impact the virus has on patients' hearts. Wold says doctors and researchers have observed a particular connection between COVID-19 and strain on the heart's right ventricle.
"With this critical connection in mind, clinicians rely on the mobile, robust, easy-to-use Vivid ultrasound systems to assess the left ventricle as well as the right ventricle, widely regarded as one of the most challenging tasks in echocardiography," he says. "Cardiovascular ultrasounds, like the Vivid, equip medical personnel to see the changes occurring in the right ventricle in ways that other modalities simply cannot, making it an important tool during diagnosis, recovery, and beyond."
Experts Weigh In
Ziv Dadon, MD, a physician at the Jesselson Integrated Heart Center at one of Israel's leading medical centers, Shaare Zedek, says COVID-19 has made the logistics of care delivery extremely complex, and his ability to evaluate or interact with patients is limited. "At any given moment, we're completely covered from head to toe, using coveralls and respirators and protected with two or three sets of gloves," he says. "Practically, there's no such thing as using my stethoscope to do a quick physical examination, which makes my chances of successfully doing a physical cardiovascular or lung assessment very low. Under these circumstances, being able to use my handheld ultrasound has become critical."
Aris Papageorghiou, a clinician scientist in fetal medicine who divides his time between clinical work at St George's Hospital in London and research at the University of Oxford, notes that, while some women's health practitioners are experts at ultrasound and do it every day, many OB/GYNs are only using ultrasound occasionally. That's why the handheld devices make a lot of sense.
"Although they get initial training in ultrasound, it takes a while for them to really build the skill set in a specialty like women's health," he says. "It's a bit like getting your driver's license: You may have the license, but it takes you a while to really get a good feel for it. These tools are a bit like a phone-a-friend IT solution on your ultrasound. It's good for occasional users, new users, or recently trained users. When using this in a clinical setting, the image quality was great, and the AI worked very well."
Laurie Sebastiano, MD, section chief of ultrasound at St. Luke's University Health Network in Pennsylvania and New Jersey, says the organization's 12-hospital network works with GE Healthcare to standardize its fleet of ultrasound systems and appreciates what the handheld equipment offers. "Our new ultrasound equipment will help the technologist be more efficient because these machines are designed to streamline their activity and reduce clicks," she says. "Also, it will help the radiologist by bringing in some of the numbers that we routinely dictate, right into our reports."
Mark Madden, MD, FRCPC, who works in the diagnostic and interventional radiology department of Reston Hospital in Reston, Virginia, considers the Clarius ultrasound device a critical piece of his tool belt. "As with many trends today, ultrasound devices are getting smaller, more portable, all while improving upon legacy technology," he says. Furthermore, given its portability, "I can move it around the hospital with ease and the images are great. I am able to perform diagnostic imaging and procedures with ease, using this equipment. It's also a great tool to show patients what's happening inside of them, since it so portable and approachable."  
Where the Tech Is Headed
Ultrasound miniaturization, quality, and simplification continue, and industry insiders expect handheld devices to make more strides in the years ahead. "As technology advances, we will continue to see the quality of handheld ultrasound improving and taking market share from traditional ultrasound systems," Pelissier says. "At Clarius, the next challenge we are tackling is advanced AI algorithms applied to enhance guidance and diagnosis."

Akkaraju believes that, if the industry can succeed at making it simple for caregivers everywhere to get an unprecedented view into the body, handheld ultrasound devices will eventually replace the stethoscope. "They'll be carried in the pocket of every caregiver and clinician worldwide," he says. "This will be a significant advancement of medical practice. We also believe that these tools will eventually become a household device and, just like a thermometer, parents will keep an ultrasound device in their medicine cabinet."
Martin feels handheld devices will come to dominate the ultrasound space. "As ultrasound training is rapidly becoming a core part of the curriculum and training in medical schools, residency programs, and all allied health schools, ultrasound will become a core competency of all health care workers, instead of a limited few specialists," he says. "I see ultrasound becoming a routine part of the physician visit and truly the next-generation stethoscope. I also see machine learning tools accelerating learning, improving image capture, and assisting in interpretation."
— Keith Loria is a freelance writer based in Oakton, Virginia. He is a frequent contributor to Radiology Today.