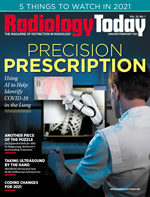 Editor's Note: One Year Wiser?
By Dave Yeager
Radiology Today
Vol. 22 No. 1 P. 4
Happy New Year! This year can't be as crazy as 2020, right? Anyway, as we ponder a full year of COVID-19, we can look ahead and hope that positive change is coming. Although we should never forget the 375,000 people in the United States and the 1.94 million worldwide who, as of this writing, have lost their lives to the virus, vaccinations are underway and the medical profession knows much more about how to treat it than they did at this time last year. Medical imaging has been one tool that has added to this store of knowledge, and more is being learned each day.
For our cover feature, Kathy Hardy examines how AI is helping to evaluate X-ray and CT scans for signs of COVID-19. Many patients with suspected COVID end up in the emergency department, where physicians have to make quick decisions about whether a patient has mild, moderate, or severe disease. There are many factors to consider, including preexisting disease, and tools that can help stratify cases are proving their value. Hardy gives us a peek not only at what these tools do but also how they're developed and what they may be able to do down the road.
Another disease that poses a serious risk is Alzheimer's disease. As Beth W. Orenstein reports, more than 5 million Americans live with it, and 14 million more are expected to develop it by 2050. Much time and effort has been put into identifying Alzheimer's early to allow treatment that can potentially slow its progression, and Orenstein looks at a couple of MRI initiatives that show promise. One is a new contrast agent, and the other maps white matter lesions in the brain. Check out the details on page 14.
We also have a feature on handheld ultrasound. Keith Loria dives into recent trends to find out where it's being used and who is using it. One of the significant benefits of the technology is its versatility, and, as Loria reports, its adoption is skyrocketing.
Finally, we have our annual round-up of 5 things to watch from the RSNA conference. The show may have been virtual this year, but that didn't stop academics and innovators from putting their best foot forward. Even in an online format, there was plenty of thought-provoking discussion, with an eye toward the future of radiology and its place in the health care ecosystem.
Enjoy the issue.