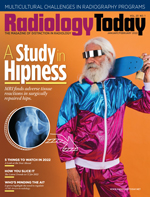 5 Things to Watch in 2022
By Dave Yeager
Radiology Today
Vol. 23 No. 1 P. 14
News and Trends From RSNA 2021
After a year of living virtually, the RSNA conference was an in-person event once again in 2021. Although there were significantly fewer attendees than in typical years, several vendors reported that they had more useful conversations than in previous get-togethers—and 2021 was far from a typical year.
In her opening address, RSNA president Mary C. Mahoney, MD, the Benjamin Felson Endowed Chair and a professor of radiology at the University of Cincinnati College of Medicine, said that the pandemic has necessitated changes not only in radiology, but it has also highlighted several shortcomings that must be addressed. These issues range from workflow challenges to health care inequities. These were themes that cropped up often throughout the conference, and they inform our annual look at five trends to monitor. Read on to find out what caught our attention.
Workflow, Workflow, Workflow
There are many factors that influence the increased emphasis on workflow. For one, the pandemic upended imaging schedules and work hours, forcing many facilities to postpone exams. Staff were initially reduced in response to the lack of volume, but even as volumes have rebounded, some health care workers have opted not to put themselves or their families at higher risk of COVID. For those workers who have stayed on, burnout is a clear and present danger.
There were sessions at the conference dedicated to the topic. One way to assist overworked health care providers is to streamline workflow. To this end, several vendors promoted tools and programs that are designed to relieve some of these burdens. Some of these tools help manage radiologists' worklists; others help with scheduling. More than a few vendors cited "end-to-end platforms."
One particularly notable innovation that some vendors have rolled out is remote support for technologists. These types of programs allow technologists to consult with an expert who can offer advice for optimal patient positioning and exam protocoling. With imaging volumes continuing to increase and the number of new radiologists and qualified technologists not keeping pace, workflow efficiency will continue to figure prominently in discussions about the specialty's future.
An adjunct to workflow concerns is the need to promote radiology's value. In a plenary lecture, James A. Brink, MD, the chief of enterprise radiology at Mass General Brigham and radiologist-in-chief at Massachusetts General Hospital, discussed the importance of using clinical decision support to identify high-value imaging, rather than simply eliminating low-value imaging.
Continuing AI Integration
In a few short years, AI has gone from being viewed as an existential threat to being embedded in myriad ways in imaging equipment. To say that there are 52 flavors of AI may be understating it. To begin with, AI has featured prominently in assisting radiology workflow. For example, FDA-approved algorithms for finding cerebral hemorrhage and pulmonary embolism alert radiologists about potentially significant findings so they can prioritize those cases. Algorithms that flag critical findings are now being integrated into many vendors' products. In some cases, original equipment manufacturers are partnering with companies that specialize in algorithms.
In addition to critical findings, AI is being used to improve image quality. Many vendors now offer features that can cancel noise and produce clearer images. In some cases, this allows radiation dose to be lowered because an acceptable image can be generated with lower radiation levels.
AI can also enhance the collection of analytics. Several vendors at RSNA 2021 mentioned the need for standardized data, both for health care metrics and clinical trials. This is an area where AI can help.
A particularly useful adoption of AI lies in the reduction of scan times. Relative to the aforementioned shortage of qualified technologists, algorithms that allow faster scans can alleviate the situation by helping facilities maintain or potentially increase volume without adding additional staff.
Cloudy Outlook
Another trend that was once viewed with suspicion but is now rapidly gaining in popularity is cloud computing and storage. There was a noticeable uptick in cloud services at the conference.
As imaging volumes have ballooned, organizations have begun to question the need for, and/or wisdom of, maintaining all of those data on their own. Many smaller organizations no longer have the capacity to keep all of their data on site. Cloud storage allows them to store and access their data efficiently without the headaches associated with on-site storage.
Data security is always top of mind for radiology administrators, and cloud companies typically employ multiple security protocols. They also tend to have a significant amount of security expertise, which individual organizations may or may not possess depending on the resources that are available to them.
Workforce Development
Several people at RSNA 2021 noted a significant need to focus on the radiology workforce. There were quite a few sessions on workforce development and diversity.
Radiology tends to skew white and male. Changing the demographics to more closely match the population at large is considered an imperative, but it won't be easy. In a plenary lecture, Michele Hackley Johnson, MD, the first Black woman to be appointed as a full professor at Yale University School of Medicine, shared her experiences working in a male-dominated field. Along with the importance of perseverance and seeking out mentors, sponsors, and supporters, Johnson emphasized the need for, and value of, mentoring the next generation of radiologists.
Along with striving for greater diversity, there is also a need to consider professional interactions. Christine Porath, PhD, an associate professor of management at the McDonough School of Business at Georgetown University, delivered a plenary lecture about the value of civility. In addition to her personal experiences, Porath cited her research into how incivility affects workplaces. Among her notable findings, she found that people who witness incivility become more self-focused, even if the incivility was not directed toward them. She also noted that those who are disrespectful and aloof have higher incidences of having their careers derailed. Her overall message was that incivility affects emotions, performance, and brain power, and people want respect from their leaders as well as their peers.
Being Patient
This year's conference also spotlighted a trend that has been gaining momentum in recent years: patient-centered care. James Merlino, MD, the chief clinical transformation officer at the Cleveland Clinic, delivered a lecture on improving the patient experience. Merlino was spurred to devote his medical career to studying improvements in patient care when his father unexpectedly died during a hospital stay.
Merlino said patients want respect, communication, and empathy from their health care providers, noting that meeting those needs requires a cultural transformation. Among the steps health care providers can take, he noted, are developing a culture of sharing important data among medical providers, giving providers communication tools and training, obtaining buy-in from the entire health care team, improving communication between physicians and nurses, and putting the patient experience at the center of all processes.
Many vendors highlighted patient-centered initiatives such as an increased focus on lung screening, closing the communication loop on follow-up recommendations, and efforts to improve health equity in underserved populations. A notable trend that relates to health equity is the small but growing number of low-T MRI machines: While 1.5 T and 3 T machines are still the standard of care, low-T machines are being pitched as an opportunity to expand access to MRI's benefits.
Improving the overall health care experience was a point that Brink also touched on in his lecture. He cited the need to focus on patient engagement, virtual care, ambulatory access, and care coordination.
— Dave Yeager is the editor of Radiology Today.