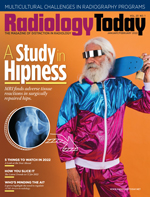 How You Slice It
By Keith Loria
Radiology Today
Vol. 23 No. 1 P. 18
A Look at the Latest Trends in CT for 2022
Aside from the COVID-19 pandemic, the biggest buzz among radiologists and CT equipment manufacturers over the past year centered on phrases such as dose reduction, dose management, image reconstruction, and spectral CT. These words popped up again and again when discussing the newest innovations with original equipment manufacturers at RSNA and in the weeks leading up to 2022.
Looking back two decades, a CT exam could take 30 minutes or more. Now, with cutting-edge systems, a CT exam can collect images and information in less than one to two seconds. Faster exams and better image quality can be credited to CT machines being endowed with higher slice systems. Vendors today offer 64-, 80-, 128-, 256-, and even 640-slice models. Today's models also offer new detector technology that helps reduce electronic noise and enable sharper images.
Read on to find out what's new with CT.
Fujifilm
Rick Banner, senior director of marketing for Fujifilm Healthcare Americas Corporation, notes that the days of medical facilities purchasing a piece of diagnostic imaging equipment for a single clinical use case are gone; medical facilities of all sizes are focused on purchasing equipment that provides significant return on investment.
"From our daily conversations with customers and partners, providers are looking for state-of-the-art CT systems that ensure speed, offer advanced oncology simulation, and include general radiography imaging capabilities—all with a focus on the patient experience," Banner says.
Following the acquisition of Hitachi's diagnostic imaging business in 2021, Fujifilm added new offerings to its portfolio, including additional CT systems. The portfolio now includes Fujifilm's flagship CT system, the SCENARIA View, the Persona CT, the Supria True 64, and the Supria Plus.
"During RSNA 2021, Fujifilm demonstrated the SCENARIA View's latest advancement in CT cardiac motion correction, Cardio StillShot, which can dramatically reduce artifacts resulting from rapid and irregular patient heart rates to produce clearer images," Banner says. Cardio StillShot is not yet available for sale in the United States and is subject to FDA 510(k) approval.
Automatic data noise reduction is another key feature of the SCENARIA View, which allows technologists to get clear images when the patient's arms are down at their sides, instead of over their head. In addition, SynergyDrive workflow suite helps speed up the imaging process from start to finish.
In the past year, Fujifilm's Persona CT system received FDA 510(k) approval for its metal artifact reduction (MAR) technology, a projection-based reconstruction technique that restores anatomical details obscured by metal in conventional image reconstruction.
"MAR automatically identifies areas affected by highly attenuating objects and reconstructs improved images for increased clinical confidence," Banner says. "Next-generation MAR dramatically removes and/or reduces the streak artifact created by metal, which is very beneficial for clinicians for oncology treatment planning."
Additionally, Fujifilm recently received FDA approval for its 4D gating feature for oncology on the Persona CT. The 4D CT uses a new technology that captures the location and movement of a patient's tumor and the movement of an individual's organs over time.
"We have also dedicated the complete redesign of a CT system to include total cost of ownership features with a modular design, to take the burden of repair out of the clinic by allowing the module to be removed and replaced while repairs on the module are done back at the factory," Banner says.
"From a safety standpoint, the majority of CT systems today have a more dose-efficient CT detector, which is aimed at lowering patient radiation dose while improving image quality at the same time," he adds.
GE Healthcare
A significant CT trend that Sonia Sahney, chief marketing officer for molecular imaging and CT for GE Healthcare, has seen is tackling technology obsolescence with scalability. Sahney explains that, 20 years ago, new CT technologies were introduced every four to five years but, today, new solutions are being introduced annually.
"This is largely due to the pace of innovation today, which has greatly accelerated, due to the speed and growth of modern engineering, AI, and cloud computing," Sahney says. "Because of these advancements, CT technology is becoming obsolete more quickly than ever before—resulting in 44% of facilities expressing challenges during their attempts to keep systems up to date."
At RSNA, GE unveiled its new Revolution Apex platform, an industry-first CT platform with built-in scalability for onsite CT detector upgrades from 40 mm to 80 mm or 160 mm detector coverage—all without replacing the gantry.
"This helps radiology departments stay ahead of the technology curve with a modular design that offers a seamless path to continuous hardware and software scalability and upgradability that will extend the lives of CT systems into the future," Sahney says.
Other trends she has noticed are the adoption of AI to help alleviate staff burnout and increased use of photon-counting CT, which, Sahney says, has the promise to further improve the capabilities of traditional CT, including the visualization of minute details of organ structures, improved tissue characterization, more accurate material density measurement (or quantification), and lower radiation dose.
"After studying radiology departments' entire workflows and identifying opportunities to simplify and streamline processes, we introduced Revolution Ascend with Effortless Workflow earlier this year," Sahney says. "The new Effortless Workflow solution utilizes AI technologies to automate nearly every step in existing workflows, from prescan to postscan, by automatically positioning patients with 94% auto centering accuracy within +/- 2 cm, suggesting protocols with 90% accuracy, automating and expediting workflows with a 66% reduction in clicks, reducing up to 91% image noise at the same dose, and improving spatial resolution up to 2X at the same image quality."
Philips
At RSNA 2021, Philips unveiled its new CT 5100 Incisive platform with CT Smart Workflow. By utilizing AI at every step in the CT imaging process, the software streamlines image acquisition and workflows, enabling more patient-centric care.
"It provides the ability to do conventional imaging but also spectral imaging, which helps with the simplicity and reliability of making images," says Frans Venker, general manager of CT at Philips. "We have embedded AI into the tools that radiology departments use every day so they can apply their expertise to the patient, not to unnecessary distractions associated with the CT imaging itself."
By automating many of the process-related obstacles to CT imaging performance, the company looks to clear the way for precision in dose, speed, and image quality that will help imaging departments meet their financial, clinical, and operational goals.
At RSNA, Philips also spotlighted its Spectral CT 7500, which will be integrated into its Azurion image-guided therapy solution. According to Venker, the spectral detector provides layers of useful spectral data that improve tissue characterization and visualization and may decrease the need for follow-up scanning for suboptimal exams and incidental findings.
Siemens Healthineers
Over the past 12 months, the purchasing activity for CT has been incredibly high in the United States, according to Matthew Dedman, CT marketing director at Siemens Healthineers North America.
"The market size right now is over $1 billion, and it hasn't been that high since the 2008–2009 timeframe," Dedman says. "We've seen a high activity of purchases, post the initial COVID impact."
That demand is due to a combination of 64-slice CTs that were introduced in the early 2000s hitting the end of their life cycle and pent-up demand from hospitals putting off capital expenditures for several quarters. That has led to greater demand for higher-end CT scanners. In response, Siemens Healthineers recently released the NAEOTOM Alpha photon-counting CT scanner, the world's first photon-counting CT scanner, which was FDA approved on September 30.
"The FDA called it the first major advancement in the CT industry in nearly a decade," Dedman says. "It's a fundamental change and advancement in CT detector technology."
The NAEOTOM Alpha has a dual-source design and benefits from spectral information and high resolution for visually removing obstructions caused by calcifications. This enables diagnostic assessment and allows more patients to benefit from CT imaging—even those with a high calcium burden. Additionally, it can eliminate electronic noise in the image.
"It allows us to get a significant improvement in CT resolution," Dedman says. "We can now go to much smaller detector pixels without the dose penalty. So, the standard resolution of the detector is significantly improved, and we can achieve ultrahigh resolution with no dose penalty compared with detectors today."
The company also launched the SOMATOM X.ceed CT system, which was cleared by the FDA last summer.
"This is the most advanced single-source CT in our portfolio," Dedman says. "This is a platform that was game changing in terms of the patient experience. It has the largest bore size at 82 cm, and it's ideal for handling the bariatric patient population we see here in the United States."
It also features a visual indicator for the patient with a countdown clock that tells them when they need to begin holding their breath and when they can stop.
Additionally, the SOMATOM X.ceed CT system is designed with the CT technologist in mind.
"This platform utilizes our mobile workflow so it has up to five tablets that can be mounted to the system and, effectively, they have all the capabilities of a traditional control room operator console," Dedman says. "We further increased the power of the system. It has the fastest rotation speed of any scanner in the industry at 0.25 seconds, which leads to fast volume coverage, and it really makes an impact in cardiac imaging."
In conjunction with SOMATOM X.ceed, the company launched myNeedle Companion, a package consisting of myNeedle Guide (planning and guidance software), myNeedle Laser (laser guidance system), and dedicated scan protocols. The solution harmonizes workflow and user interfaces across selected angiography and CT systems, with the aim of enabling consistent results.
United Imaging
United Imaging is focused on equal access to CT and its other modalities. With that in mind, one of the most important things the company began rolling out this past fall is the uCT ATLAS.
"That scanner is a good example of how we have taken 'world's-first' capabilities that often are very slow to trickle down and made them available on a workhorse of an everyday scanner," says Jeffrey M. Bundy, PhD, CEO of United Imaging. "For example, uCT ATLAS has an industry-leading rotation time and spatial resolution and also features uAI AI-IR, which is the world's first combination of deep learning and iterative reconstruction. It breaks barriers in dose, noise, resolution, and image impression."
The intelligence in the uCT ATLAS empowers technologists to easily scan patients more quickly, with high quality and low dose.
"The uAI Vision camera, along with those AI technologies, completely changes the patient setup and imaging phase of the CT exam," Bundy says. "The uAI Vision camera tracks the patient and identifies the body habitus and orientation with real-time video, adjusts the scan region during setup, and eliminates the need for the technologist to do the positioning manually; it positions accurately and automatically so the technologist can focus on the patient."
In keeping with United Imaging's equal access philosophy, uCT ATLAS has advanced features included in the initial standard purchase.
"It makes it easier for providers to harness the strength of the system over time without having to keep coming back to us to pay additional fees or do extra paperwork," Bundy says. "Our nonobsolescence or 'future-proofing' model is also unique, as we commit to software upgrades for life at no charge to keep our machines modern."
Those at the company expect to see dwindling interest in dual energy or current spectral imaging, as some advancements on the horizon might displace these technologies.
"The key to broad clinical application will be to make these technologies more easily accessible and improve the long-term goal of CT tissue characterization across the board," Bundy says. "Complexity of all new technologies is a factor that limits adoption so we're continuously focused on the approach that puts the more advanced techniques into more hands."
— Keith Loria is a freelance writer based in Oakton, Virginia. He is a regular contributor to Radiology Today.