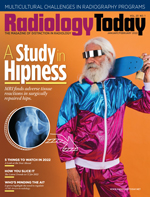 Women's Imaging: Seeds of Progress
By Ananth Ravi, PhD, MCCPM
Radiology Today
Vol. 23 No. 1 P. 27
Radioactive vs Magnetic Seed Localization Technologies
After a breast cancer diagnosis, patients are faced with a cascade of choices. The physicians who treat them have some choices to make, too.
Wire-free breast localization has gained favor in recent years because it improves workflow, causes less patient discomfort, and leads to better cosmetic outcomes. Three of the primary localization techniques in use include wire-guided localization, wire-free magnetic localization, and radioactive seed localization.
Wire-guided localization—the clinical standard for the past 50 years—is still the procedure of choice for many hospitals. However, it requires patients to spend their preoperative time—which can unpredictably be extended—with the discomfort of a wire placed in their breast. The newer wire-free localization methods are becoming more prevalent, and it's important to understand the differences between them.
Radioactive seed localization involves placing a tiny lesion marker in the breast, then using a Geiger counter–like device to guide surgeons to its exact location. However, radioactive seed localization has struggled to gain widespread adoption due to significant disadvantages: It requires an investment in time-consuming and expensive resources to adhere to radiation safety regulations, including complex monitoring and disposal protocols, as well as cumbersome and expensive equipment and training for staff.
Unlike radioactive seed localization, magnetic seed localization technologies eliminate the anxiety patients may experience related to radiation exposure from radioactive seed localization methods.
Administrators also need to make choices when it comes to selecting a wire-free technology: Do they invest in radioactive or magnetic seed localization?
The following are five areas in which newer, magnetic markers avoid many of the pitfalls of radioactive marker seeds.
Effectiveness
Both technologies have been studied and achieve similar results. In a 2019 study, the magnetic occult lesion localization instrument system was shown to offer "an accurate and efficient alternative lesion localization method for nonpalpable breast lesions" in the following ways:
• reliably detecting mean (± standard deviation) marker depths up to 53 ± 8.56 mm from the wand;
• effectively localizing multiple lesions by placing markers as close as 10 mm apart, at depths of up to 42 mm;
• being compatible with ultrasound and mammographic guidance (and differentiable from radiologic clips); and
• being compatible with standard metal surgical instruments.
Convenience
Magnetic seed localization avoids the regulatory requirements and expenses involved with a nuclear medicine program. When it comes to providing access, magnetic seed localization can overcome a significant barrier. For example, there are fewer than 15 radioactive seed localization programs throughout Canada, and yet cancer lives in every community, no matter how remote. Without the burden of regulatory requirements, more patients could be served accurately and effectively, closer to home.
Ease of Use
Radioactive seed and magnetic seed techniques use comparable devices to guide the surgeon to the precise location. For radiologists and surgeons, there is a very short learning curve. The system consists of three components: seed, detection wand, and tablet monitor. Permanent magnetism means markers will never be disabled and can always be detected. Furthermore, the marker is nonradioactive, which means if it falls on the ground or is misplaced, the operating room does not need to be shut down because there is no need to find and secure it.
Cost
The implementation cost for radioactive seed localization can be up to nine times higher than magnetic seed localization, due to nuclear medicine requirements. Radioactive seed localization can cost up to $250 per placement, and annual operating costs have been shown to be more than $80,000. Upfront, these costs can be a significant barrier to overcome, especially for smaller cancer centers and hospitals. Lowering the cost means increasing accessibility without compromising on effectiveness.
Patient Experience
While both technologies earn high marks for reducing pain and inconvenience, some patients have concerns about radiation exposure. Magnetic localization techniques eliminate this concern and can help ease at least one of the many worries of patients with breast cancer. With magnetic seed localization, patients can get dressed after their placement procedure and go home to resume their normal activities, while they wait comfortably for surgery up to 30 days later. With radioactive seed localization, the seed can only be implanted up to five days before the day of surgery because of radiation safety and regulatory concerns. The increased flexibility of scheduling benefits both patients and care teams by providing more flexibility and autonomy.
Although the effectiveness of all three localization modalities—wire-guided localization, radioactive seed localization, and magnetic marker localization—are comparable, the widespread adoption of magnetic seed localization depends on its superiority in other areas, such as ease of use and financial impact. Administrators must weigh all of these factors as they make choices that positively affect their staff and patients.
— Ananth Ravi, PhD, MCCPM, is chief science and clinical officer of MOLLI Surgical.