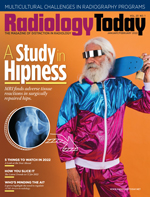 On the Case
By Kate Yacona; Hieu Diep, MD; Berenice Leal Lopez, MD; Kamat Leena, MD; and Michele Edison, MD
Radiology Today
Vol. 23 No. 1 P. 30
History
A 20-year-old woman without a significant personal or family history presented to an outpatient imaging center with a gradually enlarging palpable mass in the medial left breast without other associated symptoms. On physical examination, a large, nontender mass was palpable within the lower inner quadrant of the left breast, without nipple retraction or axillary lymphadenopathy on physical exam. A targeted left breast ultrasound and, subsequently, a diagnostic left breast mammogram were performed.
Findings
Gray-scale radial (Figure 1), antiradial (Figure 2), and color Doppler (Figure 3) ultrasound images of the left breast in the clinical area of concern demonstrated an oval, indistinct, parallel, heterogeneous mass with minimal internal vascular flow, measuring 4.1 X 3.4 X 1.5 cm at 8:00, 5 cm from the nipple. Craniocaudal (Figure 4) and mediolateral oblique (Figure 5) full-field synthesized mammogram images of the left breast demonstrated a calcified mass in the lower inner quadrant at posterior depth. Craniocaudal (Figure 6) and mediolateral (Figure 7) 2D magnification views demonstrated coarse, tubular, frondlike calcifications measuring approximately 4 cm on long axis. The patient deferred a percutaneous core needle biopsy and elected to proceed with a surgical excision of the palpable mass.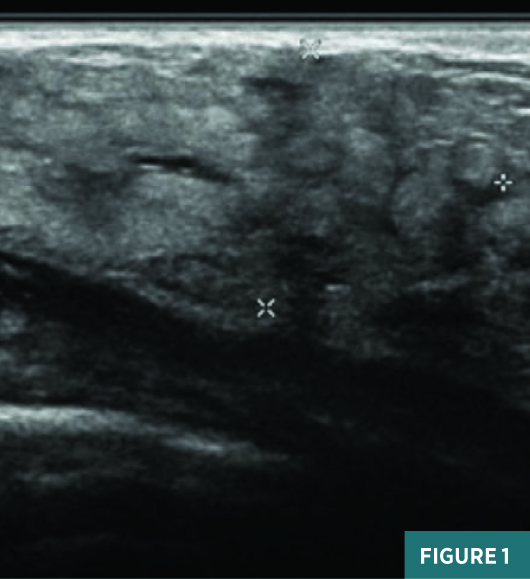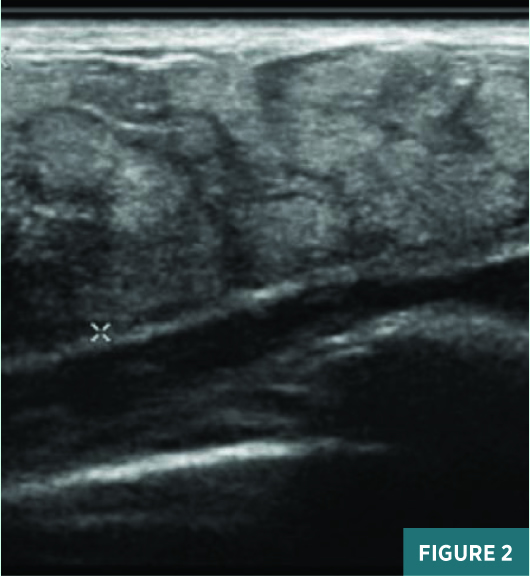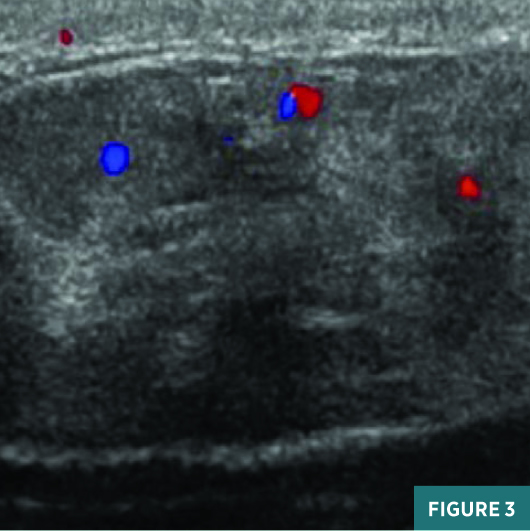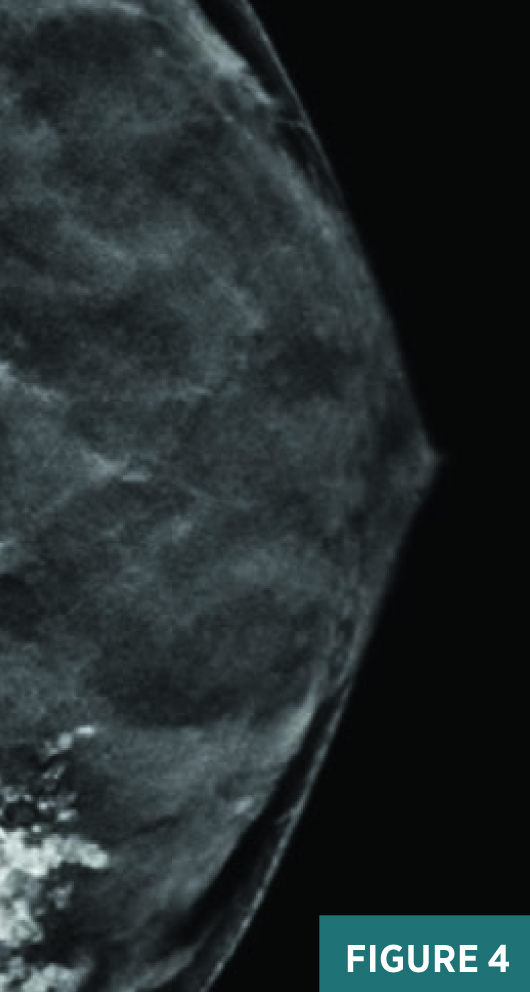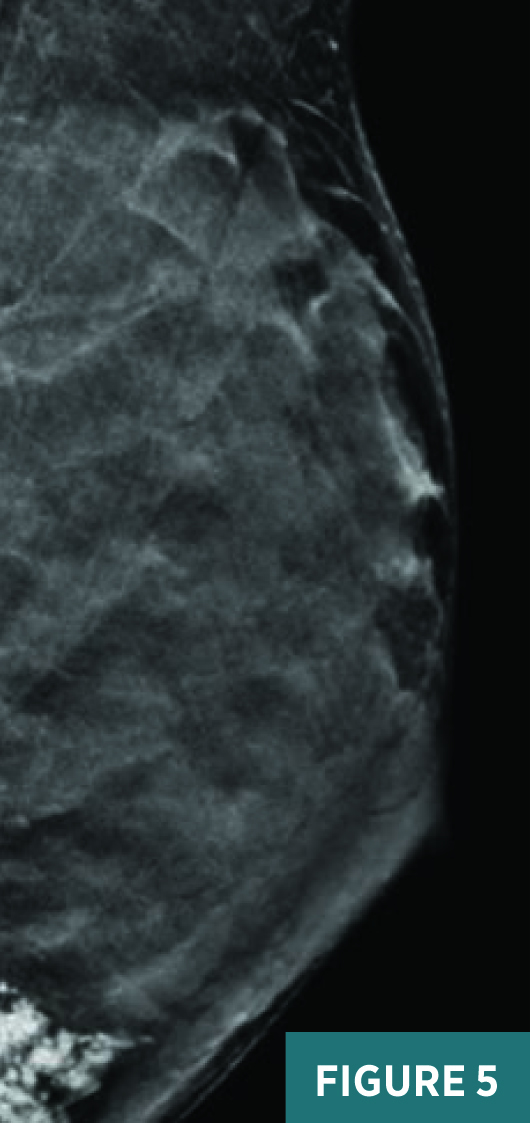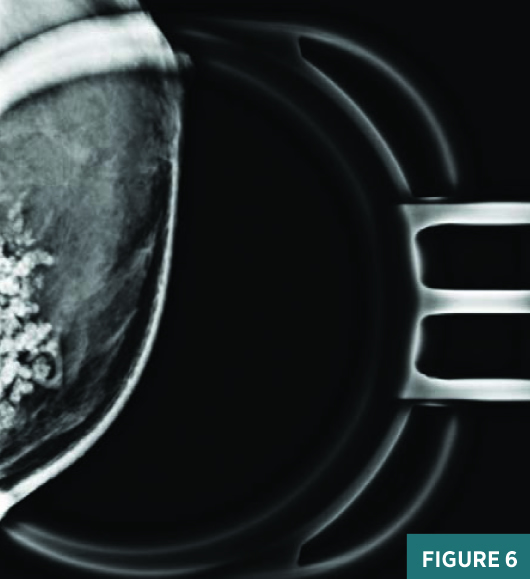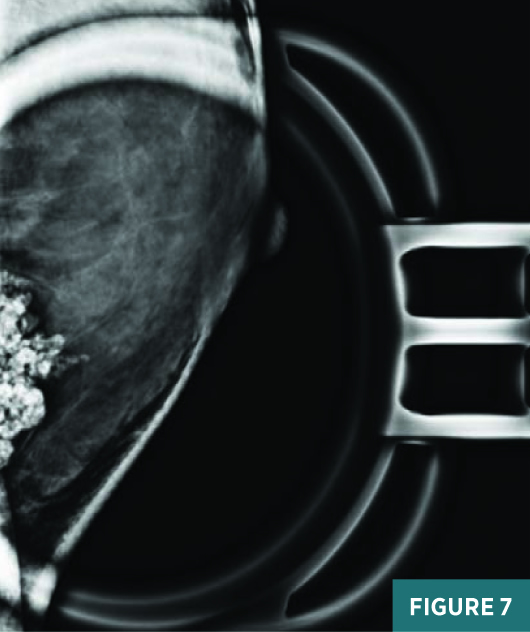 Diagnosis
Tubular adenoma of the breast.
Discussion
Tubular adenomas are rare, benign lesions of the breast that mainly occur in young women. These "pure adenomas" account for 0.13% to 1.7% of benign breast lesions.1 Histologically, they are characterized as having prominent lobular proliferation and closely packed small ducts with very little supporting stroma.2 Tubular adenomas have little to no increased risk of breast cancer. However, there are a few rare, reported cases of ductal carcinoma in situ arising from a tubular adenoma in the literature.3
It is imperative that a tubular adenoma be differentiated from other breast masses, such as fibroadenomas. Fibroadenomas are a common breast mass found in up to 10% of the global female population, often initially identified in young women under 30 years of age. Fibroadenomas are known to wax and wane in size with response to hormonal fluctuation. Postmenopausally, fibroadenomas degenerate and develop characteristic popcorn calcifications.4
Typically, tubular adenomas present as well-circumscribed masses without calcifications on mammography. They are not known to change in size with normal hormone fluctuation.5 In some rare cases, a tubular adenoma can also present as a mass with numerous tightly packed punctate and irregular macrocalcifications, as in this case. These large, round calcium phosphate microcalcifications are located inside dilated acini and are thought to result from calcification of thickened secretions.6
In most cases, a tubular adenoma is classified as BI-RADS 3 (probably benign) or 4 (suspicious). If pursued, the histologic diagnosis of tubular adenoma is most commonly achieved through percutaneous core needle biopsy. This patient's history of a rapidly enlarging mass with suspicious imaging features indicated that tissue sampling was warranted.
This case depicts an interesting, uncommon presentation in a young woman of tubular adenoma as a mass with coarse calcifications. History and clinical findings were suspicious, and imaging findings were nonspecific, with overlapping features of both benign and malignant etiologies. This unique presentation of a progressively growing, palpable mass in a young woman without a personal or family history of breast cancer highlights the array of possible breast pathologies and the need for histologic analysis of any suspicious mass to confirm diagnosis.   
— Kate Yacona is a 4th-year medical student at Lake Erie College of Osteopathic Medicine in Pennsylvania.
— Hieu Diep, MD, is a diagnostic radiology resident at AdventHealth Orlando in Florida.
— Berenice Leal Lopez, MD, is a diagnostic radiology resident at AdventHealth Orlando.
— Kamat Leena, MD, is a radiologist at AdventHealth Orlando.
— Michele Edison, MD, is the associate radiology residency program director at AdventHealth Orlando.
References
1. Pathology and genetics of tumours of the breast and female genital organs. In: Tavassoli FA, Devilee P, eds. WHO Classification of Tumours. Washington, DC: World Health Organization; 2003.
2. Rovera F, Ferrari A, Carcano G, et al. Tubular adenoma of the breast in an 84-year-old woman: report of a case simulating breast cancer. Breast J. 2006;12(3):257-259.
3. Saimura M, Anan K, Mitsuyama S, Ono M, Toyoshima S. Ductal carcinoma in situ arising in tubular adenoma of the breast. Breast Cancer. 2015;22(4):428-431.
4. Ajmal M, Khan M, Van Fossen K. Breast fibroadenoma. In: StatPearls [Internet]. Treasure Island, Fl: StatPearls Publishing; 2021.
5. Soo MS, Dash N, Bentley R, Lee LH, Nathan G. Tubular adenomas of the breast: imaging findings with histologic correlation. AJR Am J Roentgenol. 2000;174(3):757-761.
6. Henrot P, Leroux A, Barlier C, Génin P. Breast microcalcifications: the lesions in anatomical pathology. Diagn Interv Imaging. 2014;95(2):141-152.