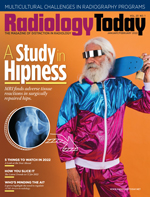 Editor's Note: A Little of This and a Little of That
By Dave Yeager
Radiology Today
Vol. 23 No. 1 P. 5
Happy New Year! As we head into 2022, medical imaging continues to prove its utility in many ways. AI advances are a regular occurrence and new modality features, as well as new ways of deploying the modalities, are happening faster than ever. This issue covers a little of everything.
This month's cover feature examines hip replacement and resurfacing. More specifically, Beth W. Orenstein has a report on a recent study that found MRI may be a useful adjunct for identifying adverse tissue reactions in patients who have had hip replacements or resurfacing. A variety of materials are used in the procedures, and they can shed particles over time. An interesting finding of the study was that MRI may be able to identify reactions earlier—including in some asymptomatic patients—than other modalities, which can improve treatment options and outcomes. This research is especially relevant, as the patient population that receives joint replacements has skewed younger in recent years.
We also have our annual look at five things to watch in 2022. RSNA 2021 was an in-person event, and there was plenty of news that will affect radiology in the coming year.
There were notable CT advances on display at RSNA 2021, as well. Keith Loria has a round-up of the latest trends. Automation, versatility, and scalability were common themes, along with continued integration of AI throughout the CT workflow and increased use of spectral and photon-counting CT to reduce dose and improve resolution.
In AI news, Orenstein considers AI regulation. The consensus among the experts she cites is that AI definitely needs to be regulated, but how and how much are open to debate. The FDA often considers health care AI algorithms as Class II medical devices, which means they pose a moderate to high risk for patients if they don't function properly, and the complexity of the algorithms complicates the ability to evaluate them. Some experts believe that existing regulations are sufficient to protect against potential risks, while others believe that regulations need to be more stringent. Where the FDA ends up on this question is anyone's guess. For more details, turn to page 22.
Finally, much has changed since last January, and some things haven't. As with last year, there is hope that we may get COVID-19 under control in the coming months. Unlike last year, most of the people in the United States who want the vaccine have gotten it. Whether recent optimism is warranted remains to be seen but, as we look to the future, let's not forget the more than 860,000 people in the United States and nearly 5.6 million worldwide who, as of this writing, have lost their lives to COVID.