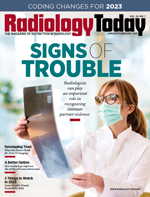 Signs of Trouble
By Beth W. Orenstein
Radiology Today
Vol. 24 No. 1 P. 10
Radiologists can play an important role in recognizing intimate partner violence.
As many as one in three women in the United States experience physical or sexual violence or stalking by an intimate partner in their lifetime, according to the 2010–2012 National Intimate Partner and Sexual Violence Survey from the CDC.
At the RSNA 2022 annual meeting in Chicago, Bharti Khurana, MD, FACR, FASER, a radiologist at Brigham and Women's Hospital in Boston, gave a presentation that provided some additional alarming statistics:
• 137 women are killed worldwide every day;
• 6 women are killed every hour;
• 80% of total homicides are male, and 20% female; and
• of the female homicides, 82% are due to intimate partner violence (IPV).
While the statistics are alarmingly high, the problem of IPV may be grossly underreported, Khurana says. The problem, she adds, is that many victims of abuse are afraid to come forward and seek help, fearing that doing so could make matters worse for them.
In her presentation, Khurana also quoted a 2019 report on gender-related killing of women and girls by the United Nations Office on Drugs and Crimes: "These killings were not usually spontaneous incidents but part of a long standing pattern of escalating abuse." The possibility that abuse could be ongoing emphasizes the need for intervention as soon as possible, Khurana says.
Conference Sparked Interest
For several years, Khurana has been investigating IPV and believes that health care providers, including radiologists, could play an important role in helping to reduce it or, at least, report their suspicions so women who are in abusive relationships can get help before it's too late. Khurana says IPV is a type of domestic violence "and the preferred term for the violence that occurs between the people in an intimate relationship who are current or former partners. IPV can manifest as emotional, psychological, economic, or sexual abuse."
Khurana's interest in IPV was sparked when she attended a "hackathon" event in 2016 hosted by The Gillian Reny Stepping Strong Center for Trauma Innovation; her employer, Brigham and Women's, is a founding member. During the hackathon, a diverse group of health care providers shared innovative ideas for trauma care. Near the end of the day, Khurana got up to leave because she had to pick her son up from school. "I literally had my hand on the doorknob," she says, when she heard Annie Lewis O'Connor, PhD, NP-BC, MPH, FAAN, an associate scientist at Brigham and Women's, speaking about IPV. Khurana found that she couldn't leave; she didn't want to miss what O'Connor was saying about her experiences in her clinic. O'Connor said that health care providers are putting band-aids on IPV injuries but missing the root causes.
Khurana was the only radiologist in attendance. She took what O'Connor was saying "personally," she recalls. "If someone says we were missing something, as an emergency radiologist, I feel personally responsible to determine why it's getting missed. Her words motivated me to look into the role of radiologists in [spotting or suspecting] domestic violence."
Khurana was also inspired by a case involving a young woman who arrived at Brigham and Women's emergency department (ED) with an acute nasal bone fracture superimposed on an old, healed fracture. When examining prior medical images of the patient on the hospital's PACS, Khurana saw a recent wrist fracture. The pattern of recurrent injury made Khurana suspicious of IPV, while the patient's referring physician had not been suspicious.
Prior Imaging's Value
Khurana realized that radiologists, because they have access to prior imaging records, could recognize a history of abuse. Radiologists are often the first clinicians to see evidence of physical child abuse, Khurana says. If they see a broken rib at the edge of an abdominal X-ray or a healing fracture near the site of a new fracture, they may suspect nonaccidental trauma in children and, if so, are required to report it to appropriate personnel. However, in adult cases, Khurana says, "we tend not to do anything because we believe that adults can speak for themselves."
Everything Khurana had seen and heard on the topic led her to research whether radiological scans could be used to diagnose IPV and help create awareness among radiologists. Originally, Khurana thought she would do one paper and be done. But, when she reported her findings at RSNA in 2017, the reaction from fellow clinicians and patients who experienced IPV was overwhelmingly encouraging—everyone believed that she was on to something extremely important.
In 2019, Khurana published a study in the journal Radiology that reiterated her position that radiologists can play a crucial role in identifying signs of IPV and should work closely with referring providers to provide care for victims. For the study, researchers examined EMRs from 185 patients who were referred to Brigham and Women's ED to the IPV support program from January 2015 to October 2016. These records were compared with an age- and sex matched control group of 555 patients who were seen in the ED. Reports of all patient imaging exams performed within the preceding five years also were reviewed.
The researchers found that almost all (96%) IPV victims were women and that the victims had a mean age of 34.2 years; 37% of the victims were Black and 28% were Hispanic. On average, victims of IPV underwent four times more imaging exams in the previous five years than the control group, the study found. Obstetricgynecologic findings and acute fractures seen on images were independently associated with IPV. Acute fractures involving the face or skull and chronic fractures of extremities and nasal bone were more frequent in the IPV group. The researchers also found that IPV victims were more likely to be homeless (28%), have a psychiatric history (64%), or have a substance abuse disorder (25%), compared with those who were not victims.
Based on this substantial evidence, Khurana expanded the study to include colleagues from orthopedics, primary care, women's health, social work, and legal. She also expanded the study beyond Brigham and Women's, including two neighboring hospitals: Massachusetts General Hospital and Boston Medical Center.
Screening Is Needed
In November 2020, Khurana presented yet another study at RSNA that found up to one-third of adult women who sustain an isolated fracture to the ulna bone of the forearm may be victims of IPV. The findings, Khurana said, underscored the need to screen for IPV in women with these types of injuries.
Fractures of the ulna, the bone on the pinkie side of the forearm, "often occur when people hold up their arms to protect their faces from being struck," Khurana says. These fractures are sometimes referred to as "nightstick fractures" because, historically, they were seen frequently in people who attempt to block blows from police officers' nightsticks. Fractures caused by falls are much more likely to be of the radius, the other bone of the forearm, Khurana says. "It is rare to break only your ulna in a fall."
As an ED radiologist, Khurana says she has seen fractures of the ulna in men, but it raised questions in her mind when she saw them in women occasionally. "I did not correlate these injuries in women with intimate partner violence until I shared my thoughts with our orthopedic surgeons," she recalls. "They seemed very interested and, once I had their interest and support, I decided to pursue further study."
Khurana spoke about IPV again at RSNA 2022. During the presentation, she noted:
• 80% of IPV cases come through the ED, yet only 5% to 30% are flagged, and
• the strongest predictor of IPV is the frequency, rather than the severity, of the injury.
Khurana also believes that AI can play a role in helping radiologists and others in the ED to recognize potential cases of IPV. AI can give radiologists more confidence when identifying possible abuse, she says.
"It can be difficult for radiologists and others in the ED to approach patients and suggest they may be victims of domestic violence," Khurana says. Providers are fearful of patients thinking that they are being judged solely on their appearance. If radiologists have an AI tool that helps them to identify possible IPV, it's more objective, she says, and they can tell the patients, "based on an AI algorithm, we are worried about you being a victim of domestic violence."
COVID's Effect
Unfortunately, IPV has become a more urgent topic of research as a result of the COVID-19 pandemic, Khurana says. Measures taken early in the pandemic to reduce the spread of the virus—such as lockdowns and social distancing—exacerbated domestic violence toward women and children. During this time, when women and children were stuck at home, it increased the number of IPV incidents as well as the severity of the physical abuse, she says.
In August 2020, Khurana published a new study in Radiology that showed this higher incidence of physical IPV during lockdowns, both in absolute numbers and in proportion with more severe injuries, despite fewer patients reporting IPV. The researchers, led by Khurana, assessed the incidence, pattern, and severity of injuries related to IPV at Brigham and Women's during the COVID-19 pandemic. They compared the demographics, clinical presentation, injuries, and radiological findings of patients reporting physical abuse arising from IPV between March 11 and May 3, 2020, with the same period over the previous three years.
The researchers found that, during the pandemic, victims experienced more injuries to the chest and abdomen compared with prior years. The challenges of the pandemic, when health care providers were overwhelmed, added to the challenges of helping IPV victims, Khurana says. In addition, alternative options for IPV victims to seek help decreased. Many ambulatory clinics were no longer seeing as many patients in person due to the virus and, instead, were pivoting their services to virtual consultation. Telehealth visits limit the opportunity to visualize bruises or other signs of physical trauma, Khurana says. "It makes it more difficult for health care providers to gather nonverbal clues."
Radiologists' Key Role
Khurana strongly believes that radiologists and other health care providers should proactively participate in identifying IPV victims and reaching out to vulnerable communities as an essential service. The sooner physicians can address and change behavior, the better, she says. Just as radiologists want to diagnose cancer as early as possible for better survival, "it's the same thing with IPV," Khurana says.
Radiologists who suspect abuse should have a conversation with the referring physician, Khurana says. She adds that communications should also involve a multidisciplinary team with the experience and resources to address the issue.
Giles W.L. Boland, MD, president of Brigham and Women's Physicians Organization, executive vice president at Mass General Brigham, and a radiologist, agrees with Khurana that "intimate partner violence is tragically common, far more common than most people realize. It causes great harm to individuals, families, and societies as a whole, yet most go unnoticed." Given the stigma and fear of exposing both the victim and perpetrator, it is notoriously underdiagnosed with many, if not most, victims ever revealing their trauma to medical personnel and/or the police, Boland says. "The work by Dr. Khurana provides one very important tool to not only identify victims but also potentially [identify them] much earlier for those victims who are repetitively abused."
Khurana's work will demonstrate to radiologists how common and underdiagnosed IPV is, which will hopefully encourage more attention and research into IPV, with the overall goal of protecting victims and preventing further violence, Boland says: "Like the well-known algorithms for detecting and preventing child abuse, radiologists should, through the work by Dr. Khurana and others, now come to play a key role in this domain of violence towards individuals."
More research is needed, says Khurana, who has R01 funding from the National Institutes of Health. "We especially need to research how confidently and how well our AI tool is going to work on different data, not just from the Boston area," she says.
—
Beth W. Orenstein of Northampton, Pennsylvania, is a freelance medical writer and regular contributor to Radiology Today.