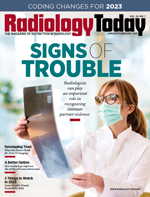 A Better Option
By Beth W. Orenstein
Radiology Today
Vol. 24 No. 1 P. 18
New technology improves the utility of breast ultrasound.
Last summer, when Katie Couric, the former cohost of NBC's Today show, learned she had breast cancer, it brought renewed attention to breast ultrasound as a screening tool for women with dense breast tissue. Like Couric, about 40% of women have dense breast tissue, which puts them at higher risk for breast cancer. Dense breast tissue appears white on mammograms, making cancerous lesions harder to see.
A follow-up breast ultrasound found Couric's breast cancer. Her experience "is one of the reasons the whole industry and society is revisiting breast ultrasound, especially for women with dense breast tissue," says Mark J. Forchette, president and CEO of Delphinus Medical Technologies. Delphinus has developed a 3D whole breast ultrasound tomography system (SoftVue) that images the entire breast with a single scan.
"Many screening studies to date describe that breast ultrasound utilized as screening for women with dense breasts identifies invasive breast cancers not detected on mammography," says Stamatia Destounis, MD, FACR, FSBI, FAIUM, managing partner of the Elizabeth Wende Breast Care in Rochester, New York, and chair of the ACR's Breast Imaging Commission. She is also a member of Radiology Today's Editorial Advisory Board. "As the goal of each breast radiologist is to identify these small tumors as early as possible, breast ultrasound becomes very important in helping us identify more cancers."
Today, many governmental screening programs encourage the use of breast ultrasound for women with dense breast tissue, largely because ultrasound can differentiate between normal dense tissue and cancerous lesions better than traditional 2D mammography, says Paola Wisner, vice president of global research and development for Hologic. Couric testified in Washington, D.C., in mid- December 2022 to champion a bipartisan bill, the "Find It Early Act," that would require all health insurance plans to cover screenings and diagnostic mammograms, as well as breast ultrasounds and MRIs, with no cost sharing.
One of the criticisms against breast ultrasound, however, is that it produces a higher number of false positives. A study published in 2008 in the Journal of the American Medical Association found that mammography prompted unnecessary biopsies in one in 40 women. Four times as many women underwent unnecessary biopsies when they underwent ultrasound screening in addition to mammography. The authors wrote that they saw a significantly higher false-positive rate associated with the addition of an ultrasound exam.
"While breast ultrasound is known for its exceptional sensitivity, its specificity has been a recognized shortcoming," Wisner says.
Breast biopsies caused by false-positive diagnostic assessments are estimated to cost the US health care system more than $2 billion a year, according to an open access study published in March 2018 in ClinicoEconomics and Outcomes Research. In addition, women suffer increased anxiety while waiting for results, says Rachel Brem, MD, director of breast imaging and intervention and a professor of radiology at The George Washington Center in Washington, D.C. Brem is a breast cancer survivor.
Several ultrasound products aimed at reducing, if not eliminating, this shortcoming have come on the market recently. Manufacturers and software developers are also using AI to make breast ultrasound a more valuable diagnostic tool without increasing false positive results. Some of the products have been approved by the FDA for diagnostic use. Applications are pending for some products that are designed to help determine whether a patient's breast cancer treatment is working. If approved, the products could be used to show whether neoadjuvant treatment for breast cancer is working weeks, perhaps even months, before other modalities can.
Breast Ultrasound Advances
In recent years, new breast ultrasound technologies have been introduced. Hybrid ultrasound models seem to be one solution. In November 2022, Seno Medical introduced its Imagio Breast Imaging System at the annual RSNA Scientific Assembly. The system helps physicians differentiate between benign and malignant breast lesions using noninvasive optoacoustic/ ultrasound (OA/US) technology to provide information about breast lesions in real time. This hybrid system combines the modalities of laser optics and grayscale ultrasound to provide fused functional and anatomical breast imaging. The OA images provide a unique blood map in and around breast masses, while the ultrasound provides a traditional anatomical image, says Alyssa Lopez, a sales and marketing specialist for Seno Medical. The radiologist looks for the appearance or absence of two hallmark indicators of cancer—angiogenesis and hypoxia.
"This is a more effective tool to help radiologists confirm or rule out malignancy, compared with traditional diagnostic imaging modalities," Lopez says. And it does so without exposing patients to ionizing radiation or contrast agents that they would receive with a CT or MRI exam. According to the ClinicoEconomics and Outcomes Research study, the Imagio reduces unnecessary biopsies and follow-up on imaging exams that cost health care billions.
In addition, the Imagio system uses AI to aid physicians in interpreting new images. "This AI decision support tool, called the SenoGram, along with training and certification, helps radiologists transition from reading ultrasound alone to OA/US imaging," Lopez says. The system was approved by the FDA in January 2021 to generate real-time functional and anatomical images of the breast for diagnostic purposes.
Studies are underway, Lopez says, to find out whether the hybrid modality can be used to determine the effectiveness of neoadjuvant chemotherapy. "Most women don't see or know if their treatment is working until they have had several rounds of therapy," she says. "We're trying to see if we can predict a response after one or two cycles of their therapy." If it is proven to be successful, it could be a game-changer, Lopez says, because patients could know whether to stick to the course or change regimens sooner, when doing so could possibly mean better outcomes.
When paired with a screening mammogram, Delphinus' SoftVue 3D whole breast ultrasound tomography system has been shown to identify up to 20% more cancers while reducing false positives and decreasing unnecessary callbacks and biopsies, Forchette says. The Soft- Vue includes a table for the patient to lie face down with her breast positioned in a water tank that is a part of the table. The ultrasound probes form a circle around the breast, moving up and down to allow for 3D scanning of the entire breast. Brem, who helped develop the technology, describes it as a "hybrid between ultrasound and a CT scan" without radiation.
"There are detectors on either side of the breast," she says. "So, we get a lot of information about tissue characterization. We see improvement in specificity because this is really a new technology that is not just ultrasound but allows us to have much better information about the tissue."
And, Brem says, unlike other automated breast ultrasound technology, it has no contraindications. If women have pacemakers or other implanted devices, it's not a problem, she says. Brem notes that breast cancers found on ultrasound done as follow-up to mammography tend to be more aggressive, and that is why it's most important to find them early.
Embracing AI
AI is another key development. Variability in interreader breast lesion assessment with ultrasound, growing workloads, and limited staff continue to be significant challenges for the breast imaging community, Wisner says. "AI and machine learning tools can help users overcome these challenges," she adds. The AI tools "are expected to help improve diagnostic accuracy by increasing sensitivity and specificity; diagnostic confidence, with decision-making support tools; and reproducibility, by addressing interreader variability; as well as decreasing operator dependency and improving the overall user experience."
For example, the SenoGram AI decision support tool in Seno's premarket approval study of 480 masses showed that when readers read ultrasound and mammography, they experienced more between-reader variability than they did when reading OA/US with the SenoGram AI decision support tool. This is notable because the readers had years of experience in reading mammography and ultrasound before they were trained for this study of the Imagio technology. However, with AI, variability was reduced with the new OA/US modality, Lopez says.
Another AI application is Koios Medical's Koios DS, an FDA-cleared cancer diagnosis software that uses AI on breast ultrasound images. It serves as an ondemand second opinion for classifying suspicious lesions and aligns to a BI-RADS
category while automatically prepopulating diagnostic reports. "It's hands-on, interactive and, with our AI, you're essentially doing a digital virtual biopsy using image data instead of tissue to catch cancers earlier and dramatically reduce false positives that result in biopsies of benign tissue," says Chad McClennan, the president and CEO of Koios.
Koios DS can be used with images from most manufacturers' ultrasound scanners and/or installed and connected to any PACS, McClennan says. The Koios AI tool is based on more than 2 million ultrasound images. "By analyzing 17.9k features per image, the software uses artificial intelligence to accurately and successfully classify and render cancer risk assessments and automatically generate an editable patient report," McClennan says.
McClennan says the AI software is particularly helpful for identifying interval cancers—cancers that are detected after a screening ultrasound but before the next scheduled exam. An internal quality review at a Koios customer site found nine out of 10 interval cancers were missed cancers and tend to be cancers that, if they had been caught earlier, would be more treatable, McClennan says. "Had they used AI a year ago, the [physicians] would have caught these cancers much earlier and wouldn't have to deal with a more advanced stage cancer," he says. With advanced stage cancer, not only are patient outcomes worse but treatment costs are also much higher, McClennan notes.
Koios' AI breast imaging decision support software has received CPT codes for billing from the American Medical Association (AMA), which has enabled multiple private insurers to reimburse providers for using the software, McClennan says. The codes are temporary codes for emerging technologies, services, and procedures and are currently reimbursed on a payer-by-payer, market-by-market basis.
"Having a new Cat III code assigned by the AMA is the major step required before a Cat I code can be issued," McClennan says. "Cat III codes are initially approved for a five-year period and used to both incentivize and track adoption of new, emerging technologies poised to become standard."
According to McClennan, Koios' radiology AI decision support software has enabled a well-known cancer research facility in New York City to receive more than 30% and 10% increases, respectively, on professional and technical fees. "This is a substantial incentive that is expected to help drive more widespread adoption of AI and all of its associated clinical benefits for patients," he says.
Looking Forward
Shear wave elastography is yet another way of improving ultrasound specificity, Wisner says. Recently introduced 3D shear wave elastography enhances a reader's ability to visualize breast tissue in any plane of 3D volume and preview information on the elasticity distribution inside and around the lesion.
Shear wave elastography has been found to aid in the diagnostic workup of breast lesions, which positively impacts patient management, Wisner says. It also helps with targeting lesions during ultrasound-guided biopsy, and it contributes to an accurate lesion size measurement. In addition, the technology plays a role in prognostics and monitoring of breast cancer patients during and after neoadjuvant chemotherapy.
"Notably, when shear wave elastography is paired with B-mode, radiologists report being able to add a critical biomarker to their routine to downgrade more lesions from BI-RADS 4a to BI-RADS 3 to avoid unnecessary biopsies," Wisner says.
Other ultrasound equipment updates are largely centered around ergonomics and user experience. They are aimed at making operations more intuitive and quicker to use while also reducing work-related injuries, Wisner says. These updates are needed, as sonographers are often asked to image patients for eight plus hours per day, she adds. The repetitive motions and strains of their jobs can lead to injuries.
"In fact, research suggests approximately 80% to 90.5% of sonographers are scanning in pain," Wisner says. "Upper limb pain and back pain are two of the most common pain-related complaints for ultrasound practitioners."
Today's ultrasound systems feature lighter-weight transducers with slimmer designs that fit more comfortably into smaller hand sizes, Wisner says. Modern designs are also striving to reduce hand and wrist movements through the reduction and customization of buttons and knobs.
Some models, such as Hologic's SuperSonic MACH ultrasound systems, utilize a trackpad control system, as opposed to the more traditional trackball. This eliminates the need for sonographers to round their hand over a trackball all day. Designed to function similarly to a smartphone interface, the trackpad simplifies the on-screen selection process, allows for easy movements and selection, and can reduce total movements required, Wisner says.
Destounis also sees a growing role for breast ultrasound in developing countries where availability of mammography is limited. Breast ultrasound can serve as first-line screening, as studies show similar detection of breast cancer, albeit with more false positives, she says.
For many years, the primary utility of breast ultrasound was differentiating cysts from solid masses, Wisner says. However, as ultrasound imaging has improved, the indications for utilization of ultrasound have expanded from lesion characterization to real-time sampling of the lesion using ultrasound guidance.
"Today, ultrasound continues to serve as a valuable diagnostic tool for breast imaging," Wisner says, "and it has become essential for patients with dense breast tissue."
—
Freelance medical writer Beth W. Orenstein of Northampton, Pennsylvania, is a regular contributor to Radiology Today.