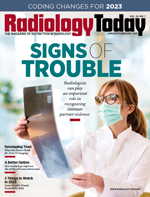 Billing and Coding: Time on Your Side?
By Melody W. Mulaik, MSHS, CRA, RCC, RCC-IR, CPC, COC, FAHRA
Radiology Today
Vol. 24 No. 1 P. 26
In 2023, it may be easier to bill for inpatient visits.
For 2023, the biggest coding change being discussed in most radiology practices is the revision of the inpatient guidelines for evaluation and management (E/M) visits. These revisions have changed how visit levels are assigned and may offer more opportunities than the revised outpatient E/M guidelines to bill for services already being provided by interventional radiologists. With the continued downward trend of overall reimbursement, radiology practices must closely evaluate all their services to ensure that reimbursement is not inadvertently forfeited due to a lack of knowledge or systems in place to capture visits.
Radiologists will see a decrease in reimbursement for 2023, but exactly how much will vary based on the service site and number and type of procedures performed. Every practice should complete its own evaluation by individual procedures vs applying the average amount provided by CMS.
Changes for 2023 include revisions to office/outpatient and inpatient consultation codes, the deletion of several inpatient codes (including the previous observation codes 99217–99220), the revision of existing initial and subsequent inpatient visits to include observation, creation of new add-on codes for extended visits (99418 and G0316), elimination of history and/or physician exam in determining the billable code level, and code assignment for initial (99221–99223) and subsequent (99231–99233) inpatient/observation visits based on time or medical decision making (MDM).
As with the outpatient E/M visits, the American Medical Association states that the definition of time is the minimum time, not the typical time, and represents total physician/qualified health care professional (QHP) time on the date of service. The use of these codes requires a face-to-face encounter by the physician or other QHP and includes the total of face-to-face and non–face-to-face time. The total time does not include time for activities normally performed by clinical staff. A QHP is defined as an individual who, by education, training, licensure/regulation, and facility privileging, can perform a professional service within his/her scope of practice and independently report a professional service for reimbursement. If the visit is a split/shared visit, only distinct time should be summed when two or more individuals meet with or discuss the patient so that only the time of one individual is counted.
If more than one billing practitioner sees the patient as part of the encounter on the date of service, only one person is counted per minute of time applied to the billable level. To count the time of multiple practitioners would be "double dipping" related to time. Each level of visit will now have an assigned range of time to better identify the appropriate level of service per the documented work of the encounter.
A Matter of Timing
If time is selected, there is no minimum amount of MDM, which must also be documented in the note. However, there is basic documentation needed to be considered a credible visit for billing purposes. Typical activities that can be used toward total time include preparing to see the patient (eg, review of tests); counseling and education for the patient/family/caregiver; documenting clinical information in the EHR; obtaining and/or reviewing separately obtained history; ordering medications, tests, or procedures; independently interpreting results (not separately reported) and communicating results to the patient/family/caregiver; performing a medically appropriate examination and/or evaluation; referring and communicating with other health care professionals (when not separately reported); and care coordination (not separately reported).
Insert Tables
The tables above identify the time requirements assigned to each level of initial and subsequent inpatient/ observation patient visits beginning in 2023.
There may be instances in which the time spent for the E/M encounter will run longer than the allotted time of 75 minutes for an initial patient (99223) visit or 50 minutes for a subsequent visit (99223). Beginning January 1, 2023, new prolonged services codes are available for use with the revised outpatient and office visit codes.
The new code by the American Medical Association—for use with payers, except Medicare—is CPT 99418, and it replaces the previously used codes 99358 and 99359. Codes 99358 and 99359 are still valid in 2023, but they are no longer billable with the revised inpatient/observation E/M service codes. The newly created code is billable with time-based reporting for inpatient/observation visit codes that have reached the threshold for a level 3 visit (99223 and 99233). CMS opted not to utilize 99418 and instead created the HCPCS add-on code G0316.
By CPT guidelines, the admitting physician/practitioner should use the subsequent hospital care codes for services provided to inpatients on days following the day of admission. Other physicians and nonphysician practitioners who did not admit the patient should use the subsequent hospital care codes for all of their encounters with the inpatient unless the encounter meets the criteria for a consultation.
Medicare, on the other hand, requires all physicians and practitioners to use the subsequent hospital care codes for any encounter with an inpatient following the initial encounter. Physicians/practitioners are to report the initial encounter with a code for initial hospital care and all subsequent encounters with codes for subsequent hospital care.
Only one subsequent hospital care code is reported per day, regardless of how many times the physician/practitioner sees the patient on that date. This rule applies even if the patient must be seen a second time on the same date due to a new problem. If the patient is seen multiple times on the same date, the documentation from all of these visits should be considered when determining the level of service.
There are separate codes (99234– 99236) for inpatient or observation care discharge on date of admission. These codes have also been updated to allow for coding based on time or MDM.
Lastly of note, the outpatient and inpatient consultation codes (99241– 99245 and 99251–99255) have been updated to include the deletion of the Level 1 visits (99241 and 99251) and the allowance of time or MDM to be the key factor when assigning a visit level. As a reminder, effective January 1, 2010, CMS eliminated the use of consultation codes and requires existing E/M services when providing patient visit services.
Even though the documentation of the patient history and examination will no longer be applied when determining the level of the inpatient visit, it is still expected that the documentation will include these components as medically appropriate to the visit. These coding changes provide a good occasion to review the current opportunities to bill for inpatient E/M services and implement appropriate processes to ensure adequate documentation and accurate billing.
—
Melody W. Mulaik, MSHS, CRA, RCC, RCC-IR, CPC, COC, FAHRA, is the president of Revenue Cycle Coding Strategies, LLC.