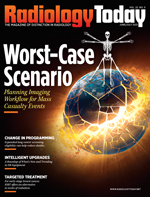 Intelligent Upgrades
By Keith Loria
Radiology Today
Vol. 22 No. 5 P. 18
A Roundup of What's New and Trending in DR Equipment
DR equipment changes fast, as new tech comes along each year that makes things easier for the radiologist and better for the patients they work with. A survey of the major DR manufacturers reveals user-assisting functionality is driving innovation among the industry in the form of AI-based features as well as automation.
Karim S. Karim, founder and chief technology officer of KA Imaging, sees three interesting trends in DR over the past year, including a greater focus on shifting imaging to the point of care and portable devices, improving image quality obtained from portable and mobile X-rays, and advanced tools and algorithms, including AI, that help the radiologist increase efficiency and lower cost through early detection and diagnostic confidence. 
"These trends have been driven by COVID-19, which reduced the use of fixed imaging facilities out of fear of spreading infection; hence the great focus on better access through portability," Karim says. "Also, reduced health care budgets have highlighted a need to increase efficiencies across the board—for example, early detection using point-of-care tools such as POCUS [point-of-care ultrasound] and mobile X-ray."
Daan van Manen, general manager of DXR for Philips, notes that AI, including machine learning technologies, was prominently promoted at the European Congress of Radiology 2021 as a protagonist that is currently changing health care in a fundamental way. These changes extend to diagnostic X-ray, as well.
"As a matter of fact, radiological applications of AI-based technologies are numerous and expanding, with AI no longer being a futuristic vision but an integral part of daily life in the radiology departments," van Manen says. "These applications play an essential role in automating and streamlining tasks to improve workflow efficiency, acquisition accuracy, and consistent image quality."
Clinical AI applications can, for example, support the acquisition of standardized images, independent of technologists, while guiding the acquisition of images with equivalent diagnostic quality. Several companies have made recent strides in the segment.
Carestream
Steve Romocki, worldwide product line manager for radiology systems at Carestream Health, says AI in radiology is no longer a future state, as today's imaging departments can adopt AI-driven features that automate workflow and help increase their productivity.
"The market also is excited about the option to have more features in lower-cost imaging rooms, like our affordable DRX-Compass room," Romocki says. "And DR detector technology is evolving, as well. Detectors are becoming lighter in weight, more ergonomically designed, and provide a better way to capture images."
Carestream is offering new AI-based smart features that help optimize equipment positioning, patient positioning, and radiographer workflow. In addition to increasing patient throughput, these features can help improve image consistency and reduce retakes. For example, DRX-Compass is scalable and upgradable so customers can choose the advanced features and options—including smart features—that meet their needs.
"We also continue to expand our portfolio of DR detectors," Romocki says. "We just launched our first glass-free detector, the Carestream Lux 35 Detector. And, recently, we added the DRX-L Detector for long-length imaging. It captures a long-length image with a single exposure and provides one unified image so there is no need for manual stitching or manipulation of the image due to patient movement."
Another significant development is the application of AI to help improve image quality and provide features that help imaging facilities optimize dose to assist clinical decision support. This is embedded in Carestream's ImageView software, which is available as an option on some of its room equipment configurations.
GE Healthcare
Katelyn Nye, general manager of mobile X-ray and AI at GE Healthcare, notes that the integration of AI and cameras into X-ray systems is revolutionizing the industry, empowering X-ray devices to do more—streamlining workflows and developing clinical tools to help improve hospital efficiency and patient care. That's why GE Healthcare now has six embedded AI algorithms and camera options commercially available across its three product lines—mobile, fixed, and fluoroscopy—which she says can help prevent errors.
In 2019, GE Healthcare became the first—and has remained the only—X-ray equipment manufacturer to receive FDA 510k clearance for an embedded AI algorithm that triages critical pneumothorax findings. The introduction of the ETT AI algorithm in Critical Care Suite 2.0 occurred only one year later, in accordance with the FDA's imaging guidance regarding the COVID-19 public health emergency.
"GE Healthcare's innovation success in AI is a result of their Edison AI Services and Platforms, which provide data science expertise and platform efficiencies to the many GE Healthcare business units," Nye says. Embedded AI enabling "autopilot features" is a new capability being unlocked by the latest deep learning advancements from the company.
"Today at medium- to large-size hospitals, technologists manually rotate chest X-rays so that the head is orientated upright. This task alone accounts for ~70,000 user interface clicks annually, which takes nearly three full working days to perform," Nye says. "With GE Healthcare's embedded AI algorithm, Intelligent Auto Rotate, this task is now automated with an accuracy of 99.4%."
KA Imaging
KA Imaging recently released the Reveal portable dual energy retrofit X-ray detector package that addresses the market's needs on access, quality, and cost. "The Reveal detector can retrofit any existing portable or fixed X-ray equipment to perform higher accuracy dual energy X-ray imaging where, in addition to providing a regular X-ray image, we provide a bone-subtracted and a tissue-subtracted image simultaneously," Karim says. "All three images are obtained without needing a change in clinical workflow nor increasing the radiation to the patients."
The increased accuracy combined with supplemental dual energy X-ray images enables early detection, compared with standard DR, of common chest diseases such as pulmonary nodules, coronary calcium, pneumonia, and pneumothorax, which leads to higher efficiencies in a hospital or care setting.
"The Reveal solution allows for taking frontal, lateral, and oblique dual energy X-ray images, which was not possible with older generation dual energy X-ray equipment because of higher radiation dose and excessive motion artifacts in the retrocardiac area; yet there is a burning need to visualize the retrocardiac space due to the possibility of finding coronary calcium and hidden masses behind the heart," Karim says.
In the past, dual energy X-ray imaging was a niche modality available from only a few select manufacturers. Today, the Reveal X-ray retrofit detector solution allows a hospital to upgrade any X-ray system, mobile or fixed, from any manufacturer by simply swapping out the digital detector. 
"This means, for the first time, the higher accuracy benefits of dual energy X-ray can now be accessed by the entire mainstream digital X-ray market," Karim says. "Even if some providers have an older generation CR solution, the Reveal solution can upgrade old CR technology to state-of-the-art dual energy X-ray."
Philips
The portfolio of equipment from Philips includes the DXR North Star, a one-touch X-ray with fully automated workflow that notifies users of suspicious findings.
AI can be used in various ways along the diagnostic care pathway. One potential use is to assist X-ray technologists in acquiring optimal images. This is an important consideration, given the global shortage of well-trained X-ray technologists.
To address this need, Philips has developed the Radiology Smart Assistant for its Lunit INSIGHT CXR for MobileDiagnost wDR. Philips' AI-based Radiology Smart Assistant is a solution that improves acquisition accuracy and reduces operational inefficiencies in X-ray through constant feedback at the point of image acquisition.
"In the field of computer-aided detection and diagnosis, the integration of the Lunit INSIGHT CRX in our MobileDiagnost wDR, will allow clinically relevant findings, such as abnormalities, to be found much more quickly and accurately," van Manen says. "Not only can we find abnormalities better but, more importantly, we can make intelligent decisions. This is particularly relevant right now in terms of computer-aided triage to prioritize the review of images for patients with potentially time-critical findings."
Another area of importance for AI in medical imaging, van Manen says, is software for computer-aided detection and diagnosis. The software is used to analyze radiological images to suggest clinically relevant findings and support diagnostic decisions. van Manen believes future DR systems will operate in a more automated and autonomous way to allow for more user-independent outcomes on a consistently high-quality level to help caregivers stay on the clinical edge at manageable costs.
"The approach of using the Radiology Smart Assistant to get the image right the first time can save an extreme amount of time and stress, while not only reducing the cost of care but also ensuring both patient and staff satisfaction," he says.
Siemens Healthineers North America
The latest DR products from Siemens Healthineers North America are the YSIO X.pree intelligent radiography system and the MULTIX Impact C ceiling-mounted DR system.
Martin Pesce, product manager for the X-ray products business at Siemens Healthineers North America, says the new products increase user-assisted functionality by including both 2D and 3D cameras, thereby allowing increased automation and AI-based programs. For example, the YSIO X.pree includes an AI-based Auto Thorax Collimation feature that analyzes the patient's body contour and adjusts the collimator blades automatically.
"That improves the workflow, decreases errors, and increases user satisfaction," Pesce says. "This allows the radiological technologist to focus on their patients' needs and positioning, which is key."
Siemens Healthineers is also offering a package with a virtual collimation feature, which allows lab rad techs the ability to adjust collimation from the main console by way of a multitouch screen. That reduces the need to walk back to the exam room to make any needed adjustments.
"By automating these manual steps, it improves the rad tech throughput while delivering more consistent results," Pesce says.
The DR systems also include myExam Companion, which provides proactive guidance to help technologists navigate a radiography procedure from start to finish, regardless of skill level.
The company's research and development team is continually in contact with users and to facilitate incorporating the latest trends in the newest DR systems. Features and functionality can be easily upgraded as new capabilities become available.
— Keith Loria is a freelance writer based in Oakton, Virginia. He is a frequent contributor to Radiology Today.