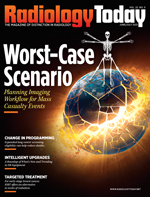 Targeted Treatment
By Aine Cryts
Radiology Today
Vol. 22 No. 5 P. 22
For early-stage breast cancer, IORT offers an alternative to weeks of radiation.
Anita Warrington, a patient at Atlanta's Emory University Hospital Midtown, had been diagnosed with breast cancer. She became the hospital's first patient to be treated with targeted intraoperative radiation therapy (IORT) immediately following the surgical procedure that removed her cancer in 2015. Warrington was a candidate for this therapy because her breast cancer was found early and wasn't aggressive.
"I can leave here today, and my life, pretty much, is where it was the day before I found out that I was diagnosed with cancer," Warrington told the CBS affiliate station in Atlanta. "So, I couldn't have asked for more than that."
IORT, where a single dose of radiation is administered at the time of the surgery, typically replaces the approximately six weeks of daily visits for radiation treatments. Warrington was a good candidate for the procedure because her tumor was a unifocal invasive ductal carcinoma no larger than 3.5 cm.
Most patients don't need additional radiation after receiving the one-time radiation treatment that is inserted into the tumor site through an applicator after the tumor is removed. Depending on the size of the cavity, the procedure takes between 20 and 40 minutes. After the treatment has been applied, the surgeon closes the opening and the patient is sent for postoperative care. Once inserted, the patient receives low levels of radiotherapy.
Treatment Without Delay
Because the radiation is delivered at the time of surgery, there's no delay in starting the treatment, says Valery Uhl, MD, a radiation oncologist at Antioch, California–based multispecialty practice Epic Care, where she provides this treatment to patients. It's typical to delay standard radiation treatment for four to six weeks after the surgery, which allows time for the surgical wound to heal.
Uhl is also president of TARGIT (TARGeted Intraoperative radiation Therapy) Collaborative Group, an organization of radiation oncologists, cancer surgeons, and physicists in intraoperative radiotherapy that tries to improve cancer care for patients through education, patient advocacy, mentorship, and collaborative research.
Rogsbert Phillips, MD, a community-based breast surgeon who treated Warrington at Emory University Hospital Midtown, told the CBS affiliate that this therapy is part of a trajectory of breast cancer treatment for patients that began in the 1980s, when the goal was to conserve the breast while removing the tumor.
Clinical outcomes for patients who receive IORT are comparable with external beam radiotherapy (EBRT), where radiation is pointed at a particular part of their body, according to an August 2020 study published in the BMJ.
Karen Godette, MD, a radiation oncologist and associate professor at Emory University Hospital Midtown, describes side effects of the therapy as minor. They can include skin irritation and firmness. Godette was a member of Warrington's care team when she had the IORT procedure performed.
IORT benefits patients because it means they don't need to travel on multiple occasions to a health care facility for radiation treatments, which means no risk of exposure to COVID-19 during the pandemic, Uhl says. But even before the pandemic, access to this treatment meant that women could largely get back to their lives and not have to spend the time or gas money to travel for radiation, Uhl explains.
She stresses that, because the radiation is targeted at the site of the tumor, it's possible to avoid exposing the heart and lungs to radiation. The ability to avoid exposing the heart to radiation is particularly beneficial to women who have cancer in the left breast, she says. In addition, the patients who receive this treatment receive less radiation overall.
Potential to Reduce Disparities
Reducing the number of times a patient on a radiation treatment plan has to enter the health care system to receive radiation treatment could improve their clinical outcomes. An October 2016 study published in the International Journal of Radiation Oncology found an association between patients who missed two or more scheduled EBRT treatments, which the researchers defined as noncompliance, and inferior clinical outcomes. The study included 1,227 patients between the years of 2007 and 2012 with cancers of the head and neck, lung, cervix, uterus, or rectum. Twenty-two percent of patients were noncompliant with their radiation treatment plan.
In addition, racial disparities in health care have been well documented. That ranges from a greater likelihood that Black women—as well as Native American and Alaska Native women—will die from pregnancy-related causes and after a breast cancer diagnosis.
While the rate of breast cancer among white women fell between 1999 and 2013, it increased slightly among Black women, according to a Morbidity and Mortality Weekly Report issued by the Centers for Disease Control and Prevention in October 2016. According to the American Cancer Society, Black women are 40% more likely to die of breast cancer than white women—and they're twice as likely to die if they're 50 years of age or older. A call for a more robust approach to eliminating racial or ethnic disparities in breast cancer was issued by the authors of an article chapter in Advances in Experimental Medicine and Biology. Including leaders and medical professors from minority populations will help ensure that racial disparities in breast cancer continue to be studied, fully addressed, and, ultimately, eliminated, the authors wrote.
One way to reduce racial disparities in treatment is to increase access to therapies such as IORT for all women. Godette insists that access to this therapy could have a positive impact on Black women's health outcomes.
Most of the patients Godette treats at Emory University Hospital Midtown are "probably middle income or a little below," she says. Many of these women learn about IORT through their research online, but Godette reaches out proactively by speaking at church services about the therapy. The message that women find most compelling about IORT is that they're "done all at once" after the tumor is removed, and the treatment is applied before they're closed up after the surgery, she says.
Regulatory Approvals
Whole breast radiotherapy remains the standard of care for women treated for breast cancer. But, in 1999, Intrabeam, a device developed and marketed by Carl Zeiss Meditec, a German medical technology company with a US headquarters in Dublin, California, received FDA and CE approval to deliver a prescribed dose of radiation to the treatment margin or tumor bed during intracavity or intraoperative radiotherapy treatments.
A 510(k) filing on the Carl Zeiss Meditec website indicates that the Intrabeam 600 is indicated for radiation therapy treatments; the Intrabeam device is used by the clinicians cited in this article. Per the company, "The safety and effectiveness of the Intrabeam 600 as a replacement for whole breast irradiation in the treatment of breast cancer has not been established."
A February 2021 report from MarketsandMarkets, a market research company with a US headquarters in Northbrook, Illinois, finds that IORT offers partial irradiation and can be used as a breast-conserving alternative to both traditional lumpectomy and mastectomy. The report adds that high precision, better cosmetic outcomes, cost-effectiveness, and greater patient comfort are advantages of this therapy.
— Aine Cryts is a health care writer based in the Boston area.