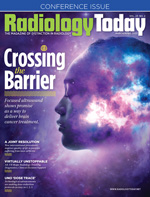 Managing to Succeed: The Key Financial Tailwinds of 2022
By Andrew Colbert
Radiology Today
Vol. 23 No. 2 P. 28
While 2020 was a slower year for consolidations in radiology, deal activity picked up over 2021 to prepandemic levels and should continue through 2022.
Much of this activity is driven by a record amount of available capital. The stock markets have been volatile,  investors and lenders seem to be comfortable putting more capital to work. As of this writing, in the private markets there is a record $34 billion of capital committed to be funded into health care deals. This is a record high, up almost five-fold from $7 billion in 2007.
Furthermore, there are more than 140 US private equity funds that are targeting the health care sector for investment. Many generalist funds are looking to increase their exposure to health care, as they believe that health care will recover more quickly than many other segments such as retail/consumer. Additionally, the presidential administration brings stability to the sector with the continuation of the Affordable Care Act—providing more people with access to health insurance and channeling more funds into the system. Because investors tend to look three to five years into the horizon, to have four years of basic stability in the health care sector makes it an attractive place for their investment.
Capital is one macroeconomic force that will continue to drive consolidation in radiology. Other key forces impacting the sector include outpatient volume shifting, reimbursement landscape changes, consumer behavior trends, and effects related to COVID-19.
Where Things Are Headed
The following are the key market tailwinds and trends that radiology group owners should be aware of.
Migration of volume from inpatient to outpatient settings will likely continue through 2022. Across the board, not just in radiology—any service that can be administered outside of the hospital in a freestanding site is becoming more attractive to patients and to insurance companies. This is being driven by both cost and convenience. Freestanding outpatient imaging is typically much cheaper (sometimes by as much as four-fold) than hospital-based imaging, which often results in lower costs for the patient as well. Additionally, patients increasingly prefer the convenience of outpatient centers, as they are typically less crowded and more efficiently run.
As volume continues to shift toward outpatient settings, it will benefit radiology groups that have established outpatient imaging sites or relationships, while groups that do most of their work in the hospital will see their volume decline. This is a trend that will only continue to accelerate over the next five to 10 years.
Medicare has indicated some sweeping changes to health care reimbursement on the horizon. The Centers for Medicare & Medicaid Services is shifting dollars from the specialties to primary care while keeping the overall spend constant in aggregate. As a percentage of total health care spending, the United States spends only 4% to 5% on primary care vs 14% spent by other developed countries. Evaluation and management—"the E&M code adjustment," which is the first major reimbursement change to hit radiology in the last five years—will amount to a nearly 8% reduction to radiology Medicare reimbursement over the next two years (broken down between a 4% hit in 2021 and then another 3.75% in 2022). The big question is, will commercial payers follow suit in redistributing dollars toward primary care and away from specialists?
Legislation addressing "surprise billing" took effect in January. While much of the law has to do with emergency care billing, it also covers nonemergent care when the patient is unknowingly treated by an out-of-network provider. An example would be when a patient goes to a physician's office for a colonoscopy procedure and receives a bill that's significantly higher than what was expected because the anesthesiologist wasn't in the patient's network. While the legislation will clearly benefit patients, it is likely to decrease revenue and consume staff time for many physician group practices.
The most significant impact for physician groups is that they will no longer be able to threaten insurers with "going out of network," which has historically allowed physician groups to secure better rates ("If you don't give us a fair rate, we'll start billing your patients out of network"). The physician group's loss of this bargaining chip will ultimately shift more leverage to managed care.
Consumers are shopping for health care like a retail service. Whether it's looking at online reviews, comparison-shopping for the best price, or evaluating reported health outcomes across practices, patients are no longer automatically going the first place their physician suggests. COVID, too, has led to a greater emphasis on consumer engagement and immediacy of services—with the increased availability of telemedicine and greater appointment spacing during COVID, patients have become accustomed to being seen immediately and may no longer tolerate sitting for hours in crowded waiting rooms. Providers need to make operational changes to meet these new expectations; health care will need to be delivered with high tech and high touch to maintain a competitive edge. 
Providers and patients are embracing telemedicine and telehealth. Where once telemedicine was treated as a separate service line, COVID has made it a core competency for all physician groups. Patients now expect physician groups to have telemedicine capability—something that requires IT investment, legal input, and administrative care in handling the related billing.
The Takeaway
The administrative and market environment for radiology groups is only becoming more complex. One clear takeaway is that scale is an absolute requirement to ensuring success over the long term. We are looking at a pivotal strategic year for radiology groups, which must be ready to answer this key question: Do you want to be the platform group, or do you want to join an established platform? Those who want to be the platform need to be aggressive in adding service lines, gaining market share, and building scale. Such groups must be willing to make the IT, management, and personnel investments to get there—and those investments will come at the sacrifice of owner distributions. Those who want to invest in new workflow technologies or acquire the imaging center down the road can't expect to bring home what they made last year or the year before.
To avoid those sacrifices, physician owners can also decide to partner with a regional or national group that can offer them new resources and the benefits of scale. National group models are built on the concept that clinical control and governance remain in the hands of the local group, while the partner brings the necessary capital, extensive administrative, technology, and operational capabilities to ensure success. Additionally, partnerships can be structured to align the incentives so the local group is able to participate in the future upside and growth.
There are many paths for securing scale. The only nonoption is the status quo.
— Andrew Colbert is a senior managing director and founding member of Ziegler's Healthcare Investment Banking practice. Colbert has represented more than 20 radiology groups on transactions. He specializes in advising physician groups on strategic and financing alternatives including merger and acquisitions, joint ventures, capital raising transactions, and partnership development. More information is available at ziegler.com/radiology.