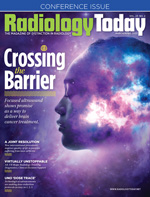 Editor's Note: Springing Forward
By Dave Yeager
Radiology Today
Vol. 23 No. 2 P. 4
Spring will be upon us in about a week. Before long, warmer weather will draw us out of our homes and entice us to stretch our limbs. In some ways, it has felt like a protracted winter since the COVID pandemic began, but just as trees and flowers herald the beginning of a new season, there are signs that the worst may be over. As our thoughts turn to growth and renewal, this issue examines procedures and technologies that are beginning to blossom.
One challenge that has plagued medical professionals is getting much-needed medications through the blood-brain barrier. Normally, this thin layer of cells prevents harmful microbes from reaching the brain, but it also prevents potentially beneficial medications from being absorbed. In this month's cover feature, Beth W. Orenstein explores the use of focused ultrasound to briefly open the barrier, allowing medication to permeate it and directly attack brain tumors.
Another difficult-to-treat condition is knee osteoarthritis. Knee arthritis affects more than 30 million people in the United States, resulting in lost wages and significant reductions in quality of life. Historically, there haven't been many effective options for alleviating knee pain associated with arthritis, but new interventional procedures show promise for reducing pain and improving outcomes. Keith Loria has the details.
Moving into the realm of cutting-edge technology, Kathy Hardy reports on recent advances in augmented and virtual reality systems. New iterations of AR and VR are finding their way into the surgical suite, assisting surgeons in a variety of procedures. Many of the procedures are minimally invasive, allowing them to be performed more accurately and with less cutting than ever before. These systems can also assist with physician education, and they have potential for expanding advanced procedure access to rural and underserved areas.
Finally, Loria provides an update on the latest thinking about and technology upgrades for dose safety and management. Regulations and reporting requirements have driven down dose exposures, but new features allow health care providers to obtain quality images with even less dose than previously possible. In addition, limiting dose exposure of medical staff is an ever-present concern. For more on this crucial effort, turn to page 22.
Enjoy the issue.