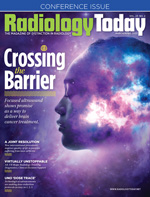 Imaging Informatics: Closing Gaps in Care Coordination
By David Danhauer, MD
Radiology Today
Vol. 23 No. 2 P. 6
How Owensboro Health Is Managing Incidental Radiologic Findings by Integrating NLU Into Its EHR
A patient came to our emergency department at Owensboro Health in Kentucky a couple of days in a row with facial lacerations from falling. The patient received CTs both days, but reports addressing the specific findings were not completed, and the patient was discharged. A couple of months later, a brain MRI revealed a single brain metastasis.
Another patient visited our ED several times over the course of a year with complaints of abdominal pain radiating to their back, and they experienced nausea and vomiting. After several visits, labs and CTs of their head and chest revealed numerous masses.
At Owensboro, our mission is to improve the health of our community; however, serious gaps in these two patients' care coordination increased their risk of morbidity and mortality.
Significant Gaps
The unfortunate and unacceptable reality is that serious safety events such as these aren't unique to our system; they're happening across the country, more often than we care to admit. Recent studies show compliance with care follow-up is as low as 29% and only as high as 77%.
These events are not individual lapses but systemwide failures. Workload pressures, misdiagnosis, and difficult workflows create a challenging environment where these gaps can affect patient care. It's easy to get tunnel vision and focus on the singular task in front of us. And with the added pressures of a global pandemic, providing quality care and paying attention to every detail can, some days, feel insurmountable.
But we have the power to change our reality. Technology exists to improve care coordination, allowing clinicians to spend less time documenting and more time caring for patients. At Owensboro Health, we were able to increase our reporting and follow-up of incidental findings by nine-fold.
What made all the difference was using natural language understanding (NLU) technology, a form of AI that unlocks nondiscrete data and flags those findings with our EHR, making it an easy-to-use integrated workflow. Radiologists dictate their notes, and the NLU technology automatically identifies follow-up opportunities and feeds them into the EHR, seamlessly handing it off to the nurse navigator to follow up with the patient in a timely manner.
Since implementing the integrated workflow, we've seen an 1,800% increase in total follow-ups within a year, translating to $475,000 in potential revenue. Considering the added peace of mind in knowing patients are getting the kind of care they deserve, the technology has more than paid for itself.
Secrets to Integrated Workflow
We went live with our integrated workflow within eight months. A large part of such a rapid implementation and our overall success can be attributed to the following three things:
Leadership Buy-In
If you don't have your leadership on board with a process improvement, it isn't going to happen. And if the change isn't led by those whom it affects every day, it's going to be challenging to implement. For us, serious safety events motivated everyone to band together and work as fast as we could to ensure our patients were getting the best care we could provide. From radiology to patient safety and quality to IT to ancillary services, leaders across departments were highly involved. Each group was critical in helping to make it happen.
Prioritize Ease of Use
The more significant the changes, the longer and more arduous they'll be to adopt. We prioritized keeping some of the old where we could, so there was still a level of familiarity as we introduced the new processes. We also decided on several of the new functions based on what would be intuitive and most manageable for those who interact with the new process most often. For instance, the NLU technology and EHR work together to bundle information by patient, so all the information and follow-up opportunities are in one place, regardless of how many visits, different tests, etc.
Strong Vendor Partnerships
We managed multiple vendor partners throughout the entire implementation process. While that can be challenging, what made it work to our benefit was having each of them on every call and in every meeting. That way, everyone had the same information and knew what their responsibilities were at every point.
Furthermore, even after our initial go-live date, our vendor partners didn't disappear. We continue to work with 3M M*Modal, our NLU technology partner, to fine-tune the system so it continues to learn what we need it to and improve along the way. With their partnership, we're able to increase accuracies on an ongoing basis and have a direct impact on improving the care and outcomes of our patients.  
After seeing the dramatic results from the successful implementation of the integrated workflow within one area of Owensboro, we're working to operationalize and integrate it into other departments and across our health system. That will be an ongoing commitment to ensure our patients have a consistent and quality experience, no matter which facility, department, or clinician they visit within our system.
We share our story so other organizations know it's possible to change what may seem impossible. You can make a difference.
— David Danhauer, MD, is the senior vice president and chief medical information officer of Owensboro Health, where he leads a clinical informatics team focused on goals of improved patient engagement, high-quality care and patient safety, and physician satisfaction. Danhauer oversaw the implementation of an enterprise EHR for ambulatory and inpatient settings; helped design a new $500 million, 450-bed regional hospital; and supported the growth of an ambulatory group of 180 providers in 30 locations.