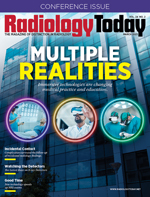 Watching the Detectors
By Keith Loria
Radiology Today
Vol. 24 No. 2 P. 18

The Latest Buzz on X-ray Detectors
Hospitals and health care clinics are always searching for optimized workflows to reduce errors and downtime. X-ray detectors are a key part of this trend, and customers are looking for reliable products that can deliver both high image quality and robustness.
Some of today's detectors include the ability to capture high resolution images at a lower dose. Advanced detectors on the market are also lightweight, thin and offer battery powered, wireless operation. Some include an antibacterial coating to help protect against hospital-acquired infections.
"Most all detectors are wireless; wireless operation is crucial for any hospital setting/facility, as cords can get in the way and present tripping and sterile-field safety hazards," says Rob Fabrizio director of strategic marketing for diagnostic imaging for Fujifilm Healthcare Americas Corporation. "Being able to capture high-quality images at increasingly lower doses is also crucial from a safety aspect, for both clinician and patient."
Lightweight, thin, and glass-free detectors eliminate the traditional glass layer (the most fragile component), help ease patient and detector positioning, and help decrease the chances of detector drops and resulting damage. All of these features enhance reliability and patient care and increase the return on investment.
Fabrizio says clinicians are increasingly looking for radiography equipment to help achieve lower doses, maximize workflow efficiency through enhanced portability, and provide advanced capture and image display of high-quality images.
"We have noticed both in sales and conversations with customers that providers are gravitating towards equipment, including X-ray detectors, that uniquely address these benefits, as they greatly contribute to enhancing their patients' experiences as well," he says.
Jill Hamman, worldwide marketing manager of global X-ray solutions for Carestream Health, says the popular models coming to market are nonglass versions. "Glass-free detectors provide several benefits: lighter weight, no glass to break if the detector is dropped or bumped, easier to handle and position, and easier to carry," she says.
According to a recent market report by GreyViews, the X-ray detector market is worth approximately $6.5 billion and is forecast to grow at a combined annual growth rate of 5.7% until 2029.
This is one reason manufacturers are working hard to introduce new detectors that offer many of the features clinicians are seeking.
"Besides robustness-related features, the new detectors on the market offer sharper images," says Ana Carolina Neves Alves, global product manager of retrofit and panels for Agfa. "That translates not only in better image quality but also high diagnostic accuracy, even on more challenging body parts."
New Tech
Agfa recently launched its Duraline detectors, which feature drop resistance from a height of 1 meter, ingress protection code 67 for increased resistance to water and dust, and internal Wi-Fi antennas for high-speed connectivity. The Dura-line detectors deliver the potential for significant patient dose reduction and 15-hour battery autonomy. The detectors come in three sizes and use near-field communication technology to allow sharing between different modalities.
Fujifilm has released several new detectors over the last few years that contribute to both patient and user safety, deliver high-quality clinical images, enhance workflow, and enhance the patient experience. For example, in November 2022, the company announced the availability of Fujifilm's new FDR D-EVO III G80i, the world's lightest, long length detector with Fujifilm's patented Irradiated Side Sampling (ISS) and Hydro AG antibacterial coating. Its 17- x 32-inch size, wireless battery operation, ultralightweight and thin design enhance portability for surgery and all types of upright and supine imaging. The detector is designed to capture full-length views in a single shot.
"We have also seen a lot of excitement for our latest FDR D-EVO III standard size detectors, which are the world's first glass-free and lightest DR detectors with patented ISS and antibacterial coating," Fabrizio says. "[A] 'film'-based capture circuitry layer helps reduce signal blur, providing excellent dose performance and dramatically reducing the weight of the detector to just 4 lbs."
Additionally, at RSNA 2022, Fujifilm showcased several new technologies and products, including new advances in AI throughout all its modalities, including X-ray detectors. "For example, we showcased AI with BoneView, an FDA-cleared AI application manufactured by Gleamer and distributed by Fujifilm, which is designed to assist clinicians in the detection of orthopedic fractures," Fabrizio says. "It uses advanced algorithms to detect and localize fractures on X-rays for adults 21 years or older—highlighting areas of interest—as they are acquired and just before images transfer to radiologists for validation."
Fujifilm's X-ray acquisition systems in the United States will have the option to be equipped with Fujifilm's new hardware kit called EX-Mobile, enabling integration of the BoneView software on workstations such as desktop and mobile acquisition consoles.
In response to the demand for glass-free detectors, Carestream offers the glass-free Lux 35 Detector. "This was the first nonglass detector with a cesium iodide (CsI) scintillator for the medical market," Hamman says. "The Lux 35 is almost 2 lbs lighter than its predecessor (Carestream's DRX Plus Detector), as well as most competitors. It has ergonomic features, including beveled edges, rounded corners, and finger grips on three sides of the detector. These features—combined with the significantly lighter weight—help alleviate strain and stress on radiographers, especially when performing mobile bedside imaging."
The sleek design also provides a more comfortable exam for the patient. "Our Lux 35 and DRX Plus detectors offer the unique X-Factor, which means the detectors can be shared across all DRX equipment, further leveraging the customer's investment," Hamman says. "We offer the DRX-L Detector, a single-shot long-length imaging detector that is ideal for pediatrics."
Konica Minolta recently introduced the AeroDR Glassless Flat Panel Detectors. There is no glass substrate, just a thin film transistor, decreasing the panel weight and reducing the distance between the scintillator and electronics. The AeroDR family of flat panel detectors come with a 7-year power cell warranty and high-definition resolution at 100 micrometers and 200 micrometers. AeroDR Glassless Flat Panel Detectors are available in Konica Minolta systems and retrofits.
Iterative Developments
The research and development process for X-ray detectors guides new advances. "Agfa is constantly listening to feedback from customers to track short-term improvements that can be made on our products," Alves says. "We also hold Agfa's Radiology Advisory Board, which regularly discusses the future of the industry and customer needs with key radiologists, so we can guide longer term innovation."
Carestream's Lux 35 detector was redesigned based on feedback and interactions from customers on how they use detectors, especially when performing mobile imaging. "Now, we are working on other detector projects that will provide enhancements and new features for future detector models," Hamman says. "Carestream invests heavily in research and development and leverages market insights to ensure that our offerings properly align with customer needs."
Fujifilm is in continuous development as it expands its DR portfolio. "We solicit and value customer feedback throughout our development and ongoing installations, and we never stop innovating," Fabrizio says.
As detectors evolve in connectivity, cybersecurity becomes a more important need for customers. The technology standards in the industry are still being discussed, but overall, this is likely to be a priority for manufacturers in 2023.
Also, in the year ahead, Fabrizio expects that the industry will continue to see the integration of AI in radiology. "AI is one of the most significant new trends in medical imaging, and it is expected to help further improve triage, workflow, clinical confidence, and efficiency of patient care," he says. "AI technologies will be designed to distinguish information from noise and gather more information from the images acquired so that clinicians can make faster diagnoses and more thorough decisions for patient treatment."
—
Keith Loria is a freelance writer based in Oakton, Virginia. He is a frequent contributor to Radiology Today.