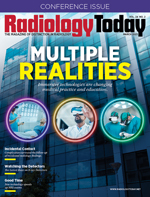 AI Insights: Engaging AI
By Jan Makela
Radiology Today
Vol. 24 No. 2 P. 5
AI-powered solutions may provide a solution to imaging backlogs.
Patient loads and demand for imaging are increasing at a time when there is a shortage of radiologists. The increased demand on the strained diagnostic radiology workforce is leading to significant imaging backlogs, while quality of care and patient well-being must be safeguarded. As growing backlogs for diagnostic imaging loom and staffing growth falters, AI solutions and technology may well be the proverbial lifeboat in the coming storm.
Worldwide, hospitals are performing 3.6 billion imaging procedures and producing 50 petabytes of data annually. The responsibility of collecting, reading, and processing these data falls on radiologists. Yet, in the United States, the growth of the Medicare-eligible population outpaced the diagnostic radiology workforce by about 5% from 2012 to 2019.
In a recent survey of United Kingdom–and United States–based radiology department heads and administrators, challenges concerning patient overload, scheduling, and staff capacity were shown to be increasing. And they were causing wide-ranging effects on staff well-being (measured in working hours), with 32% of survey recipients noting the need to recruit more staff to reduce workload. These data are also mirrored in the turnover rate: the rate of turnover in radiology staff is higher than in other departments, averaging between 11% and 20%.
Without a significant increase in the pool of qualified radiologists, the shortage can have serious implications for those needing imaging scans, diagnosis, and treatment. Alarmingly, with regard to workforce capacity, there does not seem to be a clear end in sight. From 2010 to 2020, the number of diagnostic radiology trainees entering the workforce increased by just 2.5%.
According to the Association of American Medical Colleges, by 2033 the United States could have a physician shortfall of nearly 139,000, including 42,000 radiologists and other clinical specialists. Other countries are showing similar trends. In the United Kingdom, the Royal College of Radiologists found the existing radiologist shortage is over 1,000, with the possibility of increasing significantly by the end of 2023.
Long-Term Investment
To address shortfalls, many health systems have focused on workflow improvements to make processes more efficient and improve productivity. Done right, workflow changes can help address many of the challenges associated with increased demand.
But workflow improvements must be done right—piecemeal process changes run the risk of providing only modest, short-term improvements while leaving the systemic challenges unaddressed.
The solution? The evidence underscores the value of utilizing AI at all points along the patient journey.
AI solutions can be an investment in long-term, sustainable workflow uplifts that reduce turnaround times and increase patient satisfaction and quality outcomes. AI solutions come in many forms: AI can be embedded in a machine, used at the departmental level to streamline workflows, and incorporated at the enterprise level to improve patient flow and management.
For patients needing diagnostic imaging services, investments in AI solutions mean:
• Ensuring Appropriate Workforce Utilization: Currently, radiologists spend anywhere from three to eight hours a week on nonclinical administrative or repetitive work. AI can be used to manage these tasks and give radiologists more time and space to analyze complex cases. Al solution platforms can also enable remote readings to help foster the delivery of more timely, personalized, and precise care.
• Transformation of Data Into Action: While data are being collected every second in health care settings, 97% of all health care data each year go unused. This means valuable insights are being lost. AI is changing this. Apps can now capture unused data to track and predict the course of diseases and anticipate patient behavior to help increase efficiency for radiologists.
• Propelling Innovation: Innovations in molecular imaging technology and theranostics are now enabling the technology to be deployed effectively to treat certain cancers, such as prostate cancer. In just one exam, clinicians can directly "see what they treat" with radiopharmaceutical therapies. It is the future of cancer care, and innovative imaging AI tools are leading the way.
• Integrating Workflows: Holistic AIfocused platforms offer radiologists integrated solutions to manage the different facets of work. With an AI-based platform, diagnostic reading, exam workflow, 3D postprocessing, enterprise visualization, and archiving can be managed on a single platform, providing advanced functionality at an affordable cost. These platforms enable radiologists to focus their time on accurately reading the right exam at the right time—while reducing the "click" burden and repetition.
Taken together, AI solutions can transform how patients receive care—improving turnaround times as well as quality. With AI solutions at hand, radiologists can use the technology of the future to regain the best of the past: the time needed to focus on advancing patient wellbeing and fulfill the requests of referring physicians.
—
Jan Makela is the president and CEO of Imaging at GE HealthCare.