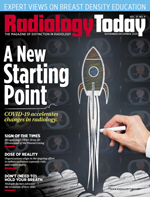 Don't (Need to) Hold Your Breath
By Dan Harvey
Radiology Today
Vol. 21 No. 9 P. 14
Multiple factors advance the evolution of liver MRI.
Clinicians have an increasing patient population now eligible for abdominal MRI, and that is driving a major trend in liver MRI. As a result of this and other trends, some large product vendors have increased their MRI portfolio, developing new liver MRI methods. Technological factors—introduction of compressed sensing (CS) and quantitative mapping techniques, such as Myomaps, Cardioquant, and SmartMaps—have made much of this possible.
Meanwhile, other significant trends in liver MRI have become prevalent. One is that increased usage correlates with an increasing awareness of the growing number of liver disease cases in the United States. "About 30% of US citizens have some form of liver disease," says Rajarshi Banerjee, BMBCh, MRCP, Dphil, an internal medicine specialist and cofounder and CEO of Perspectum, a medical device company. Banerjee adds that around 15 million people—5% of total US population—have nonalcoholic steatohepatitis (NASH), a severe form of nonalcoholic fatty liver disease (NAFLD) that can lead to cirrhosis, liver cancer, and liver transplantation.
Another major trend involves more liver MRI moving into the outpatient setting. Banerjee, who serves as consultant physician with Oxford University Hospitals NHS Foundation Trust in the United Kingdom, says this is, in part, a reaction to the COVID-19 pandemic: "The virus is moving people away from contact procedures such as ultrasound and toward noncontact procedures such as MRI."
Before the pandemic, technologists could conduct a sequence of tests, with the less expensive tests coming first and the more accurate and expensive tests coming later, he explains. But expense factors related to ultrasound and contact-based procedures have led to increased first-line liver MRI, especially noncontrast, as the cost of ultrasound continued to rise. This accelerated an existing trend.
"The outpatient market started becoming larger before the new virus," Banerjee says.
Measurable Challenges
Still, the number of liver MRI exams remains relatively small, observes Troy Havens, 3T product manager for MRI business at Siemens Healthineers. "Neuro, spine, and orthopedics still drive the bulk of MRI imaging," he says. "About four years ago, abdominal MRI was in the 4% to 5% range of all MR imaging, but now we are seeing exam volume nearly double, to the 8% range. We feel strongly that the increase is driven by providing new MR liver solutions to support a much larger patient population."
Jan De Becker, clinical portfolio manager of oncology MR for Philips, sees another trend. "MR technology has become outcomes based," he says. "That is true in the whole imaging medical device world, but, with MRI, we've translated that into three pillars: speed, comfort, and confidence."
In fact, nearly all of the vendors who are focused on liver MRI development are occupied with these measurable elements. MRI is not the first modality used for liver testing, De Becker adds. Rather, it's ultrasound or CT. But MRI is highly important when diagnosing liver disease. The processes involved need to be seen. For example, perfusion weighted imaging is gaining more importance in demonstrating whether a lesion is benign or malignant.
One of the most significant challenges that the MR community has had to resolve resides within the comfort pillar, specifically related to breath holds and patient movement. In many cases, elderly patients experience difficulty staying completely still. Until recent MRI technological developments, patients had to hold their breath for as long as 20 seconds during many MRI sequences. "Product manufacturers became interested in speeding up examinations," De Becker says. "The patient can keep breathing, and the MRI system takes care of the rest."
The speed challenge led to CS usage, he says. CS focuses on body imaging, but two of the most challenging body examination areas involve cardiac and liver MRI. CS has helped overcome challenges, especially those related to liver MR examinations, because it can reconstruct signals and images from fewer measurements than once thought necessary. When applied to MRI, it reduces scan times. This not only benefits patient comfort but also reduces costs. "It can speed up scan time by as much as 50%," De Becker says.
He adds, "Increased resolution enables better detection of smaller lesions and more knowledge about the lesion interior, which leads to more accurate diagnosis and an increase in patient life."
Another trend relates to referrals. One reason more patients are referred for an MRI is oncology, De Becker says. "For the liver, that's primary or secondary cancer."
MRI provides technologists with a more defined and precise delineation of the lesion itself—eg, how many and of what nature. "It's precision medicine, which is about the right treatment for the right patient at the right time," De Becker says. "It's another of the major trends."
Other key challenges revolve around patient compliance—particularly among patients with dementia or pediatric and geriatric patients, as well as technologists injecting contrast at the proper time, the ability to capture contrast in certain phases, the potential for pathology, and the patient's reaction to the contrast. It is also critical that radiologists understand where the contrast is going and what it's doing, once it gets in the liver.
Indications for Liver MRI
"Anyone with suspected liver disease can undergo liver MRI," says Banerjee, who developed and commercialized the MRI techniques for LiverMultiScan, a rapid, noninvasive liver assessment software. "People with suspected fatty liver disease can have that quantified."
Still, it is important to identify which individuals are most at risk of developing the more inflammatory phenotype, steatohepatitis, a condition characterized by lipotoxicity and histological necroinflammation. It is considered to be the main pathophysiological driver of liver fibrosis and subsequent disease progression. Steatohepatitis and fibrosis can lead to cirrhosis, hepatocellular carcinoma, and death. MRI based on corrected T1 (cT1) images is proving to be a promising, noninvasive measure of steatohepatitis and fibrosis severity.
Havens says liver MRI indications are growing. Liver MRI is critical for quantifying and characterizing liver lesions. Is the patient's condition cystic blood–based or angioma- or carcinoma-based? Other possibilities are suspected metastasis or fatty liver evaluation. "Those are the big indicators," he says.
Perspectum's LiverMultiScan is based on a multiparametric MRI (mpMRI) technique. It was FDA cleared in 2018 and is currently available at more than 300 sites. "Patient and technologist feedback have been good," Banerjee says. "By 2021, it is hoped that it will be available in all 50 states. Currently it is available in about 30."
LiverMultiScan characterizes liver tissue by providing quantitative measures of liver fat and correlates of iron, fibrosis, and inflammation. It uses new technology and images are standardized across sites, manufacturers, and field strengths. It does not require any additional hardware and delivers liver tissue characterization in a quantitative report for interpretation.
 "The scan is done in a radiology center, where LiverMultiScan is uploaded through our portal to our US data hub, located in Dallas," Banerjee says. "Results are turned around in less than two hours. The report gives you three measurements—corrected T1, liver fat, and proton density fat fraction (PDFF)—which you can get with a liver biopsy. But a biopsy is painful, invasive, and costly. It takes much longer to get a report back to the technologist and the patient."
The software provides metrics for T2, cT1, and PDFF of the liver. Unlike conventional MRI, mpMRI uses a series of images to calculate quantitative parametric maps.
A tissue's T2 is affected by local magnetic field changes. In the liver, iron deposits, typically in the form of ferritin and hemosiderin, change the magnetic field and have a measurable effect on T2.
PDFF is quantified from the ratio of the fat signal to the total signal, which includes both fat and water and is expressed as a percentage.
The T1 of tissue relates to the proportion of the extracellular fluid in the tissue. T1 is a measure of the longitudinal relaxation of a given substance. When tissue is fibrotic (inflamed or scarred), changes in the structural organization of the tissue mean the extracellular water content increases, leading to longer T1 values. T1 is used clinically as a biomarker for the assessment of myocardial inflammation and fibrosis.
Revealing Research
LiverMultiScan was recently used in a study published in the April 2020 issue of Journal of Hepatology. Banerjee was lead researcher. The researchers concluded that the association between two metal ion transporters and cT1 indicates an important new mechanism in steatohepatitis. However, more studies are needed to determine whether interventions targeting the identified transporters might prevent liver disease in at-risk individuals.
"Using liver MRI, we demonstrated that LiverMultiScan can help identify the liver disease genotype," Banerjee says. "Based on that, you could work out which gene was the driver of the disease. Even better, you can determine both the genetic and environmental drivers for liver disease progression."
Using the software, researchers identified a gene, SLC39A8, as a potential target for drugs to prevent liver disease. The gene was connected to a metal-iron transporter that previously could not be found. This indicated the value of MRI; Banerjee believes that a liver MRI platform is key to unlocking knowledge about liver disease.
"The MR community now does more than just speak to imaging results. It's more holistic," he says. "We can determine disease burden much better, so people are now interested in funding for research to better understand aspects such as genetics, epidemiology, and underlying molecular biology. Further, the MRI community should be trying to understand the phenotype of the conditions. Research is helping them do that."
The researchers came to understand that the underlying genetic susceptibility of steatohepatitis allows for new insights into the mechanisms behind chronic liver disease and helps to identify potential new drug targets. Genetic studies have so far been limited due to the phenotyping challenge.
The discovery—SLC39A8's association with liver fibro-inflammatory disease—could lead to a new target for drug development for the prevention of liver disease in at-risk individuals. Specifically, the discovery of a genetic variation of SLC39A8 revealed a link to a risk of higher cT1 measures. The same variation is also linked to elevated blood markers of liver cell injury and damage. This is the first evidence of the role of this gene in human liver pathophysiology.
Furthermore, the research validated the cT1 metric as a marker for fibro-inflammatory disease. The research was led by scientists from Perspectum, with researchers from University College London, the University of Westminster, and the University of Exeter. It was sparked by worldwide emergence of obesity-related conditions such as type 2 diabetes and heavy alcohol consumption; NAFLD and alcoholic fatty liver diseases are increasingly common, as well. The study involved 14,440 European subjects.
Other New Products
The CS principle, a signal processing technique built on the fact that signals contain redundant information, forms the basis of current product innovations. Recent Philips introductions include Compressed SENSE, a CS MRI method with a new acceleration technique that speeds up and shortens single MRI sequences and full MRI examinations. It reconstructs a full image from undersampled data while maintaining equivalent image quality. Philips combines Compressed SENSE with dS Sense, the company's parallel imaging method.
In addition, Philips' 4D-THRIVE solution is used for contrast-enhanced liver imaging. "The time-resolved 3D technique significantly accelerates dynamic body and breast imaging, combining high spatial resolution with high temporal resolution to facilitate acquisition of multiple dynamic volumetric data sets per breath-hold," De Becker explains.
Philips' most recent development is 4D FreeBreathing, a free breathing technique that allows contrast-enhanced scanning with high spatial and temporal resolution. "It enables multiphase liver studies without breath-hold, delivering motion-robust, reliable results," De Becker says.
Philips also offers the following two solutions for NASH and NAFLD:
• mDIXON Quant is a fast and simple 3D procedure for noninvasive liver fat quantification that provides high-quality 3D fat fraction maps of the whole liver in a single breath-hold.
• MR Liver Health is a postprocessing, reading, and reporting tool, available on Philips' workstation IntelliSpace Portal, offering a dedicated workflow to support the assessment of liver diseases from MRI biomarkers, such as fat fraction or T2.
Siemens Healthineers' portfolio of liver MRI solutions is led by its Compressed Sensing GRASP-VIBE product, which arose from research and development through clinical partners at New York University Hospital. The solution was FDA-cleared in 2018 and provides a push-button, free-breathing liver MR solution that can eliminate contrast timing and respiratory artifact challenges in one sequence.
"We have seen a large clinical adoption rate," Havens says. "It has become a must-have MR tool for facilities with a focus on liver or abdominal imaging."
GRASP-VIBE is performed in one continuous, free-breathing scan, providing motion control and the flexibility to choose the temporal resolution, which can vary over the scan's duration, he says. The tool includes Compressed Sensing for further improved acquisition speed and image quality. The combination of features enables the autolabeling of relevant liver phases required to capture the dynamic clinical value of the contrast-enhanced MRI exam. The faster scans have expanded the patient population eligible for abdominal MRI, Havens says.
Siemens also produces LiverLab, which enables noninvasive identification of patients with fatty liver and iron overload, even at an early disease stage. "MR LiverLab helps minimize the need for biopsy and drives a fast, reproducible exam without postprocessing," Havens says.
"The evaluation of the liver's iron and fat content is a key indicator in monitoring the early stages of liver disease," he explains. "LiverLab drives detection of liver deposition disease with guided work steps via fully automated segmentation of the liver, automated calculation of fat fraction, and R2 color maps as well as an intuitive visualization of results in a histogram display, indicating level of liver deposition disease."
As far as liver MRI development is concerned, future innovations no doubt will continue focusing on the four elements that clinicians deem important: improved diagnostic accuracy, higher quality images, more personalized exams, and advancing good outcomes.
— Dan Harvey is a freelance writer based in Wilmington, Delaware.