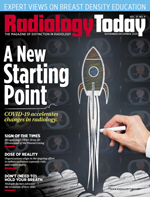 Women's Imaging: Measure of Density — Educational Needs of Referring Physicians in Managing Patients With Dense Breasts
By Wendie A. Berg, MD, PhD, FACR, FSBI, and JoAnn Pushkin
Radiology Today
Vol. 21 No. 9 P. 26
Elevated awareness of breast density, along with a growing number of states that require some form of notification about breast density to patients and their physicians, means that referring providers have additional responsibilities in managing patients' breast health. These include guiding discussions about what breast density means to patients and whether supplemental screening beyond mammography may be beneficial.
Despite a growing body of evidence demonstrating improved detection of early breast cancer using supplemental screening for women with dense breasts, there is a lot of confusion among referring providers about tailored screening for women with dense breasts and/or other risk factors.
At a recent virtual meeting of the DenseBreast-info.org (DBI) medical advisory board, the authors asked two leading OB/GYNs, Elizabeth Etkin-Kramer, MD, FACOG, OB/GYN, and DaCarla M. Albright, MD, FACOG, OB/GYN, to answer questions about the educational needs of referring health care providers in managing patients with dense breasts, their comfort level navigating patient discussions around the topic, and the best way for radiologists and referring physicians to collaborate to improve breast care for their patients.
Etkin-Kramer is an assistant professor at Florida International University School of Medicine in Miami Beach, Florida, and the founder of Yodeah.org. Albright is an associate professor and the assistant dean for wellness at the University of Pennsylvania Perelman School of Medicine in Philadelphia. She is a speaker and sits on the medical advisory board of Hologic, Inc.
DBI: What role should referring physicians play in women's breast health?
Etkin-Kramer: I am a firm believer that referring physicians should be able to assess their patients' risk of getting breast cancer and explain the process for managing this risk to their patients. This includes explaining the clinical implications of breast density and when supplemental screening should be employed. It is important for providers to know when to offer genetic testing and when a patient's personal or family history suggests ordering a breast MRI.
Albright: I absolutely agree; we need to continue to educate primary care physicians, OB/GYNs, and family practitioners about breast density and supplemental screening options. While the exact role providers play in managing patients' breast health may vary depending on the practice type or location, the need for knowledge and comfort when talking with patients to help them make informed decisions is critical. Breast health and screening, as well as discussing the importance of breast density, happens to be a particular interest of mine. I have participated in educational webinars, invited lectures, and breast cancer awareness media events on this topic in the past.
DBI: Why do you think some referring physicians are not as proactive about this?
Etkin-Kramer: Some physicians may not have learned how to risk assess patients, so it may not be on their radar screen. That being said, it is easily learned and easy to implement.
Albright: I think it may be a combination of knowledge base, not feeling they have the additional time to discuss breast health in detail, or not having the ability to refer out.
DBI: Do you routinely collect family history and perform formal risk assessment? What do you do with the results?
Etkin-Kramer: I am comfortable doing risk assessment in my office, but I sometimes refer to other specialists in the community if the patient needs additional counseling. For risk assessment, I look at family and personal history, breast density, and other factors that might lead me to believe the patient may carry a hereditary cancer susceptibility gene, including Ashkenazi Jewish ancestry. When indicated, I check lifetime as well as short-term (five- to 10-year) risk, usually using breast cancer surveillance consortium (BCSC) or Tyrer-Cuzick international breast cancer intervention study models, as these include breast density.

I discuss chemoprevention. The USPSTF recommends it if my patient's five-year risk of breast cancer is ≥1.67%, and I strongly recommend chemoprevention when the patient's five-year BCSC risk exceeds 3%, provided likely benefits exceed risks.1,2 I discuss adding screening breast MRI if lifetime risk by Tyrer-Cuzick exceeds 20% [Note: Gail/BCSC models are not recommended to be used to determine risk for purposes of MRI, as they do not consider paternal family history nor age of relatives at diagnosis]. Breast and ovarian cancer risk assessment is my particular interest.
Albright: To initially assess risk, I collect family history and further assess using the Gail model and sometimes Tyrer-Cuzick, when indicated. Since I practice at a large academic medical center, I have the opportunity to refer patients to our breast genetics program because I may be limited on time for counseling in the office and do not want to miss salient details. With this information, I am able to determine and encourage appropriate screening and assure adjunctive breast MRI coverage.
DBI: How do you discuss breast density with your patients?
Etkin-Kramer: I discuss breast density and try to explain how it makes it harder to visualize cancers in the breast and also that high levels of breast density may add to the risk of developing breast cancer. I explain that density is the radiologist's way of telling us how effective the mammogram is as a screening tool—the denser the breasts, the less likely the radiologist can pick up a cancer, so mammographic sensitivity in extremely dense breasts can be as low as 25% to 50%. That's why adding supplemental screening may be very important.
I would strongly recommend that providers complete the CME course on the DenseBreast-info.org website. "Breast Density: Why It Matters" is a certified educational program for health care referring physicians that helps health care professionals learn about breast density, its associated risks, and how best to guide patients regarding screening mammography.
Albright: When I discuss breast density, I make sure patients understand that it is determined by their mammogram. I review with them that in the higher density categories—heterogeneously dense or extremely dense—there is a higher risk of missing cancer and these categories are also associated with a higher risk of breast cancer. I also discuss the potential need for supplemental screening, which may involve a fast MRI protocol—at my institution—or whole breast ultrasound. I also review lack of coverage of supplemental screening by some insurance carriers and that patients may need to advocate for themselves to improve coverage of adjunct studies.
DBI: What reference materials, illustrations, or other materials do you use to educate your patients?

Etkin-Kramer: I frequently use handouts printed from the DenseBreast-info.org website, and there is now a brand new Patient Fact Sheet that I will be using. I also have an example of breast density categories, from fatty replaced to extremely dense, on my computer, and I'm putting it on a new smart board.
Albright: The extensive resources available at DenseBreast-info.org can improve both patient and provider knowledge of these important issues, so I suggest patients visit the website and use many of the images and visuals that help explain breast density. I even use the materials from the website for educating my resident trainees on breast health and screening.
DBI: How can radiologists and referring physicians collaborate most effectively on educating patients about breast density and supplemental screening?
Etkin-Kramer: I think ease of communication between radiologists and referring providers is key. For example, can I call my radiologist and quickly get clarification on a patient's report or discuss next steps? Imaging centers should consider running outreach programs to educate their referring providers on how to risk assess, inclusive of breast density. Dinner lectures or grand round meetings are effective to facilitate communication between the radiology community and the GYN community. Finally, as we all know, supplemental screening is often subject to copays and deductible per the insurance. If advocacy groups cannot get the insurers to waive this, we need a less expensive self-pay option.
Albright: I definitely have an open line of communication between my practice and breast radiology, as well as our cancer center to set up consultations as needed. We invite our radiologists as guests to monthly practice meetings or grand rounds within the department to further improve access and open communication, which is where greater education on density and adjunctive screening can be achieved.
— Wendie A. Berg, MD, PhD, FACR, FSBI, is chief scientific advisor of DenseBreast-info.org and a professor of radiology at the University of Pittsburgh School of Medicine and Magee-Womens Hospital of UPMC. She also has received grant support from Koios Medical, Inc.
— JoAnn Pushkin is executive director of DenseBreast-info.org.
References
1. Freedman AN, Yu B, Gail MH, et al. Benefit/risk assessment for breast cancer chemoprevention with raloxifene or tamoxifen for women age 50 years or older. J Clin Oncol. 2011;29(7):2327-2333.
2. Pruthi S, Heisey RE, Bevers TB. Chemoprevention for breast cancer. Ann Surg Oncol. 2015;22(10):3230-3235.


[Sidebar]

CASE STUDY IN EDUCATION
By Stamatia Destounis, MD, FACR, FSBI, FAIUM
When New York mandated informing patients of breast density on their mammograms, we created a "dense breast committee" and invited community leaders, breast surgeons, OB/GYNs, pediatricians, and primary care physicians to participate, along with radiologists who specialize in breast imaging in our region. We identified the level of understanding of breast density and masking of breast cancer by dense tissue, as well as breast cancer risk due to many factors, including family history.
To address the knowledge gap, we created brochures for patients and providers, created educational videos, distributed newsletters, and invited providers to town hall meetings and lunch-and-learns for presentations. Additionally, we published our data of 3/1000 additional breast cancers identified with screening ultrasound after a normal tomosynthesis screening mammogram.
While it took two years to improve understanding of breast density, we did slowly see more providers sending their patients in for additional imaging with ultrasound, and patients also started asking about having an ultrasound. Today, additional testing with ultrasound is well received, and I believe the patients are relieved when they understand the issues with breast cancer risk—and the limitations of mammography—and we are doing more testing to be as certain as we can regarding their screening examination.
— Stamatia Destounis, MD, FACR, FSBI, FAIUM, is a radiologist at Elizabeth Wende Breast Care in Rochester, New York, and a member of Radiology Today's editorial advisory board. She also does research and case collection for iCAD and Hologic, Inc.