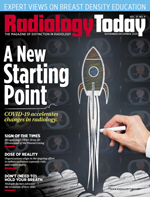 Editor's Note: Year-End Assessment
By Dave Yeager
Radiology Today
Vol. 21 No. 9 P. 6
It's hard to believe, but the end of the year has nearly arrived. Last year at this time, many of us were getting ready for our annual trip to the RSNA conference in Chicago. This year, everyone is preparing for virtual RSNA, and I'm wondering how much it costs to get a deep dish pizza delivered from Chicago to Pennsylvania. Medical conferences are far from the only activities that have been upended by COVID-19, however. Medical care is changing because of, and in response to, the pandemic. And medical leaders need to be flexible to manage those changes, as well as the ones that are down the road.
Our cover feature for this issue delves into the process of managing change. Beth W. Orenstein gets some useful advice from imaging leaders who are preparing for the changes that may come. Although change is rarely easy, the people who were interviewed agree that standing still is the worst possible move. For their thoughts on what to do instead, turn to page 10.
Another COVID-related change has occurred in the use of ultrasound. It turns out that ultrasound is quite useful for evaluating the disease, and radiologists Robert Bard, MD, DABR, FASL; Emil Toma, MD, DSc, FRCP(C); and Danilo Buonsenso, MD, have put together a handy guide for recognizing COVID-19 on 3D ultrasound of the pleural lining.
Of course, one of the advantages of ultrasound is that it doesn't use ionizing radiation. But modalities that do use radiation are, in many cases, essential for patient care. How should radiologists and technologists manage radiation risk and educate patients about it? Dan Harvey examines that question in his piece on dose safety.
Harvey also takes a look at the latest advances in liver MRI. A growing number of patients are candidates for abdominal MRI, and new methods of analyzing the images are helping radiologists evaluate liver pathology like never before. As Rajarshi Banerjee, BMBCh, MRCP, DPhil, notes in the article, around 30% of the United States' population has some form of liver disease, and approximately 5% have nonalcoholic steatohepatitis. For the 15 million or so people with this serious condition, catching it early with liver MRI can truly be a life saver.
Finally, all of us at Radiology Today wish you and your families a happy and healthy holiday season. We'll see you again in January 2021.
Enjoy the issue, and stay safe.