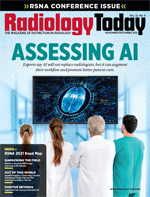 Interventional News: Small Wonder
By Keith Loria
Radiology Today
Vol. 22 No. 8 P. 10
New IR Treatment Shrinks Pediatric Liver Tumors.
Pediatric liver tumors are rare, accounting for about 1% to 2% percent of all childhood cancer. Nearly two-thirds of children with liver cancer, however, are not candidates for surgery at presentation. Fortunately, the use of minimally invasive IR treatments, including transarterial radioembolization with yttrium-90 (TARE-Y90), are providing new hope for children with deadly liver tumors.
According to Allison Aguado, MD, a pediatric interventional radiologist at Nemours Children's Health System, until recently, there were limited alternative therapies for children, after chemotherapy, to make either resection or liver transplant viable; however, these new treatments offer such an alternative.
"Only about one-third of patients are candidates for surgery and upfront presentation," Aguado says. "Some of those patients can be converted to surgical resection or transplant after chemotherapy, but there is a large percentage of patients that still are resistant to chemotherapy or have a suboptimal response and are not able to be downstaged."
TARE-Y90 was first used palliatively in children about a decade ago and, over the past four to five years, has been used with curative intent, with the goal of getting these patients in complete remission. That is a game-changer because TARE-Y90 can be added to current therapy to give children a better long-term result.
"We've treated three patients here at Nemours, where we were able to take patients with previously unresectable tumors and downstage them for surgery—specifically resection—and they are all in complete remission, with no evidence of disease, one to three years out," Aguado says.
There are a few factors that are specific to radioembolization in pediatric patients, Aguado explains. General anesthesia is always used and is administered by a pediatric anesthesiologist. A pediatric ICU (PICU) is available if patients need continued sedation post procedure. Additionally, Aguado always does lung segmentation to calculate lung volumes and weights; the segmentations are used to modify the dosimetry.
"Many of these patients are very young, and patients that are 2, 3, 4 years old often cannot cooperate to keep their leg straight post procedure," she says. "So we give continued sedation in the PICU."
Promising Results
One advocate for employing TARE-Y90 in the treatment of kids with liver cancer is Stephen Dunn, MD, chair of the department of surgery for Nemours Children's Hospital in Delaware, who says more than one-half of patients present with tumors that cannot be removed surgically at the time of their diagnosis.
"Chemotherapy does a good job of shrinking these tumors but not adequately enough to avoid liver transplant in some children," Dunn says. "What we have found is that TARE-Y90 is successful in shrinking the tumor by an additional amount that allows them to be surgically removed without liver transplant."
While the Nemours Children's Health Transplant Center is equipped to perform a liver transplant in these children, physicians prefer to avoid transplant if possible because of the need for lifelong medical therapy with potential episodes of rejection and occurrence of posttransplant lymphoproliferative disease.
"We recently treated a young man who we had evaluated for transplant because of the size of his tumor," Dunn says. "Because of the effects of the TARE-Y90, we were able to remove the tumor without transplant, and he is now well and tumor-free." This means the patient will not have to take lifelong immunosuppression medication and face the potential complications of that therapy.
"Patients want to know what the side effects will be; fatigue is the most common side effect that we've seen in children after TARE-Y90," Aguado says. "The three patients that we treated for resection did not have any adverse events. With chemoembolization, the majority of patients experience postembolization syndrome, which is fever, pain, and transient elevation of white blood cell count; we haven't been seeing that in the TARE-Y90 patients."
When postprocedure evaluation was done for the three patients, Aguado saw significant responses both on imaging and tumor marker levels—specifically alpha fetoprotein (AFP). "The patients that we treated with curative intent had responses with an average of a 52% mean reduction in tumor volume and a mean AFP decrease of 90%," she says.
Aguado is hoping the therapy will be used more often and with curative intent. "Currently, it's not being used often, but we are trying to change that," she says. "TARE-Y90 has the potential to be used as a component of upfront curative therapy, as a bridge to liver resection or transplant, for chemorefractory patients and in recurrent disease."
A challenge to that happening lies in making oncologists and surgeons aware that the procedure is available. Aguado has published two papers, and she's trying to help get the word out.
In the months ahead, Aguado will be presenting at several meetings, including the American Society of Radiation Oncology and the Society for Interventional Oncology annual meetings, and has also been invited to write a book chapter for Digestive Disease Interventions for pediatric gastrointestinal oncologic interventions, discussing pediatric radioembolization.
— Keith Loria is a regular contributor to Radiology Today.