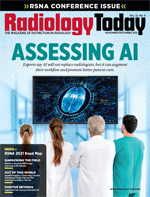 Positive Reviews
By Keith Loria
Radiology Today
Vol. 22 No. 8 P. 26
Expanded Use Cases for Portable DR
The use of portable X-ray systems has existed for many decades, most commonly utilized in the ICU, emergency department (ED), operating room, and many areas of isolation, particularly when a patient is too ill and/or immobile for transfer to the radiology department for general X-rays. Portable DR allows technologists to take high-quality images quickly and then send the images to physicians for interpretation much faster. This has been a game-changer in the industry, as it has made imaging specialists much more productive.
The ability to send images wirelessly greatly improves efficiency, as well. Radiologists can report on the images within minutes, and the reports are made available throughout the hospital. In outpatient settings, many companies sponsor and provide portable X-ray services, often read remotely by radiologists, commonly used for infirm patients at places such as assisted living facilities. 
Robert J. Wolf, MD, a radiologist in Coconut Creek, Florida, who has almost three decades of experience in diagnostic radiology, notes that, during the pandemic, portable studies have been most valuable for limiting transmission from infected patients by exposing fewer people, mainly health care staff who have the opportunity to prepare for such exposure.
Clinical Excellence
Ron Muscosky, worldwide product line manager at Carestream Health, notes clinical decision support tools are assisting clinicians in a number of important ways. "In the challenging critical care environment, these tools can help identify critical information found in digital X-rays at the point of care that help clinicians respond very quickly and potentially improve the diagnostic outcome," he says. "Additionally, clinical decision support tools can be used to help triage and expedite the review of critical cases." Decision support is important, due to the ever-growing number of images being acquired, as it can help alleviate the demands on physicians' time or in situations where physician shortages exist.
Katelyn Nye, general manager for mobile X-ray and artificial intelligence at GE Healthcare, notes that when the GE team began to design the AMX Navigate, they focused on listening to and observing technologists throughout the course of care in order to understand all of the hand-offs and bottlenecks in the imaging process. "By doing this, we were able to address key challenges related to stress and strain experienced by technologists, as well as elements contributing to radiologist burnout and the need to provide early insights in critical cases," she says.
With GE's Critical Care Suite 2.0, the AMX platform represents the first mobile X-ray system in the world to offer onboard AI embedded in the X-ray technology that helps radiologists prioritize critical cases and automate processes, helping to reduce review time when seconds and minutes matter. "These on-device AI solutions help identify critical case findings right at the point of care and alert radiologists as they work to sort through the cases to review," Nye says. "The pandemic has proven what we already knew to be true about the need to leverage data and AI, and these COVID-era advancements will have a long-lasting impact on the industry as we go forward."
Agfa's SmartXR includes a suite of features, several using AI, that are available on its DR system at the point of care. "SmartXR is designed to help make the job of the technologist easier and more efficient, thus getting the images to the radiologist for interpretation faster with greater consistency," says George Curley, RT (R), the director of marketing and communications for radiology solutions at Agfa. "SmartXR features are available on our newest mobile/portable DR, as well as our fully automated DR rooms. We will also be offering some of the SmartXR functions through our entire DR portfolio going forward."
Siemens Healthineers North America's newest entry into the category is its Mobilett Elara Max portable X-ray system, which boasts features that enable comprehensive IT security as well as secure system integration into the hospital's IT environment for access to patient data at any time.  
"It's all about workflow and improving efficiency, decreasing the time working with the equipment, and increasing time working with the patient," says Joseph D'Antonio, Siemens' senior director of X-ray products. "When you look at portable X-ray, most hospitals have more than one unit, which are utilized when patients can't be taken to the radiology department. So they bring the radiology department to the patient."
On the Go
Cheryl Cody, imaging manager with Franciscan Health Crawfordsville in Indiana, says the hospital's imaging team is utilizing Carestream DR portable machines in the ED, using them for nearly every X-ray that is ordered. For example, technologists may take an X-ray to check a line placement on a critical patient and then go a few rooms down to take an X-ray of a hand. 
"We can get all this done in less than 10 minutes because the images come up so fast. The image quality is superior, there is a low patient dose, and the system can acquire the image quickly," Cody says. "Portable X-ray units aren't just used for chest X-rays anymore. We go to almost any patient care area with the DR portable, including surgery, ED, ICU, and second floor. It is a huge asset to our department, and it is utilized like another room."
Adia Johnson, radiology team leader at LifeBridge Health, a community hospital with approximately 200 beds in Randallstown, Maryland, has been using Philips' DXR mobile units, including DigitalDiagnost C90, CombiDiagnost R90, and ProxiDiagnost N90, since they came online. "They have been a lifesaver and life changer," Johnson says. "Starting on the brink of the pandemic, it was unclear exactly how COVID was technically spread, how safe was 'too safe,' and how safe was not safe enough. Our main goal was to limit exposure, not necessarily to radiation but by limiting exposure in the hospital through imaging overall."
Still, the imaging team needed to get an ample amount of testing done, so they needed solutions to accomplish this. "With the portable machine, which also comes with a mobile scan, we were able to set up like we were in the field, something akin to being in the military in the desert and having to make do with what they had," Johnson says. "We converted the mobile unit inside an empty ED room and used that as a standalone, makeshift X-ray room to expedite things and keep everyone safe."
As someone who has been in the field for close to 20 years, Johnson says mobile solutions offer unprecedented versatility. "You're able to take that small unit and just make a makeshift room," she says. "The processes that it has are simple and easy to use for any user. Having an interface already established within our equipment that we use in our radiology rooms, it was a simple setup for my staff and team to utilize."
Previously, patients would have had to come to the radiology department for scans, but now the exams can be done with the mobile unit, without sacrificing image quality. For example, mobile units allow LifeBridge Health to image anything from a cross-table hip X-ray to pelvis imaging to an abdominal series for the fluoro room.
"It improves patient satisfaction, vs having to move them to and from either the room or the table and keeping them comfortable at all times," Johnson says. "A lot of times, especially if we're in the critical unit, the physician doesn't even want us to leave. With the different filters that we're able to change and alter, once we get the image, it's super fast."
Jennifer Murphy, radiology manager at St. Luke's University Health Network in Bethlehem, Pennsylvania, says the network's radiologic technologists appreciate the features that portable DR provides. "In today's health care environment, quality and speed are essential," she says. "The system enables them to image patients in a quicker fashion, allowing for an earlier dictation by the radiologist."
Patient-Centered Care
The imaging department at St. Luke's University Health Network heavily depends on the portable imaging systems and utilizes them whenever possible. "The portable units offer our radiologists excellent image quality," Murphy says. "Plus, we are able to go directly to our patients for many types of exams. This reduces the need to transport patients to the imaging department, improving our patients' experiences."
Many clinicians and imaging specialists are finding that portable X-ray assists greatly in patient-centered care, especially since the pandemic. "We are able to use portable imaging for a wide variety of exams," Murphy says. "Patients love when we are able to come to them in their hospital room and provide individualized attention in their personal space, rather than requiring them to leave their room and travel through the hospital to come to the imaging department." Additionally, she notes, the patients are intrigued by the technology and often say they are amazed by these advances in imaging.
Johnson says portable DR is also helpful in operating suites, assisting surgeons with anything that can be screened and discovered right away.
"This can be done because the images are so crisp and clear on the screen," she says. "Overall, it helps us continue patient flow, no matter what the situation is. Whether it's a down room or the patient is completed capacitated, there are so many ways we can use utilize the portable that our patient care never stops."
— Keith Loria is a freelance writer based in Oakton, Virginia. He is a regular contributor to Radiology Today.