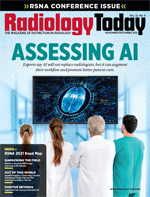 Women's Imaging: Seeking Commitment
By Beth W. Orenstein
Radiology Today
Vol. 22 No. 8 P. 30
The ACR asks members to commit to advancing health equity.
The US Preventive Services Task Force (USPSTF) recommends women between ages 50 and 74 undergo mammograms every two years. That schedule is detrimental, even for white women of average risk, says Geraldine McGinty, MD, MBA, FACR, immediate past president of the ACR. However, it's worse for Black women, as they not only tend to develop breast cancer at a younger age but also have more aggressive types of cancer and higher mortality rates from cancer, she says. Statistics show Black women are 42% more likely to die from breast cancer than white women. Since 1990, breast cancer death rates dropped 23% in Black women, compared with a 37% drop in white women.
In another development, the Centers for Medicare & Medicaid Services (CMS) has significantly reduced IR reimbursement over the past decade. Earlier this year, CMS released its final set of guidelines that will govern the Medicare payment system for 2021. The new guidelines are expected to decrease reimbursement for IR by about 8%. As a result of these cuts, a growing number of critical access hospitals, especially those in rural areas, no longer have interventional radiologists on staff, McGinty says.
The ACR is hoping to address health disparities such as these by convening the Radiology Health Equity Coalition. The Coalition, announced in mid-May, will have representatives from not only the ACR, but also other major players in the radiology community: the American Roentgen Ray Society, the Association of University Radiologists, the RSNA, the American Board of Radiology, and the Society of Chairs of Academic Radiology Departments. Subspecialty radiology organizations as well as individual practitioners will be asked to join the effort over the coming months, McGinty says. 
Radiologists can sign a commitment form to be part of the effort on the ACR's website. Those who complete the form will receive updates from the ACR about the effort as well as health equity in radiology. The ACR has provided seed funding for the effort through the end of the year.
Ongoing Effort
McGinty says that, despite the urgent need, the effort has no set timeline. "This is not the work of a day or a month," she says. She sees it as an ongoing effort, much like the Image Wisely campaign that was started in 2009 by the ACR, RSNA, and other groups to increase awareness about adult radiation protection. Image Wisely's mission is to raise awareness of opportunities to eliminate unnecessary imaging examinations and lower the amount of radiation used in necessary imaging examinations to only what's needed to acquire appropriate medical images. "We're not finished with that. There's always more work to do," McGinty says.
The ACR leadership was inspired to form the coalition by the headline-making events of the past year. "Looking at the disproportional impact of the pandemic on communities of color, the murder of George Floyd, and the Black Lives Matter protests, it was a time for our community to reflect on how we can do better for our patients, especially those of color," McGinty says. She adds that many people asked, "What can we do? How can we make an impact and help correct the inequities in forming policy and procedures and delivering health care?"
The radiology community, McGinty says, has always thrived on innovation, "and we have done so much good and improved lives in so many dramatic ways." Forming the Radiology Health Equity Coalition is a natural next step, she says.
Jacqueline A. Bello, MD, FACR, the ACR's lead for the Radiology Health Equity Coalition and vice chair of the ACR Board of Chancellors, said in a press release: "As radiology touches nearly every part of patient care, radiologists are uniquely positioned to spearhead efforts to address health disparities and accommodate diverse patient population needs." Bello encouraged everyone in the radiology community to "pledge their commitment and action to advance this vital initiative."
Following Past Steps
This is not the first time the field of radiology has taken steps to address inequities in health care and make the profession more diverse, McGinty says.
She points out the following:
• In 2013, the ACR formed the Commission for Women and Diversity to increase representation among women and underrepresented minorities in medicine at the ACR and in radiology. Among many data-driven initiatives, the commission issued a paper on "12 steps to make your practice more inclusive, diverse, and welcoming."
• In 2018, the ACR also started the Pipeline Initiative for the Enrichment of Radiology Internship program, which offers research internships to first-year medical students at institutions across the country, to provide underrepresented minorities and women the opportunity to explore radiology as a specialty and engage in research.
• In 2019, the Society of Interventional Radiology launched a similar program to support diversity in IR, the Grants for Education of Medical Students (GEMS) Program. GEMS is intended to attract medical students from diverse backgrounds to IR by providing scholarships that fund visiting clerkships/rotations in IR.
Also, at its annual meeting in May, the ACR elected a Black woman to its highest office: Internationally renowned radiologist and ultrasound expert Beverly G. Coleman, MD, FACR, was named president. Coleman is the first director of fetal imaging at the Children's Hospital of Philadelphia Center for Fetal Diagnosis and Treatment and the inaugural holder of the Beverly Gilbert Coleman Endowed Chair in Fetal Imaging.
Work to Be Done
The coalition has its work cut out for it, McGinty says. Its first task will be to set goals. "As we pull in more stakeholders, they will be meeting to set goals. We expect those goals to be developed over the next several months," McGinty says.
The hope is that the coalition of patient-focused radiologists will collect and disseminate resources and best practices, advocate for and connect with patients and community members, and collaborate on programs and services that empower others to act.
According to the ACR, in addition to breast cancer and IR, areas the coalition is likely to address include the following:
• Black Americans with diabetes receive less care than most other groups, resulting in their being three times more likely to lose a limb to amputation.
• Colorectal cancer disproportionately affects the Black community. Blacks have the highest rates of any racial/ethnic group in the United States. They are about 20% more likely to get colorectal cancer and about 40% more likely to die from it than most other groups. Much of the racial disparity in colorectal cancer death rates can be attributed to less screening.
While a leader, the ACR is not alone in addressing systemwide bias and institutionalized racism in the health care system, McGinty says. The American Medical Association recently released its new strategic plan around health equity, she says. "There's seismic shift in the attention this is getting and appropriately so," McGinty says.   
— Beth W. Orenstein is a regular contributor to Radiology Today.