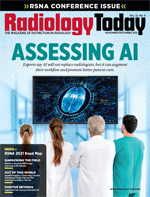 Editor's Note: Moving Right Along
By Dave Yeager
Radiology Today
Vol. 22 No. 8 P. 5
RSNA is back in McCormick Place this year, and it will be interesting to see what has changed and what hasn't. One notable change is that the society has opted to continue offering a virtual element, after last year's all-virtual get together. But for those of us who will be there in person, it will be a nice change of pace to be able to move through physical space to see the latest and greatest advances in radiology. (It will also be nice to enjoy Chicago's signature deep-dish pizza after last year's hiatus.) Moving along to our RSNA issue, we're highlighting technology that is helping to move radiology into the future.
In this month's cover feature, Beth W. Orenstein pulls back the curtain on AI in radiology to find out what's real and what's not. Far from being seen as an imminent threat, AI is now mostly viewed as tool that can help radiologists do their jobs more efficiently; while AI algorithms can be trained to detect specific medical conditions with a high degree of accuracy, they lack the clinical insights and holistic knowledge that radiologists bring to image interpretation. With image volumes increasing faster than the rate of trained radiologists, AI will be essential for maintaining standards of care in the years ahead.
Another piece of technology that should prove useful for patient care is mobile MRI. Aine Cryts profiles two companies that are driving this trend. Their compact units use much smaller magnets than typical MRI machines. They can also be plugged into a standard outlet and, most importantly, wheeled to a patient's bedside, allowing patients to be scanned in a more comfortable, less claustrophobic environment. The companies profiled in the article are currently focused on head applications.
On the DR front, Keith Loria takes a look at portable trends for that modality. Although portable DR has been around for a long time, continued advances, such as onboard AI, are making it more versatile than ever. With the pandemic changing cleaning and social distance protocols and the growing emphasis on patient-centered care, portability is becoming less of a nice-to-have and more of a must-have.
Turning to other news, Orenstein reports a story that is truly out of this world. In early 2022, an Israeli company will send its handheld ultrasound system to the International Space Station. From there, an astronaut with only one day of ultrasound training will scan his fellow astronauts, and the images will be sent to Earth to be interpreted by a radiologist. Although not everyone in the ultrasound community is on board with nontechnologists performing scans, some believe that—with proper supervision—handheld systems can extend ultrasound access to communities that currently lack it. Read all about this far-out project on page 34.
Finally, from everyone at Radiology Today, have a safe and peaceful holiday season.
Enjoy the issue.