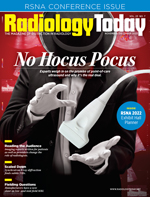 Interventional News: Back Up
By Rebecca Montz, EdD, MBA, CNMT, PET, RT(N)(CT), NMTCB(RS)
Radiology Today
Vol. 23 No. 7 P. 12
Transforming Treatment Options to Combat Back Pain
Aches, burning sensations, stabbing pains, spasms, and numbness from back pain are just a few symptoms of one of the most common causes for patients seeking medical care in both primary care and emergency settings. According to the American Chiropractic Association, it is estimated that up to 80% of the population will experience back pain at some time in their lives, thereby making back pain the number one cause of disability in the world and one of the most expensive health conditions. Back pain is estimated to cost $200 billion in treatment management while also costing more than $100 billion annually due to lost productivity and workdays.

To combat this medical issue, patients have traditionally been offered two types of treatment options: conservative care or surgical interventions. Conservative care, such as physical therapy, pain medications, exercise, and epidural steroid injections, may temporarily manage or reduce the pain but does not fix its root cause. Surgical invasive interventions, such as spinal fusion, disc replacement, and spinal cord stimulators, can be performed but have been shown in published literature to be no more effective than conservative care at eliminating pain and reducing disability.

The good news is there are two minimally invasive IR procedures on the horizon that have shown great potential in early studies to be possible solutions for millions suffering from back pain. ReGelTec, Inc, and SpinaFX Medical have developed innovative ways to transform the management of back pain due to degenerative disc disease and herniated discs. Both companies have made great strides in research and hope to offer minimally invasive treatment options to patients soon.
ReGelTec, Inc
ReGelTec, Inc, is a medical device company working on the development of cutting-edge interventional spinal implants for chronic lower back pain due to degenerative disc disease. Their interventional therapy, HYDRAFIL, is making advances in offering a quick percutaneous procedure with a short recovery time that will effectively reduce pain and disability from low back pain. Degenerative disc disease occurs when the spinal discs begin to break down, affecting their ability to act as shock absorbers within the spine. The HYDRAFIL system injects a hydrogel that is melted prior to injection into the nucleus of a degenerated disc via a needle under fluoroscopic guidance. Once HYDRAFIL cools to body temperature, it forms a contiguous implant within the nucleus of the degenerated disc to augment the residual nucleus pulposus, restore normal biomechanical properties of the disc, and alleviate pain. The outpatient procedure is completed while patients are awake under local anesthesia; patients are walking within one to two hours after injection.

"The need is there, people are interested, and people don't want to go through invasive surgery—even living in pain to avoid it," says Bill Niland, the CEO of ReGelTec, Inc. "We are hopeful this will be an alternative for people to receive this injection and be able to walk out within hours with relief."

Douglas Beall, MD, ReGelTec, Inc's medical advisor, recently won the award for Best Abstract at the 2022 American Society for Pain and Neuroscience Annual Meeting, where he presented clinical data on the company's HYDRAFIL technology. The abstract discussed the company's clinical studies performed in Barranquilla and Cali, Colombia, and in Calgary, Canada, with 60 patients receiving HYDRAFIL injections. The results showed that after three months, the average back pain score was reduced by 81% and disability scores measured by Oswestry Disability Index dropped by 90%. Beall shared his excitement by stating, "It is truly a novel product that has had tremendous improvement in pain and function as seen in early trials, and I cannot be more excited to see something like this offered to patients soon." In 2020 ReGelTec, Inc, completed Series A financing and received FDA Breakthrough Device Designation with hopes of having HYDRAFIL injections available for clinical use in the United States by 2024–2025.
SpinaFX Medical
Another promising procedure for back pain comes from SpinaFX Medical, headquartered in Ontario, Canada. The treatment solution and technology company aims to bring innovative, minimally invasive, image-guided treatments to patients with back and leg pain due to contained herniated discs. Jeff Cambra, CEO of SpinaFX Medical, discussed the Triojection
procedure as the utilization of oxygenozone therapy featuring a sterile, metered, oxygen and ozone injection for use with contained herniated lumbar discs. The sterile and measured ozone/oxygen mixture is injected into the disc nucleus and is designed to reduce the herniation that causes nerve compression. The company has made significant progress in developing a device for the procedure to be performed with a standard spinal needle under image guidance following standard conscious sedation. Ultimately, the goal of the procedure is to offer faster relief with a rapid recovery time, while reducing health care costs. Alexis Kelekis, MD, a medical advisor to SpinaFX Medical, states, "The ideal treatment for contained lumbar disc herniation with radiculopathy would be percutaneous, ambulatory, and fast-acting in order to avoid drugs and avoid surgery."

The reported high clinical success rates of Triojection trials were shared at the Society of Interventional Radiology Annual Scientific Meeting, winning the 2022 Abstract of the Year and Plenary Presentation. The study concluded that 71% of patients who underwent intradiscal oxygen-ozone were able to avoid surgery. Triojection is not currently approved for sale by regulatory agencies in the United States, Canada, or European Union, but with the early success rate of Triojection reported in the study, there is hope that patients will soon be able to benefit from the minimally invasive procedure.

"The company will focus on education, customer awareness, and training to bring a safe and effective treatment solution as the new standard of care," Cambra says.

Chances are you or your loved ones have suffered from back pain; eight out of every 10 people in the United States will, at some point in their lives, face this battle. With the advancements in medicine and interventional procedures from companies like ReGelTec, Inc, and SpinaFX Medical, there is promise for relief and permanent solutions in back pain management. Early studies by both companies have proven the potential success of how a single injection can transform the lives of so many people.

"Minimally invasive, image-guided treatments have the potential to bridge the gap between more conservative treatments and surgery, by treating the root cause of the pain without major trauma," Kelekis says.

The health care community and patients are eagerly awaiting the outcomes and approvals for medical use of HYDRAFIL and Triojection to provide patients with the possibility of living pain free.
— Rebecca Montz, EdD, MBA, CNMT, PET, RT(N) (CT), NMTCB(RS), has worked at the Mayo Clinic in Jacksonville, Florida, and University of Texas MD Anderson Cancer Center in Houston as a nuclear medicine and PET technologist.