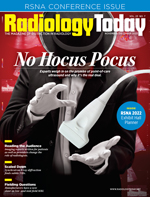 No Hocus Pocus
By Selena Chavis
Radiology Today
Vol. 23 No. 7 P. 16
Experts weigh in on the promise of point-of-care ultrasound and why it's the real deal.
The American Academy of Family Physicians recently declared that point-of-care ultrasound (POCUS) "may be the biggest advance in bedside diagnosis since the advent of the stethoscope 200 years ago." Already deeply integrated into the work of anesthesiologists, internal medicine specialists, family practitioners, and other specialties, many industry professionals believe it is primed for widespread adoption due to ongoing advances in the technology.
Ernesto Brauer, MD, RDMS, RDCS, ASCeXAM, FACP, FCCP, ABSM, council chair with the Point-of-Care Ultrasound Certification Academy, says that POCUS will be instrumental in helping with the extreme shortage of radiologists, due to its ability to rule out suspected pathology at the bedside. Offering an example, he points to a patient presenting with right upper quadrant pain, noting that a quick POCUS assessment of the gallbladder can quickly rule out acute cholecystitis and reveal a normal distended gallbladder.
"A significant number of ultrasound studies are reported as normal studies," Brauer explains. "This will avoid the unnecessary burden on radiologists."
The applications of POCUS at the bedside are many, notes Rami Zebian, MD, CMO with Florence Medical Center and Marion Medical Center, both part of Medical University of South Carolina Health in Charleston, and the use of these tools align with the organization's belief that "the best care is local care." As such, the health system is in the midst of deploying the Butterfly POCUS platform to speed accuracy in diagnosis at the bedside.
"There's a lot of talk about how to do more care locally. While you can have the best technology, a huge hospital setting, and people can travel, the best option is having options locally at the point of care and getting results or answers faster," Zebian says, noting that the evolution of POCUS now reaches across numerous specialties. "For example, emergency medicine physicians that graduate from an emergency medicine residency nowadays have ultrasound as part of their training."
Zebian emphasizes the importance of this development by pointing out that a patient in a trauma situation may not have the luxury of time. "If we're concerned about bleeding, they do what's called the fast scan to quickly identify an area of concern, and then you go after it,"he explains. "There are a lot a lot of conditions where time is very important."
Ohad Arazi, president and CEO of Clarius Mobile Health, agrees, adding that emergency medicine physicians have been pioneers in using ultrasound at the bedside to guide treatment plans and improve patient outcomes. Today, advancements in the technology are expanding that impact to many more specialties.
"The emergence of high-quality handheld ultrasound systems that are even more portable, affordable, and easier to use is enabling physicians from diverse specialties to use ultrasound for diagnosis and treatment, often during first visits," Arazi says, pointing to a primary care study in Denmark, where the use of POCUS changed the diagnostic process and clinical decision-making in nearly three of four consultations for general practitioners. "As more physicians become proficient with using ultrasound to diagnose simple cases at the bedside, radiologists will have more time to focus on complex cases that require their highlevel expertise."
Evolution of POCUS
POCUS has come a long way, says Zebian, who describes recent advances as going from the size of a mini-fridge to needing a cart to the hand-held offerings available today that can fit into a physician's coat pocket. These lower-cost imaging devices allow organizations to scale the use of POCUS throughout an enterprise, putting powerful imaging insights into the hands of specialties, which, in turn, results in more informed decision-making and the elimination of waste.
"Now, you have a Butterfly [imaging solution], which is smaller than a stethoscope and connects to an iPhone or an iPad," Zebian points out. "You get a quick exam, and it just saves you time. That's one aspect in an emergency setting, but what's exciting is the potential for what we can do in a primary care office setting and a specialty setting, where patients don't have to travel."
While AI sometimes gets vilified in the context of health care, Arazi suggests it has become a huge enabler in the realm of medical imaging. "Currently, AI is used in Clarius systems to make it easy to acquire high-quality images, even without expert training," he explains, offering an example of how the solution uses AI to automatically identify organs during a FAST exam. "In the near future, we have no doubt that AI will help clinicians—nurses and primary care physicians—identify common ailments such as a DVT [deep vein thrombosis] or AAA [abdominal aortic aneurysm] by simply placing a transducer on the area of concern."
John Martin, MD, CMO with Butterfly Networks, agrees that AI will accelerate the competence of clinicians using these devices by offering guidance tools alongside imaging. "You have tools like our bladder scanner, for instance, that rapidly calculates a bladder volume within three seconds so that you actually get that interpretation of that specific situation," he explains. "So, we don't go so far as to say they're diagnostic, but they certainly accelerate the speed at which people can become competent and leverage the expertise."
A Threat to Radiologists?
Change always brings with it a certain amount of fear for some people, Martin notes. Yet the bottom line for radiologists is that health care will always need more advanced imaging. Thus, POCUS will ultimately enable radiologists to practice at the top of their licenses.
"We're always going to need more detailed imaging for almost every single thing that we do out there in different situations. It's just not going to be routine," Martin suggests, pointing out that radiologists will no longer have to look at boring run-of-the-mill X-rays. "I think what's going to happen now is simple questions are going to be answered at the bedside, and those more advanced questions will require the expertise of radiologists, who are so desperately needed.
Arazi acknowledges that some radiologists have expressed concern about the accuracy of diagnosis by physicians who are not adequately trained. However, as POCUS training has improved and ultrasound systems have become easier to use, he sees the tide turning.
"Radiologists we work with have become supporters of expanding ultrasound use beyond the radiology department as a means to provide better and faster patient care," Arazi says. "It is leading to early diagnoses for patients and increased demand for more comprehensive follow-up radiology examinations. And with advances in artificial intelligence, we're seeing a future with more guided training and diagnostic capabilities in the hands of more clinicians, paving a path to improved patient care with earlier access to radiology departments."
POCUS and Health Equity
The opportunities inherent in POCUS improving the global outlook on health equity are sizeable, Brauer says, noting that the use of these tools will eventually become the standard of care for all clinicians around the world. "POCUS is an effective diagnostic tool and is becoming the standard as an extension of the physical exam. POCUS is used by physicians, physician's assistants, nurse practitioners, nurses, anesthesiologists, physical therapists, athletic trainers, and others," he says. "It is a game changer and is democratizing health care. As the proliferation of devices continues to advance, more patients around the world will gain access to quality and timely care."
Butterfly Networks recently partnered with the Bill and Melinda Gates Foundation to equip 1,000 health care workers across Sub-Saharan Africa with Butterfly iQ+. Complications of pregnancy and pediatric pneumonia represent some of the largest contributors to morbidity and mortality in resource-constrained care settings; both can be reduced with access to imaging. Five hundred probes will be given to mid-level practitioners with the focus of enabling point-of-care lung ultrasound to identify pediatric pneumonia, and 500 will be distributed to health care workers focused on improved maternal and fetal health.
"About two-thirds of the world has no access to medical imaging," Martin points out. "I think there are two statistics that boggled my mind. That was one of them. The second one is that when we don't know exactly what's wrong with you, with a history or physical alone, it's simple imaging that answers that question two-thirds to 80% of the time. No wonder we have incredible inequity in the way in which care is delivered around the world."
In another example, Clarius recently rolled out 50 handheld ultrasound scanners in rural British Columbia (BC), according to Arazi. "Residents of rural communities in BC often have to travel great distances to receive medical care, as many EDs and hospitals have reduced services or shut down due to post-COVID staffing challenges," he says. "By using our product, clinicians in these communities were able to expand their scope of practice without relying on hospital facilities for many basic services. Many of these rural physicians and nurses quickly realized that the number of patients they need to transfer to a larger center has been substantially reduced because they can verify what is going on first.
Clarius also partnered with Turtle Health, a virtual gynecology clinic, to bring a virtual transvaginal ultrasonography solution to market that can extend the convenience of at-home testing to women. This innovation allows women to exercise a fundamental right to information about their bodies by empowering them to access information when they need and want it, from the convenience and privacy of home.
Looking Ahead
Brauer says that the impact of POCUS on health care will continue to be substantial. He asks: Why would you blindly put a needle into the patient's body when you can do it live under ultrasound guidance? Why would anybody try to listen to heart sounds when you can see all the heart chambers and see the valves opening and closing in real-time?
"POCUS has come a long way since its inception," Brauer says. "There are now several POCUS devices available, educational tools, POCUS education providers, POCUS-specific certifications, AI assisted POCUS devices and a lot more. As more AI integration occurs, it will assist POCUS users with using POCUS at the bedside more effectively and with a higher level of confidence."
He adds that a novice user can now effectively scan a patient's heart with minimal experience, and AI can determine the ejection fraction of the heart quite accurately. "The amazing fact about POCUS is that it spans across all organ systems," Brauer points out, offering an example of a RUSH protocol that covers the chest, abdomen, heart, and lower extremities in one exam. "The possibilities of POCUS are endless, and we are just getting started. POCUS has unlimited potential and has a very bright future."
Outside of diagnostics, Brauer points out that POCUS is being used as an extension of the physical exam as physicians use these tools to understand the complex pathophysiology and hemodynamics in sick patients with complicated conditions. It is also being used as a tool to monitor response to therapy and to titrate medication for effective response.
"So, in a nutshell, the POCUS community is using POCUS in ways that have never been used conventionally by radiologists or sonographers. We are just in the early phase of evolution of POCUS," Brauer says.
— Selena Chavis is a Florida-based freelance journalist whose writing appears regularly in various publications, covering everything from corporate and managerial topics to health care.