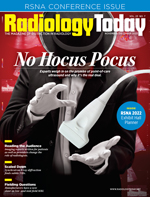 Reading the Audience
By Beth W. Orenstein
Radiology Today
Vol. 23 No. 7 P. 24
Imaging reports written for patients as well as providers change the role of radiologists, but do they risk increasing burnout?
In the past, radiology reports were written to serve the physician who ordered them. That was before the internet made patients more technology- and consumer-savvy. That was also before the 21st Century Cures Act (enacted in April 2021) required timely and immediate release of test results (including imaging), at least to outpatients.
Today, more radiologists are finding their reports have two audiences: the ordering physician and the patient. Having two audiences raises a number of questions: Can one report adequately
serve both? Or do radiologists need to write/design two separate reports? Does the patient-centered report need more lay language? Is it more time-consuming to produce a physician-centered and a patient-centered report? Could having to produce two reports contribute to radiologist burnout, which is already high? And does including videos with reports help patients understand them better?

Radiologists are debating the answers to these questions as technology companies such as Scanslated and PocketHealth are stepping up to help them deliver patient-friendly reports in an interactive format and a timely manner.

Christopher Roth, MD, MMCI, FSIIM, vice chairman of radiology, IT, and clinical informatics at Duke University, says the radiology report has traditionally been "a clinical document made to be read by clinical people."

Tessa Cook, MD, PhD, an associate professor of radiology at the Hospital of the University of Pennsylvania and a member of Radiology Today's editorial advisory board, agrees: Radiologists have long written reports "using their medical judgment and intending them for other health care providers" who also have medical backgrounds.

However, Cook and Roth say, as patients have become more technically savvy and more informed than ever, they have come to expect not only to see their imaging reports but also to see them as soon as they are available. Roth says patients also want their reports presented in ways that they can understand. "I don't think we are at the point where there is an imperative or a mandate for patient-centered reports—after all, it isn't reimbursed," he says. Still, radiology practices that want to be leaders are paying more attention to their patients' experience, he adds, and patient-centered reporting can be a big part of making sure the patient "experience" is a
good one.
'Empowering' Format
Radiologists at Duke created software that automatically transforms complex radiology reports into a patient-friendly, interactive format. The software, marketed by their company, Scanslated, headquartered in Tampa, Florida, uses plain-language explanations and diagrams to help patients understand their imaging reports as they read through them. Duke Health launched the Scanslated software enterprisewide in early July through an integration with the
Duke MyChart patient portal.

"What this does," Roth says, "is make it easier for patients to understand what might otherwise be confusing. And they're in favor of getting that information. It's empowering."

While it has only been a few months, it is not surprising, Roth says, that patient feedback has been overwhelmingly positive. A survey of 1,774 patients using the service found that 97% reported that the definitions and diagrams helped them better understand their results.

The radiology practices pay for the Scanslated software. It's worth it to them, Roth says, because it is a differentiator. "Radiology practices are able to say to the ordering physician: 'We're providing this education to your patients and, perhaps, you won't get as many questions as you did before. And, maybe the questions you do get are more sophisticated because your patients are better informed before they talk to you.'"
Earlier this year, PocketHealth launched its Report Reader tool, expanding the functionality of its patient-centric medical image-sharing and storage platform. Report Reader allows patients to tap or click on anatomical or medical terms common within most medical imaging reports and view their meaning in easily understandable language from within the PocketHealth platform. Report Reader is designed to demystify more than 500 medical terms (the list is growing), such as "unremarkable," "bilateral," "percutaneous," and "neoplasm." It translates medical terminology, so the patient doesn't have to spend hours looking up and searching each medical term they don't understand.

Patients are able to access, share, and securely store their medical images and records anywhere, anytime, from any device with this platform. They pay a one-time fee for accessing, sharing, and storing their records. For providers, patient-sharing is free, says Rishi Nayyar, CEO and cofounder of PocketHealth. Nayyar believes patients are willing to pay for the service because they get permanent access to their entire imaging history and future records. "The … fee is less time consuming and cheaper than coming onsite, paying for parking, and picking up a CD of their images from their provider," Nayyar says. He adds that the amount can be covered by their health savings or flexible spending account.

Nayyar says radiologists like PocketHealth's imaging sharing platform because it is an expedient way for them to share their reports and insights with patients. "It lifts the burden on them for sharing the results with patients," he says. Years ago, Nayyar says, radiologists might have been reluctant to share their "trade secrets," but thanks to the growing demand, they have come to recognize that providing patients with their imaging records in ways they can understand benefits radiologists, as well, although Nayyar acknowledges that some patients who fear the worst might want to hear the results from their physician before reading their report for themselves. If that's the case, the patient can hold off looking at their report until after they have spoken with their physician.
Patient-Centered Video Reporting
Radiologists at New York University's Langone Health are also working to improve the way patients access their imaging reports. Michael P. Recht, MD, chair of the department of radiology at NYU Grossman School of Medicine, realized that traditionally written reports were so full of medical jargon that they were difficult for patients to decipher. He sought a better way to communicate with patients. Knowing that short videos on the internet have proven highly useful and popular, he had the idea of using the same methodology to communicate with patients. Recht led a team of faculty, informatics personnel, and personnel from Visage Imaging GmbH that developed a patient-centered video reporting tool.

The video reporting tool was integrated into NYU Langone's PACS and delivered seamlessly into MyChart where patients could view it. The video reports were not intended to duplicate or replace the traditional radiology report, Recht notes. The goal is to produce videos that are 60 to 90 seconds in length and explain one or two important findings. If the examination is normal, the goal is to describe normal anatomy. In September 2021, Recht launched a pilot study to test whether patients found the videos useful and if the production of the videos could be accomplished without significantly prolonging the radiologist's workday.

For their four-month study, which was published online in April 2022 in the American Journal of Roentgenology, 105 radiologists produced 3,763 video reports, which included all modes of imaging. The tool they developed and integrated allowed for both image and voice capture. To aid patients' understanding of cross-sectional images used in the video reports, a team from NYU Langone, led by neuroradiologist Matthew Young, DO, worked with Siemens Healthineers to develop a method to automate the production of cinematically rendered images, a novel photorealistic 3D technique, for almost all CT examinations as well as 3D MR examinations. These images were automatically created and made available immediately to radiologists at the workstation. This allowed them to incorporate video into their reports. Patients could access the videos, along with the written radiology report and examination images, via their institutional health portal.

NYU Langone patients were sent a survey to obtain feedback on their experience. Patients viewed 864 unique reports and returned 101 surveys. The patients' mean rating for how well the video report helped them understand their findings was 4.7 out of 5. Of the patients who
responded to the survey, the vast majority (91%) preferred having both written and video reports together rather than written reports alone. The authors concluded that "patient-centered video radiology reports are a useful tool to help improve patient understanding of imaging results." They also said that creating video reports and delivering them to patients could "be integrated into existing informatics infrastructure."

Recht says the majority of comments from patients were high praise. He offered two examples: "This was extremely helpful. It was easy to understand. I really find this a great innovation." And, "This was very helpful and a first for me. I have had a few MRIs and CT scans and never have I gotten a video. It's a lot better to understand."
An Eye on Workload
Depending on their subspecialty, a clinical radiologist typically reads 30 to 40 CT or MRI scans, 100 screening mammograms, or 150 to 200 radiographs every day, Recht says. One of Recht's team's biggest challenges in developing the video reports was doing so in a way that wouldn't add significant time to the radiologists' workload. The team was able to get it down from an average of four minutes to create a report when they first started to between 30 and 40 seconds. It helped when they developed short video macros that the radiologists could use but still tailor or personalize as much as they wanted for the patients, Recht says.

In many cases, patients prefer having access to their results and feel empowered when they speak with their treating physicians, Recht says. Having seen their reports and understood them, they come to follow-up appointments knowing what they want to ask and explore further. The results also suggest that patients may feel "less anxious" about their condition after viewing their video report, Recht says. However, he cautions that the patient-centered video reports are not appropriate for all patients, such as when the findings are highly complex or potentially life-threatening.

One of the major potential advantages of patient-centered video reports, according to Recht, is that they may allow radiologists to develop relationships with their patients. A study published online in the British Journal of Radiology in 2014 found a lack of awareness among patients and some medical colleagues regarding the roles and responsibilities of today's radiologists. Recht believes video reports can help radiologists play a more active role in patient-centered care—another of the goals of the 21st Century Cures Act.

Recht says some radiologists expressed concerns that the video reports could increase their risk of malpractice claims, but he believes the opposite is true. "Before we did this, we spent a lot of time talking to both our internal and external legal teams, and they said, if anything, this would reduce the risk of being sued because, with the reports, you're developing a relationship with the patient," Recht explains.
Solution or Contribution or Burnout?
Cree M. Gaskin, MD, a professor of radiology and orthopedic surgery and the associate chief medical information officer at the University of Virginia Health in Charlottesville, sees patient
demand for instant access to their imaging results as part of what's happening everywhere in today's world. "Our society is now used to instant access to things, whether it's banking records, test scores, or whatever. Instant access to your data is just part of our modern society," he says. However, Gaskin says, asking radiologists to translate reports for their patients is more work, "and adding more work to our workload is a problem," especially today when surveys show burnout in the field is plentiful. Even if it adds as little as four minutes per patient, it's too much.

"We have a national shortage of radiologists," Gaskin says. "That's just a fact. Volumes are growing and everyone is struggling. We are looking for solutions from artificial intelligence to help us read faster. With this big-time crunch, adding to our workload must be done thoughtfully, even if the intentions are good, as with patient-friendly reports."

Cook agrees that requiring radiologists to write reports for two audiences "could contribute to burnout." Keeping the reports brief, under a minute, could help, she says. But she wonders, "How much can you really communicate in 30 seconds?" If the exam and the findings are
straightforward, it may be possible, she says. "In 30 seconds, you can say 'hello' to the patient, 'here's the study you had, here is what we were looking for, and we don't see anything of concern.'" But even that report can raise more questions than it answers, she says.

On the other hand, Cook says, the field could look at the development another way: If patient-centered reports mean radiologists having more interactions with patients, it could help ease burnout. Rather than look at computers all day, radiologists could find some satisfaction in changing their workday and spending time helping to deliver patient care directly to patients, she says.

Roth says some radiologists, such as those at his institution, are leading the way in patient-centered care. He is "proud," he says, that Duke was among the first large enterprises that deployed patient-centered radiology reports. Penn Medicine has had the system named Patient-Oriented Radiology Reporter, or PORTER, integrated into its patient portal for a few years now, Cook says. Roth says he expects their use to only grow rapidly and exponentially, as others in their field see the benefits it brings them and their patients.
— Freelance medical writer Beth W. Orenstein of Northampton, Pennsylvania, is a regular contributor to Radiology Today.