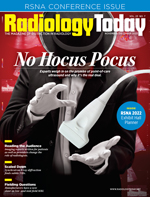 Editor's Note: A Cornucopia of Radiology
By Dave Yeager
Radiology Today
Vol. 23 No. 7 P. 8
Thanksgiving is almost here, which means that RSNA is not far behind. As always, there are sure to be many interesting educational sessions and technical exhibits. If you happen to be at the show, please stop by booth 3140 in the South Hall and say hi. We always enjoy meeting our readers. Much like RSNA, this issue has a little something for everyone.
Selena Chavis provides a closer look at the growth of point-of-care ultrasound (POCUS) in this month's cover feature. Because of its portability and versatility, POCUS can be used in many ways outside of the radiology department. One example is primary care. Although radiologists may be skeptical of primary care physicians performing in-office ultrasound exams, proponents believe that such use can help weed out simple cases, allowing radiologists to focus on more complex cases. A scenario such as that offers the potential for at least a bit of relief for radiologists who are inundated with exams. Another potential benefit of POCUS is that it allows exams to be performed in circumstances that may not be conducive to medical imaging, potentially increasing imaging access to people in underserved places.

Other efforts to increase imaging access are emerging in low and mid-field MRI. Keith Loria surveys some vendors who are taking a new look at lower T models. Although the market for such machines has lagged in recent years, advances such as AI are helping to put low- and mid-field machines on a more competitive track.
Loria also reports on synchrotron X-ray diffraction. Although the technique has been around since the '80s and is typically used to study materials, researchers are using it to detect subtle changes in the myelin sheaths of neurons and potential signs of mild traumatic brain injury (TBI). Mild TBIs are nearly impossible to detect with typical imaging equipment, but synchrotron X-ray diffraction, which uses X-rays that are 70,000 times more powerful than a standard chest X-ray, is able to view tissue at the level of a single neuron. An important advantage of this technique is that it does not introduce artifacts into the image. Although it is not likely to come into wide use in the near future, synchrotron X-ray diffraction may prove to be a useful tool for diagnosing mild TBIs.
Another potentially useful tool is the patient-friendly radiology report. I say potentially because although educating patients is generally a good thing, there are still some kinks to be worked out. Patients expect transparency in their medical care, but radiology reports need to be put in proper context, which may contribute to time demands on already time-constrained radiologists. There are a few companies that translate standard radiology reports into patient-friendly terms, and adding images can greatly enhance the text of a report, but it remains to be seen how this trend will affect radiology practice. Beth Orenstein has the details on page 20.
Finally, as we reach the end of the year, all of us at Radiology Today wish you and your family a happy, peaceful holiday season.
Enjoy the issue.

— Dave Yeager

david.yeager@gvpub.com