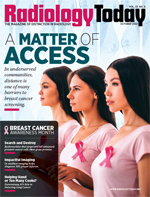 A Matter of Access
By Claudia Stahl
Radiology Today
Vol. 23 No. 6 P. 12
In underserved communities, distance is one of many barriers to breast cancer screening.
In 1963, radiologist Philip Strax and his research team set out to screen 62,000 women in New York City for breast cancer using a new technique called mammography. Most of the participating hospitals were in the northern end of the city, and the arduous commute to and from screening appointments discouraged too many women from participating in the study. To overcome this hurdle, the researchers outfitted a van with an X-ray machine and parked it near office buildings in midtown Manhattan, making it easy for women to get screened during their lunch breaks.
By removing a barrier—distance—from the screening process, the scientists would eventually demonstrate a relationship between early detection and outcomes in breast cancer, while inventing a screening model that is a lifeline to women in rural and urban communities around the world: mobile mammography.
The Versatile MMU
Decades after Strax's landmark study, mobile mammography units (MMUs), or mammovans, remain a vital point of access to breast cancer screening services, especially for women in underserved rural and urban communities.
A review published earlier this year in NPJ Breast Cancer found that the American Italian Cancer Foundation Mobile, No-Cost Breast Cancer Screening Program, a service used by women in New York City's five boroughs, detected 68 cases of breast cancer in 32,350 women over five years. More than one-half of the program's participants identified as African American (28%) or Hispanic (27%).
In recent months, hospitals and mammography centers are slowly closing the gaps in their annual mammography screenings related to the pandemic by bringing those services to communities with mammovans. But MMUs remove more than the challenge of proximity from the complex mix of factors that influence why, when, and how women access breast cancer screening. As traveling clinics, they offer a range of services, such as waived or reduced fees for screenings, onsite follow-up imaging, and assistance with new appointments or insurance. In other words, MMUs remove multiple barriers to access.
By doing the same, hospitals and free-standing mammography centers might expect similar levels of participation in screening services. The trouble is, "access is pretty complex," explains Arlene Richardson, MD, chair of the radiology department at Jackson Park Hospital and Medical Center in Chicago. "It can mean proximity to a health care center, the affordability of care, or at least the perceived affordability of it, because a lot of people that have public health care like Medicare and Medicaid don't always understand what resources are available to them.
"And the negative impact that racism has on health care should not be overlooked," she adds. "The American Medical Association declared that racism is a serious threat to public health, to the advancement of health equity, and also a barrier to appropriate medical care."
Jackson Park is a safety net hospital serving a predominantly Black, urban, low-income community that, according to Richardson, struggles with the health disparities common to others like it across the country. "Low-income communities have poor health outcomes," she says. Without assistance from outside sources, "hospitals like Jackson Park are not able to provide the higher level of care and the amenities that well-resourced centers can, such as a top-notch diagnostic technology, IT infrastructure, and programs like outreach."
Statistics from the American Cancer Society show that rates of screening mammography are similar among Black women, white women, Hispanic women, and Asian American women, and cases of new breast cancer are lower in Black women. Yet Black women are 41% more likely than white women to die from breast cancer.
Barriers like employment (in this context, the inability to take time off to have a mammogram), lack of child care, and other family obligations (eg, shopping, meal preparation, caring for other family members), along with economic and educational barriers, are partial explanations for this disparity. While research in this area is ongoing, it is believed that Black women may delay follow-up after an abnormal mammogram more than white women.
Four Saturdays each year, Elizabeth Wende Breast Care (EWBC) in Rochester, New York, offers weekend screening appointments and waives the cost of care for uninsured patients, in an effort to remove some of these barriers. Stamatia Destounis, MD, FACR, FSBI, FAIUM, a radiologist, managing partner at EWBC, and a member of Radiology Today's editorial advisory board, says the center has extra staff available on these days to read the mammograms and, if needed, follow-up with extra views or ultrasound while the women are onsite.
"If the radiologist finds something after the patients have gone home, then you have to try to get that patient back [for follow-up], and it can be a bigger challenge than getting them in for the initial screening," Destounis explains. "So we get the workup done when they're here, and we've had good success with that approach."
In contrast to Jackson Park Hospital, EWBC serves a predominantly white, suburban population. Destounis estimates that around 7% of the center's patients are Black women, with Asian women and American Indian women accounting for a smaller percentage. All of the center's patients have access to the most advanced technology for breast imaging, such as digital breast tomosynthesis, which has a higher success rate of cancer detection in women with dense breast tissue.
Black women, who typically have dense breast tissue, are more likely to be screened later and at lower-resourced facilities that may not offer digital breast tomosynthesis. Until recently, Jackson Park Hospital and Medical Center was one of them. Richardson says years of disparities such as this one have created a barrier of mistrust of the hospital within the community. However, a program called Project Health Equality (PHE) is helping the hospital chip away at this mistrust.
Partnerships Improve Access
Backed by an investment of more than $20 million, PHE is a collaborative initiative of the medical technology company Hologic and partnering organizations RAD-AID, the Black Women's Health Imperative, the National Alliance for Hispanic Health, and the Healthy Americas Foundation. The program addresses structural and cultural barriers that prevent Black and Hispanic women from receiving the same quality of health care as white women, especially for breast cancer, cervical cancer, and abnormal uterine bleeding.
According to Jennifer Meade, president of Hologic's breast and skeletal health division, PHE was created "to increase access to early detection and the additional care needed if something is found during screening. Too often, women are prevented from getting the treatment they need and deserve because of limited resources or other barriers."
Hologic supports women's health through research and product development, "but these complex issues required a new approach, with diversified thinking, insights, and imagination," Meade says. "We knew that there were successful existing models of care that we could support and expand."
The partnering organizations work in concert with Hologic to support PHE's core pillars: research, patient and provider awareness, education, and access to care. For example, the Black Women's Health Imperative and Hologic launched a multiyear campaign to decrease breast cancer screening disparities for Black women, with Mary J. Blige as a spokesperson.
Through the PHE program, Jackson Park Hospital received a new Hologic 3D mammography machine installed with the help of RAD-AID. The facility promoted its new technology to the community during Breast Cancer Awareness Month last year, offering free mammograms for uninsured and underinsured women. "It brought in 50% more screenings than we see on a typical month," Richardson says, "and most were insured patients."
With the new mammography unit and a second ultrasound machine, the radiology team can diagnose and treat patients more thoroughly. Outfitted with a new IT infrastructure and a dedicated patient navigator—more resources made possible through PHE—the hospital now sends appointment reminders, arranges transportation, and assists patients with matters such as insurance and new appointments.
"All of these improvements can help increase follow-up rates for abnormal exams, decrease time to treatment, and improve outcomes," Richardson says. "It breaks my heart when I see people show up with advanced stage disease that could have been treated much earlier when the chances of survival are higher."
With year one of the three-year PHE grant coming to a close, Richardson is amazed by the impact that the program is already making in the community as well as within the hospital. "Just seeing the level of support has improved morale in my department," she says. "We feel more hopeful that people are listening and that there's support out there for us."
Programs like PHE are one of a growing number of partnerships among for-profit companies and organizations to reduce disparities in health care. These initiatives often involve pharmaceutical and technology companies, academic institutions, foundations, and groups with missions rooted in addressing the social determinants of health.
Community Outreach
Since 2010, Phillips Foundation has partnered with RAD-AID to improve access to screening technologies in underserved communities in the United States and internationally. More recently, the organizations teamed up with Breast Care for Washington, a program dedicated to improving rates of breast cancer screening, detection, and treatment in Washington D.C.'s Wards 7 and 8—neighborhoods with some of the highest rates of mortality from breast cancer in the country. The collaboration enables Breast Care for Washington to offer state-of-the-art 3D mammography and diagnostic ultrasound at its clinic, the services of a patient navigator, and an MMU that's combatting a lapse in screenings since the onset of the pandemic.
In Philadelphia, Siemens Healthineers North America and Penn Medicine's Abramson Cancer Center have teamed up twice to bring 3D mammography to local, underserved communities. Penn provides the services of its clinical and support staff and Siemens supplies the 54-foot-long mobile unit equipped with its MAMMOMAT Revelation 3D mammography system.
The first clinic, held in October 2021 in the parking lot of the Murrell Dobbins Career and Technical Education High School, included an onsite team of clinic staff, counselors, and patient navigators. In addition to screenings, the program offered educational sessions for high school students about the importance of annual mammography, what it takes to become a certified imaging technician, and other topics related to careers in health care.
Before long, "people in the community were talking about the program," says Mitchell D. Schnall, MD, PhD, chair of radiology at the University of Pennsylvania's Perelman School of Medicine. By the end of two weeks, they'd screened 241 women and scheduled the next clinic at a local church whose pastor had heard about the program.
According to Abigail Weldon, senior director of women's health at Siemens, very little was done to market the program by either organization. What mattered more, she says, was "being in the community, especially for an exam such as mammography that's so intimate. We were hearing things like 'I heard about it at church,' or 'My friend was here and she told me to come.' It gives women a little more justification to go [to the screening]."
While he doesn't know the precise number, Schnall says the program detected some cancers, which was not unexpected in an underscreened population. A team of physicians and support staff from the Penn hospital network were prepared to provide follow-up treatment for the patients who need it, independent of their financial status.
Siemens Healthineers will continue to provide limited support for Penn's mobile mammography program, but the hospital is well on its way to raising enough money to fund it independently. At a time when burnout is an epidemic in health care facilities everywhere, Schnall says the program "is almost as valuable to us as it is the communities that we're engaged in—the goodwill, the positive feelings, the excitement among the team. It was so good for us."
— Claudia Stahl is a freelance writer based in Ambler, Pennsylvania. She specializes in writing about the health of people and the planet.
Barriers to Mammography Screening
• Low income or worry about cost
• Lack of access to care (such as lack of a local or easy-to-get-to mammography center or lack of transportation to a mammography center)
• Lack of a usual health care provider
• Lack of a recommendation from a health care provider to get mammography screening
• Low education level
• Lack of knowledge of breast cancer risks and screening methods
• Lack of child or elder care
• Lack of sick leave or inability to miss work
• Fear of bad news or pain from the mammogram
• More recent migration to the United States (born outside the United States and living in the United States for less than 10 years)
• Cultural and language differences
Adapted from the Susan G. Komen foundation at www.komen.org/breast-cancer/screening/screening-disparities