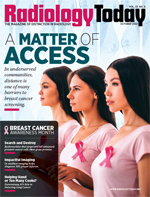 Impactful Imaging
By Beth W. Orenstein
Radiology Today
Vol. 23 No. 6 P. 20
In-stadium imaging helps diagnose NFL player injuries.
After every NFL game, it seems that at least four or five players from each team need an MRI exam to determine the extent of suspected injuries, says Timothy McAdams, MD, president of the NFL Physicians Society and head team physician for the San Francisco 49ers. Most of the time, the players have to be scheduled for their MRI, and, often, the appointment is for the next day or so at a hospital or imaging facility close to where the team plays.
If the players play for the Cincinnati Bengals, it's a different story. Cincinnati is the only team in the NFL that has an MRI onsite at its stadium. If a Bengal player is injured during a home game and needs an MRI, it can be done immediately—even before the game is decided. (Visiting players can be imaged at the stadium, as well, if need be.)
Paycor Stadium (formerly Paul Brown Stadium), on Cincinnati's downtown riverfront, opened in 2000. A few years later, Stephen Pomeranz, MD, a radiologist and CEO and founder of ProScan Imaging, based in Cincinnati, and broadcaster Cris Collinsworth, a former Bengals player, met with and convinced Bengals owners to install an MRI scanner on the ground level of their stadium. Collinsworth, who is a board member of the Cris Collinsworth ProScan Fund, a nonprofit public foundation based in Cincinnati with a mission to combat breast cancer, and Pomeranz, whose company provides teleradiology and onsite radiology services to physicians, imaging centers, and hospitals in 45 states and several US territories, convinced the owners to make the investment by successfully pointing out its potential advantages.
(ProScan also owns and operates 33 independent imaging centers offering advanced imaging technology in multiple US states.)
"Because football players are often quite large, we needed an open MRI and, at the time, there were no open high-field MRI scanners in the Cincinnati area," Pomeranz says. "GE Healthcare had just come out with one. So, I talked with the owners of the team, and we discussed what it would mean to have a high-field open scanner onsite."
One of the biggest advantages: If the player was hurt early in the game, the MRI could be used to confirm the injury or determine whether the player could safely return to action. "While uncommon, this has occurred on selected occasions," Pomeranz says. More importantly, "having an expedient, accurate answer without necessary transport is a welcome luxury for players and their agents."
MRIs are often needed to confirm injuries such as ligament or tendon tears and joint injuries, whereas X-rays are typically used to confirm bone fractures or breaks, Pomeranz notes. Although an MRI takes longer than an X-ray, it's still possible to do the MRI and have the results that, if negative, may allow the player to return to play, Pomeranz says.
Another advantage is getting the results of the scans much sooner. Even with having to set up and place the patient, "you could have an answer in 20 minutes," Pomeranz says. For most scans, he surmises having a dedicated MRI onsite can save as much as six hours, but the average amount of diagnostic time is 12 to 24 hours. Pomeranz, who reads the scans at Paycor Stadium in real time, says, for players whose careers often hang on the results, that difference translates to much less worry time on nongame days.
Installation Challenges
Earlier, Pomeranz and Collinsworth had tried to convince other NFL teams, including the Houston Texans and Dallas Cowboys, to install MRIs at their stadiums, but there were no takers. A couple of NFL teams have installed MRI scanners at their training facilities, which are often near their stadiums, Pomeranz notes.
Once the Bengals' owners agreed to install the MRI at their stadium, the bigger challenge was getting it there. The stadium was relatively new but not brand new, Pomeranz notes. Just to get the scanner, which weighs well more than 100,000 pounds, to the site, engineers had to be creative. The solution was to install and move it on wheels via a railroad track. The track had to be specially designed and built for this purpose.
Siting the scanner was another challenge. Not only is space a premium at stadiums, but MRI machines are very sensitive to vibrations. "With 60,000 cheering fans in the stands, you can imagine the amount of vibration that's transmitted down into the basement, where the scanner is located," Pomeranz says. Any movement is not ideal for an MRI scanner, which is a rather expensive piece of equipment. The solution for this challenge: Float it atop inflatable airbags.
Still another challenge is that MRI scanners are expensive and have ongoing costs, including staffing and servicing. To help offset the costs, ProScan Imaging opened the Bengals' MRI to the public for scans Monday through Saturday. Patients who need a scan drive to the stadium parking lot, where they park in assigned spots and are greeted by staff and a golf cart. The golf cart takes them to the room where the MRI is housed.
Clearly, some patients choose this site for their MRI because they are hoping to get a glimpse of Bengals players and staff. "It's a really unique experience. You get to go right by the players' locker room to get to the MRI, and sometimes you bump into some players and coaches," Pomeranz says. It's also attractive, he adds, because it's an open scanner. Some patients may find it intimidating to go to the stadium for their scan, but Pomeranz believes it's not many.
Other ProScan imaging equipment at the stadium is used for other professional and college teams but not the public. "We do a lot of screening for players that teams are thinking of signing," Pomeranz says. Sometimes that screening requires an MRI, and sometimes it requires other imaging.
Time for an Update
In late 2021, ProScan and the Bengals realized that the equipment needed updating and replaced the original scanner with a Fujifilm Oasis MRI system. Like its predecessor, the new system features an open design and a patient management system (an 82 cm-wide table and 660-lb capacity) to accommodate patients of almost any size—even the largest lineman. The challenges and installation were similar to the first installation.
The second installation had a unique challenge, though: liquid helium had been used to cool the original scanner. When the scanner was replaced, engineers had to determine how to safely remove thousands of pounds of helium. The engineers determined that the best option was to lay 200 yards of pipe and blow the helium out of the stadium, Pomeranz says.
Both installations were done during the offseason. The Bengals hosted a wild card game in January, so the second installation had to wait a few extra weeks, which, of course, no one seemed to mind, says Pomeranz, who considers the installations to be "technical achievements."
As an orthopedic surgeon, McAdams doesn't believe having an MRI at the stadium is especially helpful when it comes to return-to-play decisions. If the player is taken out of the game and goes for an MRI, having been kept out, he likely isn't in condition to return to the game, even if the results of the MRI are negative, says McAdams, who notes that an MRI can take 15 to 45 minutes. "If they're on ice for that long, they're not coming back in," he says. "They get tight, and the trainers can't get them warmed up."
Also, McAdams says, by the time the MRI is completed and the results are read, there may not be much time left in the game. "You're not going to hold the bus at the end of the game while a player is imaged," he says.
Still, McAdams can see the benefit of teams having a dedicated MRI for their players. Like Pomeranz, he says players and coaches likely would appreciate not having to schedule MRIs at other nearby facilities and wait for what can seem like an eternity for the results.
DR's Value
Even though only Paycor Stadium has its own MRI, McAdams says imaging of players has improved greatly in the decade and a half that he's been involved in their care. In his opinion, DR has probably made the biggest impact. "When I started 15 years ago, we were hanging films in a light box and squinting to see if there was a fracture," he says. "I think player health and safety has really, really improved with the addition of digital radiography."
McAdams adds that radiologists and radiology technologists who work with NFL teams are best in class. "In every stadium I have been to," he says, "the imaging teams are incredibly talented and a pleasure to work with."
Pomeranz says, thanks to digitization, radiologists can read from anywhere. If visiting team members undergo an MRI at the Bengals' stadium, their results can be sent via the cloud to their coaches immediately. The same is true of X-rays and ultrasounds that they may have taken at the stadium.
Pomeranz says reporters are obviously interested in the results of the player scans and often hang around the medical facility. "But we are constantly aware of the confidential nature of the information we obtain," he says. "We've never had a breach, and I doubt we ever will. Confidentiality is extremely important for the players, just as it is for the everyday patient."
Kendra Hall, PhD, RT(R), a specialist for Carestream X-Ray Solutions, has found that, although imaging equipment varies by stadium, digital X-rays are commonplace. "Facilities with fixed imaging rooms usually have fully integrated DR X-ray room equipment," she says, adding that facilities without fixed imaging rooms often make use of mobile imaging. Hall says several NFL teams, as well as college football teams, use Carestream's DRX-Revolution Mobile Imaging System.
Typically, digital images are reviewed first by the onsite team physician, who is often a specialist in sports medicine, Hall says. Next, they are delivered digitally for radiologist interpretation.
Hall says the workflow at the stadiums is pretty much the same as at mobile imaging sites that do not have an onsite dedicated X-ray room. These sites include nursing homes, in-home care, some jail systems, and even triage tents or mobile COVID overflow semitrailers.
As far as reading, urgency is paramount if it is performed while a game is ongoing, Hall says. "It's common to have a digital chain of communication for delivery of digital images to a virtual PACS system for a radiologist read and a reporting mechanism back to an ordering physician," she says.
Also, she adds, "cellular delivery as well as store-and-delivery, when arriving at a home base, are possibilities in today's digital imaging chain."
— A freelance medical writer, Beth W. Orenstein, of Northampton, Pennsylvania, is a regular contributor to Radiology Today and avid fan of the Philadelphia Eagles.