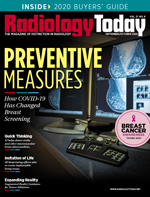 Preventive Measures — How COVID-19 Has Changed Breast Screening
By Beth W. Orenstein
Radiology Today
Vol. 21 No. 8 P. 10
The novel coronavirus pandemic has affected every aspect of health care delivery, including routine screening for breast cancer. In this article, Radiology Today talks to four radiologists who specialize in breast imaging to see how their practices have been impacted. A common theme was "severely," as they had to stop all routine screenings for about two months and, when they reopened, implement changes in office layout and procedures. Although they have reopened with precautions, they worry that more women will be unable or unwilling to undergo their regular mammogram due to COVID-19. One of the four, Kathy Schilling, MD, medical director of the Christine E. Lynn Women's Health & Wellness Institute at the Boca Raton Regional Hospital in Florida, says she's concerned because, during the pandemic, "breast cancer is not going away."
Significant Disruption
All four breast centers lost several weeks of routine screenings as the coronavirus began spreading in the United States. ProMedica Breast Care in Toledo, Ohio, stopped all routine mammograms for six weeks, from mid-March until the beginning of May. During that time, only women who were at high risk, who had symptoms, or who had a cancer diagnosis could be seen, says the center's medical director, Robin B. Shermis, MD, MPH, FACR, who is a member of Radiology Today's Editorial Advisory Board.
Elizabeth Wende Breast Care, which has seven breast clinics in upstate New York, noticed its screening numbers quickly declining in the early part of the year and closed all its facilities to prepare for social distancing in mid-March, says radiologist Stamatia Destounis, MD, FACR, FSBI, FAIUM, also a member of Radiology Today's Editorial Advisory Board. "We also wanted to be able to obtain PPE [personal protective equipment] for our staff and create protocols for cleaning and disinfecting our facilities," Destounis says.
The Christine E. Lynn Women's Health & Wellness Institute has three diagnostic centers in South Florida and a mobile mammography van. "The last day of regularly scheduled mammography was March 20, and we only started to get back to screening on May 13," Schilling says.
Radiologist Randy Hicks, MD, MBA, co-owner and CEO of Regional Medical Imaging in Southeast Michigan, says his state was hit particularly hard by the pandemic, and all 10 of its centers were impacted for 91/2 weeks. The facilities were only open one day a week for diagnostic exams, in accordance with breast cancer screening guidelines issued by a number of medical societies. "At one point, we hit an unprecedented low when COVID-19 reached its peak," Hicks says. "We did diagnostic mammograms on only 46 patients for the entire week."
Hicks estimates his centers postponed approximately 5,500 exams in March and April. "We typically do about 35,000 mammograms a year, so that accounts for a significant portion of our patients."
Schilling says her center's main site went from about 120 mammograms per day in February to 30 per week in March. These were women with new pain, new palpable masses, or nipple discharge. They weren't the more common follow-up lumpectomy, follow-up mastectomy, BIRADS 3, or postpercutaneous biopsy patients. They all had active symptoms, possibly related to the presence of a malignancy, Schilling says. She estimates that across all the center's sites, about 7,000 patients were either postponed or rescheduled.
The economic impact on their practices has been stressful, to say the least, the radiologists say. The timing of the pandemic, while never good, was particularly bad for Regional Medical Imaging. It had just finished buying 10 digital breast tomosynthesis (DBT) systems when the virus hit the United States hard. "It became a challenge for us to manage supporting the costs with so few patients coming in," Hicks says.
Fortunately, he says, the practice applied for and received a loan from the federal government's Paycheck Protection Program. "This helped us immensely," Hicks says. "Without this assistance, our financial losses would have been significantly more during this time." Still, Hicks says, "We have had to be very frugal and pay attention when it comes to expenses."
Shermis says his centers had to furlough staff during the shutdown and encourage those who were furloughed to collect unemployment. The radiologists weren't working full-time, either, as they didn't have enough to do, he says.
Reopening Safely
To reopen safely, the breast centers have had to make adjustments to their facilities and workflow. Scheduling is far different than before the pandemic. "We used to see patients every 15 minutes, but now we see them every 30 minutes," Schilling says. Instead of having patients dress in a community dressing room, "we now bring them directly into the mammography room, where they can change into a gown," she says. "They also have their interviews and exams in that same room."
Some practices, such as Schilling's and Hicks', are using the parking lot as a waiting room. Schilling says her practice sends patients to their cars to wait for their results. Hicks says patients check in for their appointments remotely from their cars. "When we are ready for them, we call the patient, and they are greeted by the technologist who walks them directly into the mammography room," he says.
Elizabeth Wende Breast Care centers also have patients change in the mammography rooms. Destounis says that if patients live far from one of their facilities, their mammograms are read while they wait in their cars and are called with the results as soon as they are available, so they know whether they have to come back in for additional imaging. "If that is the case, these patients are worked up at that time," Destounis says.
After reopening in May, ProMedica began scheduling one-half the number of screenings it did before the pandemic hit. "This allowed us to remove half the chairs in the waiting room," Shermis says.
The breast imaging centers are also restricting the number of people who may accompany the patient. "No visitors are allowed in our offices," Destounis says.
In addition, all patients are prescreened for COVID-19 symptoms prior to their appointment and again once they arrive at the facility. "We interview them before they arrive to determine if they have symptoms that may be indicative of infection and if they have potentially been exposed to the virus," Schilling says. Patients and staff are also asked to wear masks at all times and use the hand sanitizer that is available at different stations throughout the waiting and screening rooms. Shermis notes that a few of ProMedica's technologists who have underlying health conditions have chosen not to return to work and will, understandably, wait until they are sure that it is safe for them to do so.
Changing Practices
To accommodate rescheduled patients and the longer times needed between appointments, the facilities have had to adjust their hours. "If we find we need, we will open our offices Saturday and Sundays and also increase the time each day we are open," Destounis says. Others are staying open longer on weekdays than they were before the pandemic. "We are now working six days a week to try to address the backlog and have had to expand our hours on those days," Schilling says.
The practices are adding shielding for their technology, as well. Hicks is working with GE on shielding for its equipment because it "further protects our patients and our technologists from risk of exposure," he says. Additionally, the practices are deep cleaning every surface that patients may come in contact with, several times a day. "This includes disinfecting mammography, ultrasound, and biopsy rooms," Destounis says.
Shermis says his staff routinely sprays disinfectants on surfaces that anyone touches, such as chairs, door handles, and tabletops.
During the weeks they were closed or limited, some of the facilities stopped sending reminder letters to patients who were due for annual screenings. Now that his centers have reopened, Shermis says, they are sending reminder letters to patients who may have missed their appointments. "We're not letting them get away easily," he says with a laugh.
Lynn Women's Health & Wellness took advantage of the slowdown to identify women who are at high risk so they could be prioritized for screening. "We recently adopted iCAD's ProFound AI, which has provided a great deal of assistance with these decisions," Schilling explains. "This program uses artificial intelligence to rapidly and accurately analyze patients' digital breast tomosynthesis images, producing a unique and quantifiable Certainty of Finding score for the patients' overall case." During the weeks when the facilities were not doing regular screenings, they were able to run this program on patients' prior images and use the critical data to determine which women should be screened sooner. "COVID-19 has paved the way for us to begin risk-based screening at our facilities, vs the more traditional age-based or annual screening," Schilling says. If this change, prompted by the COVID-19 pandemic, becomes permanent, it could be beneficial, she says.
Hicks' practice has also adopted ProFound AI to address workflow challenges it encountered once it began offering DBT for mammography. He, too, expects it will help his group more effectively navigate the large DBT data sets.
Looking Ahead
Most insurance covers an annual breast screening with mammography but, in many cases, the routine screenings must be a full 12 months apart. Shermis is hoping that carriers will not require women to wait a full year to have their annual screening if their 2020 screening was delayed because of the coronavirus. If the insurance companies don't make exceptions to their rules for coverage, it may be difficult to schedule everyone in a timely manner. "Next April we may not have a whole lot of people coming in, and by the end of the year it could be crazy busy," he says.
Some of the precautions the practices have adopted may be permanent or last at least until the virus is not a threat to so many people. Schilling expects staff to be wearing PPE for the foreseeable future. "As always, we are concerned for the safety of our patients and are working hard to continue to provide quality patient care while minimizing risk to patients and our staff," Schilling says. She expects the practice's precautions will be followed for as long as COVID-19 remains a threat, however long that may be.
Shermis says it could take months or even years until women are completely comfortable with going out for health screenings again. "And if there's a second wave of the coronavirus in the fall, it's hard to know what impact that might have," he says. "It may drive patients to delay their mammograms even more." However, he says, "I do think we will get back to normal, eventually, and we'll stay open."
All the precautionary steps, Destounis believes, are providing patients with a sense of confidence. The radiologists believe women will still need to be reminded that breast cancer screening is a priority that can save lives, however, and that they should schedule their screening, even if the threat from the virus continues.
Hicks says he's noticed that patients' fears have gone from breast cancer to COVID-19. While their concern is valid, he says, "Breast cancer screening also should continue to be a priority. We are trying to relieve patients and staff of these anxieties as best we can. We are fortunate enough to have ample personal protective equipment for our staff, and we are providing masks to patients, if necessary." Hicks adds that while the facilities are doing everything they can to mitigate patients' fears and increase safety precautions as much as possible, "many patients still have anxiety when it comes to COVID-19."
Schilling says her facilities recently sent letters to their patients letting them know they had reopened and reminding them to "come in for screening, as it is important to find potential cancers as early as possible, when they are easier to treat."
— Beth W. Orenstein of Northampton, Pennsylvania, is a freelance medical writer and regular contributor to Radiology Today.