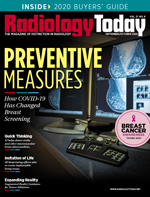 On the Case
By Ved Caculo, MBBS; Anant Lawande, MBBS; and Jeevan Vernekar, MD, DNB
Radiology Today
Vol. 21 No. 8 P. 30
History
A 37-year-old primigravida woman presented to the emergency department with acute, spontaneous in onset, left upper quadrant abdominal pain. Physical examination revealed generalized abdominal guarding with a gravid uterus estimated at 18 to 20 weeks of gestation. Patient was hypotensive with a thready, weak pulse. Urinary examination revealed microscopic hematuria. Point-of-care ultrasound demonstrated a large heterogeneous mass arising from the lower pole of the left kidney with an associated perinephric hematoma. Hemoperitoneum was also noted. MRI of the abdomen was then performed.
Findings
MRI T2 HASTE coronal image (Figure 1), T1 axial (Figure 2), and T1 fat-suppressed coronal (Figure 3) images of the abdomen demonstrate an 8.5 cm X 9.7 cm ill-defined mass (black arrows) arising from the posterior cortex of the lower pole of the left kidney. The mass is heterogeneous in signal intensity with a central T1 hyperintense component that suppressed on fat-saturated sequences, confirming the presence of macroscopic fat. A large hematoma was noted along the left renal lower pole, extending along the perinephric space and around the upper- and mid-poles, displacing the left kidney and the pancreatic tail anteriorly. Associated thickening of the anterior and posterior renal fascia was noted. T2 HASTE coronal image (Figure 4) demonstrates a single intrauterine fetus and a uterine fibroid.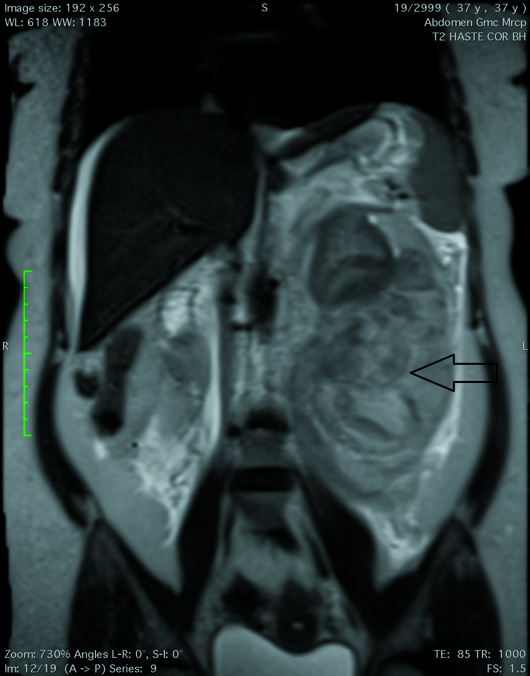 Figure 1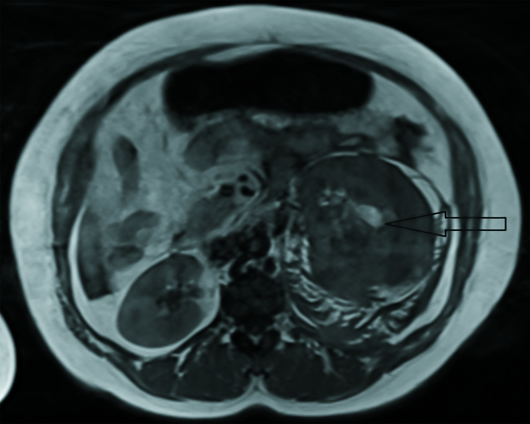 Figure 2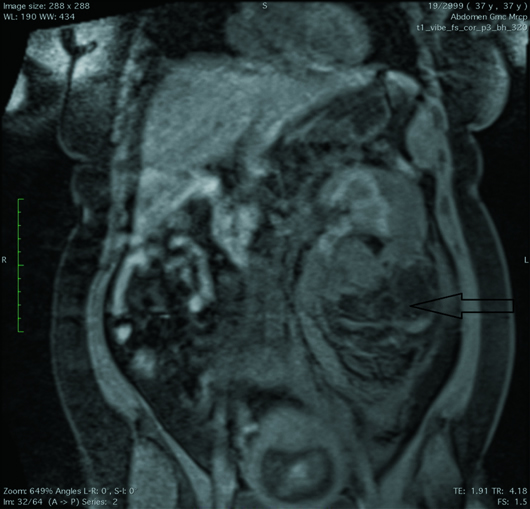 Figure 3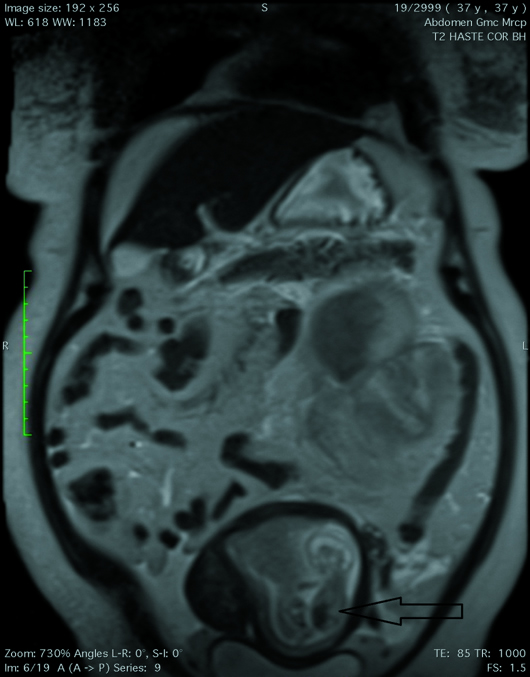 Figure 4
Based on hemodynamic instability and hematuria, the patient underwent an emergent left radical nephrectomy, due to risk of fetal and maternal complications. Histopathological examination of the nephrectomy specimen confirmed the diagnosis of angiomyolipoma (AML). Perioperative course was uneventful, and the term pregnancy resulted in a healthy newborn.
Diagnosis
Ruptured renal AML in pregnancy.
Discussion
Renal AMLs are benign renal neoplasms encountered both sporadically and as part of a phakomatosis, most commonly tuberous sclerosis (TS). These solid "triphasic" tumors are composed of varying amounts of dysmorphic blood vessels, smooth muscle components, and mature adipose tissue.
AMLs are encountered commonly in the kidney in clinical practice and are often found incidentally when the kidneys are imaged for other reasons. The estimated overall prevalence of AML worldwide is 0.3% to 3%. AMLs have also been identified in the spleen, liver, uterus, and the fallopian tubes.
The renal manifestations of TS include AMLs, renal cysts, and renal cell carcinoma (RCC). AMLs are present in 80% of patients with TS, typically occur in younger patients, and are frequently multiple and bilateral. Conversely, approximately 20% of patients with AMLs have TS. The remainder of AMLs are sporadic (non–TS-related), unilateral, solitary, and occur in middle-aged women.
The cornerstone of AML diagnosis on all modalities is the demonstration of macroscopic fat. However, if lesions contain little fat, it may be difficult to distinguish an AML from RCC.
On ultrasound, AMLs present as hyperechoic masses with increased vascularity on color Doppler; this is attributed to the presence of arteriovenous shunts causing turbulent, pulsating intralesion flow.
Because most AMLs contain substantial amounts of adipose tissue, they are usually diagnosed on CT or MRI by identifying imaging features of fat cells in the mass. Some triphasic AMLs contain too little fat to be detected on imaging and are referred to as lipid-poor AMLs. Other renal tumors that contain fat include RCC, Wilms tumor, and teratoma.
On CT, renal AML typically appears as a circumscribed, cortical, fat-attenuated mass with a heterogeneous soft tissue component interspersed throughout the lesion. Uncommonly, RCC may have macroscopic fat components and, as such, the presence of fat is strongly indicative of an AML but not pathognomonic. Approximately 5% of AMLs are fat-poor. This is especially true in the setting of TS, where up to one-third of lesions do not demonstrate macroscopic fat on CT.
MRI is excellent at evaluating fat-containing lesions with two main sets of sequences employed: fat-saturated techniques demonstrate high signal intensity on non–fat-saturated sequences and loss of signal following fat saturation; in-phase and out-of-phase imaging generates the India ink artifact at the interface between fat and nonfat components. This can occur either at the interface between the AML and surrounding kidney or between fat and nonfat components of the mass. Chemical shift signal intensity loss, along with other features, may suggest a fat-poor AML. The main differential diagnosis with RCC must be established.
Most renal AMLs are asymptomatic. However, patients can present with flank pain, hematuria, or a tender abdominal mass. AMLs are also associated with spontaneous retroperitoneal hemorrhage with the risk of hemorrhage being proportional to the size of the lesion (>4 cm diameter). These tumors are also hormone sensitive and tend to grow during pregnancy. The risk factors associated with the spontaneous rupture and hemorrhage include association with TS, larger size (>4 cm), and pregnancy.
Asymptomatic tumors are typically followed with ultrasound or CT every six months, if they are greater than 4 cm, and once per year, if they are smaller. In symptomatic cases or with bilateral lesions, the choice should be selective arterial embolization or conservative renal surgery. Radical nephrectomy is performed in cases of urgency, with uncontrollable bleeding and hemodynamic instability, large tumor size, central location, or coexisting carcinoma.
In a pregnant patient, the question that often arises is when to perform surgery. If there is an absolute necessity to perform surgery, the second trimester of pregnancy is typically chosen for the following reasons: surgery during the first trimester may increase the rate of abortions and fetal malformations and, in the third trimester, there are more technical difficulties and the risk of preterm delivery increases.
Rupture of the mass during pregnancy, in many instances, requires an urgent laparotomy and nephrectomy in order to control bleeding. Some authors recommend fetal extraction by cesarean section in the same surgical procedure in pregnancies at 28 gestational weeks or more.
— Ved Caculo, MBBS, is a resident in the department of radiodiagnosis at Goa Medical College in Bambolim, Goa, India.
— Anant Lawande, MBBS, is a resident in the department of radiodiagnosis at Goa Medical College.
— Jeevan Vernekar, MD, DNB, is HOD in the department of radiology at Goa Medical College.

Resources
1. Preece P, Mees B, Norris B, Christie M, Wagner T, Dundee P. Surgical management of haemorrhaging renal angiomyolipoma in pregnancy. Int J Surg Case Rep. 2015;7C:89-92.
2. Zapardiel I, Delafuente-Valero J, Bajo-Arenas JM. Renal angiomyolipoma during pregnancy: review of the literature. Gynecol Obstet Invest. 2011;72(4):217-219.
3. Sureka B, Khera PS. Radiologic classification and imaging features of renal angiomyolipomas according to the amount of fat. AJR Am J Roentgenol. 2018;210(3):W136.
4. Park BK. Renal angiomyolipoma: radiologic classification and imaging features according to the amount of fat. AJR Am J Roentgenol. 2017;209(4):826-835.
5. Park SG, Park BK. New radiologic classification of renal angiomyolipoma: frequently asked questions. Clin Imaging. 2019;55:156-160.