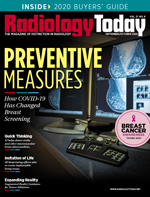 Editor's Note: Half a Year Onward
By Dave Yeager
Radiology Today
Vol. 21 No. 8 P. 4
As we head into autumn of this most unusual year, it's worth taking a moment to think about how COVID-19 has drastically changed our lives over the past six months. Work, school, and play all look different now, and it's anyone's guess as to which changes will remain after the virus has run its course or even when we'll regain a semblance of normality. We should also pause to remember the nearly 200,000 (as of this writing) people who have lost their lives to the virus.
Direct care has been the focus of most mainstream news coverage, but medical imaging has proven to be an invaluable tool for learning how to spot and treat COVID-19. The pandemic has also had a significant ripple effect on medical imaging. Volumes are down and, although imaging centers have done their best to put precautions in place, no one can predict when imaging will return to prepandemic levels.
Each year, Radiology Today acknowledges Breast Cancer Awareness Month in October by focusing on an aspect of breast imaging. This year's cover feature takes a look at how COVID-19 has affected breast imaging centers. Beth W. Orenstein speaks with four prominent breast imaging specialists to find out how they're managing during the pandemic and what they're doing to protect patients and staff. The biggest takeaway: Don't put off breast screening exams.
In non-COVID news, Keith Loria reports on AI algorithms that help spot signs of stroke and other cerebrovascular abnormalities. Time is always a factor in stroke care, and anything that can help physicians make the correct call faster is a welcome development.
A development that's still evolving is 3D bioprinting. Dan Harvey speaks with innovators in the field to find out what the technology can do and where it's heading. The use of 3D-printed medical models—derived from medical imaging—is growing in popularity for use in physician education and surgical planning. Some surgeons are even using 3D printing to produce custom-made surgical implants from patients' images. A few steps—years, actually—down the road, specialists hope to use 3D printing to produce implantable living tissue for use in patients.
Another developing technology is the use of augmented reality to guide surgical procedures. Although still in its early days, the initial results have been promising, and the surgeons who have used the technology have been pleased with it. Kathy Hardy has the details on page 22.
Enjoy the issue, and stay safe.