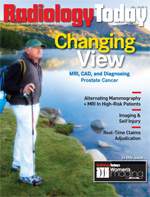 January 26, 2009
Imaging & Self-Injury
By Kathy Hardy
Radiology Today
Vol. 10 No. 2 P. 10
A research assistant working with a pediatric radiologist uncovered a disturbing behavior pattern in teen patients: inserting objects under their own skin on purpose. Radiologists could be the first to see the problem and raise the red flag to behavioral health specialists.
Interventional radiologists at Nationwide Children's Hospital in Columbus, Ohio, perform a minimally invasive, image-guided procedure that safely removes objects embedded in soft tissue with nothing more than a small scar as a physical reminder of the injury.
This information alone is noteworthy but, in this instance, it's not the story. A research aid actually discovered the larger news story while reviewing 500 of these interventional procedures performed at the hospital during the past 10 years. Adam Young, now a first-year medical student at The Ohio State University College of Medicine, found a trend among 10 of those patients: The object being removed was inserted under the skin on purpose by the patient. This self-embedding, self-injuring behavior was the subject of discussion following an RSNA 2008 presentation on the topic by William E. Shiels II, DO, Nationwide Children's chief of radiology.
This was the first report of a new form of self-mutilation in pediatric medicine. With self-embedding, objects are purposely used to puncture the skin or are embedded in the wound after cutting. Adolescent self-embedding behaviors are not currently recognized in medical literature. The only prior reporting of this behavior involved six cases of adult patients self-embedding in the eye.
Also newsworthy is the fact that this behavior was discovered by radiologists. In this situation, Shiels says radiologists are at the front line of diagnosing self-embedding behavior and can be the first to send up a red flag signaling the need to mobilize an interdisciplinary team for early and effective intervention and treatment.
"Diagnosing a behavior pattern like this is not the typical profile of the role of a radiologist," Young adds. "First, radiologists are involved in the diagnosis and treatment of the injury and then they mobilize the rest of the team to begin the patient's overall treatment. This is an exciting new role for radiologists."
In 2004, Young began evaluating a database of interventional radiology treatments for foreign bodies completed at Nationwide Children's. Shiels, an interventional radiologist specializing in the treatment of infants and children, developed this unique procedure in the 1980s. While an x-ray image displays metal objects such as needles, staples, and paper clips, ultrasound is necessary to locate nonmetallic items such as wood, plastic, and crayons. Then, with ultrasound and/or fluoroscopic guidance, interventional radiologists use forceps to remove the embedded objects. The procedure typically requires only local anesthetic and a small incision (about 1⁄4 inch) through which the object is removed without fragmentation.
"With this technique, physicians have a safe and effective alternative for removing foreign bodies, regardless of how they entered the body. This includes objects that are at risk for fragmentation during traditional operative techniques," Shiels says.
Research Database
Young spent his summer and winter breaks from 2004 through 2008 reviewing information contained in a 500-person database of patients who came through Nationwide Children's radiology department with soft-tissue injuries caused by embedded objects. He reviewed soft-tissue injuries that typically occurred by accident. Someone stepped on a sharp object such as a needle, pin, or nail, for example, or someone fell and ended up with glass or stones embedded in their hands as they braced a fall.
In 2007, Young noticed a previously unrecognized commonality among two or three of the patients. "That summer, I started to see situations where the foreign body was not embedded accidentally," he says. "I saw a few more cases of self-embedded injuries that fall."
In the end, Young discovered a trend of 19 episodes of self-embedding injury in 10 patients ranging in age from 15 to 18, occurring during a three-year period. A significant spike occurred in 17-year-old patients, and 90% of the patients were female.
In nine of those patients, interventional pediatric radiologists removed 52 embedded foreign objects—everything from straightened paper clips to stones. One case did not require radiological treatment. The majority of the objects were embedded in the arm, with a few in the feet and ankles. One patient self-embedded 11 objects, including a 6-inch, unfolded metal paper clip. One instance involved embedding in the neck, and that patient repeated the neck embedding three times after the initial injury.
Study results found that 70% of these patients repeated the embedding. With the repeat episodes, Shiels says patients demonstrated increasing intensity and intent of their self-inflicted injury. In fact, reviews of the 10 patients' medical records revealed histories of self-injury and mental health issues, he says.
Not in Literature
When presented with this specific data, Shiels searched for literature on the topic of self-embedding in the psychology, psychiatry, and pediatric medicine fields but found no recorded information on the topic. At that point, he asked the question, "What are we dealing with?"
"We have a procedure to locate and remove these objects easily," he says, "but this has opened up into a much bigger issue. This is a completely new revelation, and we had the first cases to ever be recorded."
Since this study was presented, two more cases came to light in Naperville, Ill., Shiels says, but neither instance had been recorded.
Shiels credits Young with discovering this trend of self-embedding and notes how his time and effort highlights the importance of research in medicine. "His work speaks to the value of research," Shiels says. "It also speaks to the value of the efforts of young doctors today who are working to make medicine better."
According to the American Academy of Child & Adolescent Psychiatry, between 7 and 12 million American youth suffer from mental, behavioral, or developmental disorders at any given time. Self-injury, a behavioral condition, is reported in 13% to 24% of high school students in the United States and Canada. The academy describes self-injury as "the act of deliberately destroying body tissue, at times, to change a way of feeling." Self-injury refers to a variety of behaviors in which a person intentionally inflicts harm to his or her body, such as cutting, burning, bruising, hair pulling, breaking bones, or swallowing toxic substances. This behavior is often done as a release during stressful situations. In this study, Shiels says patients reported feeling an "emotional release" of pain when they self-embedded but felt embarrassment and shame afterward.
Psychology professionals agree that self-embedding behavior is a novel method of self-mutilation. Scott Poland, EdD, of the Center for Psychological Studies at Nova Southeastern University in Fort Lauderdale, Fla., was surprised to read news articles about this form of self-injury published after Shiels' presentation in Chicago. Through his previous work with a large school district in Texas and currently as a consultant with a school district in Florida, he has experience with numerous mutilation behaviors but says he never saw anything like what the radiologists at Nationwide Children's discovered.
"I'm aware of the entire spectrum of self-mutilation," Poland says, "but no one ever attempted this. This is really something quite new."
'Let Something Out'
According to Poland, cutting is currently the most common form of self-mutilation. He points out that adolescents use cutting behavior as a way to "let something out" during times of stress or as a result of posttraumatic stress from an earlier event in their lives.
Whether the method of mutilation is cutting or self-embedding, many of these cases go unreported, as adolescents participating in this type of behavior often are embarrassed by what they do. They often wear long sleeves and pants to hide their self-inflicted injuries.

The potential for suicidal behavior makes self-embedding unique from traditional self-injury, Shiels says. In this study, 90% of the self-embedding patients had suicidal thoughts. Other types of self-injury are not associated with suicidal behavior.
"Children who cut and bruise don't have the kind of severe behavioral health disorders that these patients do," he says. "These children have some unique features and because of that, self-embedding behavior deserves its own discrete description."
Shiels believes that with this new role, radiologists have the opportunity to impact public health and public consciousness concerning the topic of self-injury.
"It's fascinating to think that radiologists are in a critical position to be the first physician to oftentimes make the diagnosis," Shiels says. "The radiologist can take one look at an x-ray and realize what the diagnosis is, call the emergency physician or the pediatrician, and immediately mobilize an interdisciplinary healthcare team to intervene in this patient's life and hopefully stop the cycle of self-harm."
Team Care
All professionals involved agree that an interdisciplinary team approach to cases of behavioral activity such as this is vital for the proper diagnosis and treatment of the patient. As a result of this study, Nationwide Children's instituted a self-embedding multidisciplinary procedure. Once self-embedded items are located and removed from a patient, radiologists consult with physicians on the case. From there, the physician refers the patient for psychological assessment.
"Radiologists need to inquire and refer the patient to other medical and psychological professionals," Poland says. "The broader the team involved, the better for the patient."
Richard Lieberman, NCSP, school psychologist for the Los Angeles Unified School District, refers to the team approach as a "circle of care." In his capacity with one of the largest and most diverse school districts in the country, he frequently sees instances of self-injury and stresses the importance of parents, school officials, and all healthcare providers sharing their knowledge when it comes to diagnosing and treating adolescents and teens with behavioral health issues.
"Often, the open link in that circle is the medical side," Lieberman says. "For me, being on the inside of the situation, bringing in the medical and psychological pieces is a good thing. Surgery is only one part of the situation. Without all parts, that's when you see evidence of repeat activity."
Shiels equates the team approach of care for self-embedding to that used when cases of child abuse are suspected. For example, when a child is brought to the emergency department with injured ribs, x-rays may show not only the existence of a new fracture but evidence of previous, possibly untreated fractures. The radiologists' role in that case is not dissimilar from that of suspected self-embedding.
"It's important for radiologists to take evidence of unusual behavior seriously," he says. "The radiologist might be the first person on the team to know what is going on with the patient."
Shiels says the psychological community at Nationwide Children's reacted positively to the self-embedding discovery. His research team took its findings to John V. Campo, MD, medical director of behavioral health services and chief of the division of child and adolescent psychiatry at the hospital.
"Dr. Campo was very excited that this discovery came out of radiology," Shiels says. "He believes this validates the fact that behavioral healthcare is healthcare. It's easy for someone to minimize behavioral health."
Publicity generated by Shiels' presentation resulted in international outreach from other medical and psychiatric professionals seeking more information on the topic of self-embedding. Young and others will continue to collect data on the subject, with the goal of establishing a registry in which cases, including images, can be recorded and accessed from around the world and used as a tool for diagnosing and treating this newly emerging facet of self-injury.
— Kathy Hardy is a freelance writer based in Phoenixville, Pa., and a frequent contributor to Radiology Today.