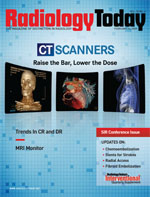 February 23, 2009
CT Scanners — Raise the Bar, Lower the Dose
By Dan Harvey
Radiology Today
Vol. 10 No. 4 P. 14
Lower radiation dose is the constant refrain to recent developments in CT systems.
Demand for reduced dose arises from clinicians applying the "As Low as Reasonably Achievable" principle for diagnostic exams. However, patients becoming more knowledgeable about the medical issues are helping to push this philosophy. "We have a large outpatient practice," says James Earls, MD, director of cardiovascular CT for Fairfax Radiological Consultants, PC in Virginia, "and many of our patients and referring physicians have expressed their concern about radiation dose."
Low dose is one reason why the organization implemented GE Healthcare's new Discovery CT750 HD, says Earls.
But radiation certainly isn't the sole focus. When developing new CT products, manufacturers have integrated new elements into their latest product generations. These new concepts are making possible new opportunities and clinical applications that were previously considered impractical.
Gem From GE
At RSNA 2007, GE Healthcare signaled its future direction in CT development when it introduced its high-definition technology. Then, at RSNA 2008, the company rolled out the Discovery CT750 HD, its high-definition, low-dose CT scanner.
"It represents the reengineering of our entire imaging chain on our ultrapremium CT scanner, which included our proprietary Gemstone Detector, built with the first new CT scintillator in 20 years and based on garnet gemstones," says Eric Stahre, MBA, Premium CT general manager for GE Healthcare. "It's 100 times faster with four times better afterglow performance than what's out there."
The reengineering includes the new detector, which enables spatial resolution improvements of up to 33% for routine body imaging, as well as a new tube and reconstruction engine. "The reengineering not only improves imaging quality and dose performance but also provides spectral imaging capability," says Stahre.
The GE Gemstone Spectral Imaging feature enhances tissue characterization through its ability to acquire images that separate materials such as calcium, iodine, and water, according to the company. It also reduces beam-hardening artifacts typically attributed to bone, metal, and iodine and provides tissue contrast optimization, which improves lesion detection. In addition, GE says the higher resolution enables the scanner to better image small anatomical details such as pulmonary vasculature, stents, and coronary calcifications.
"With the overall image quality, our customers not only see more detail, they see it with greater clarity," Stahre says. "In cardiac imaging, for instance, users observe a significant reduction in calcium blooming, which improves their ability to accurately quantify stenosis."
The system achieves that while reducing the radiation dose by up to 50% across the entire body. "A great concern with CT is that if you improve image quality but don't do something fundamentally different, then you risk increasing dose," explains Stahre. "We wanted to make sure we were moving in the other direction for all procedures. It's the right thing to do for our customers' patients. GE leads in this space, and we're extending that lead. We're doing our part by taking dose out of the 65 million general CT procedures done annually in the U.S., just the way we did on the 2 million CT cardiac scans when we launched SnapShot Pulse two years ago, reducing dose by up to 83%."
When Fairfax Radiological Consultants implemented the technology in late December 2008, the radiation reduction factor was a major consideration. "We thought that it would make our services more appealing," says Earls. "As we strive for continuous improvement, we were impressed how GE improved spatial resolution at a lower radiation dose."
GE began shipping out units at the end of 2008 and saw more than two dozen global installations by the start of the new year, including Fairfax. "All of our cardiac studies will be done on the scanner, but we won't just use it for our highest end CT work. We'll also use it as a general radiology scanner, applying it to vascular, routine body, and neurology work," says Earls.
In moving forward, GE has migrated high-definition technology into its VCT platform, creating the new LightSpeed VCT XTe configuration. Introduced at RSNA 2008 and incorporating high-definition technology, the new LightSpeed advances clinical capability while reducing dose by as much as 40% for routine examinations with no loss of image quality, according to the company. Previous LightSpeed VCT customers can upgrade their systems to take advantage of new applications enabled by high-definition technology.
Along with implementing the new Discovery system, Fairfax Radiological Consultants is upgrading a VCT and two older CT scanners to the LightSpeed VCT XTe.
Toshiba's Dynamic Imaging
As GE was pointing toward its new direction with high-definition technology, Toshiba America Medical Systems, Inc was also pushing CT into the future. At RSNA 2007, the company introduced its AquilionONE 320 CT system. By the end of 2008, Toshiba had installed 71 units in the United States, Canada, Germany, the Netherlands, Austria, Japan, and Australia, according to Robb Young, manager of Toshiba's CT business unit.
Described as the first-ever dynamic volume CT scanner, AquilionONE introduced a new dimension in CT technology. "Despite what its name may imply, it is not a 320-slice scanner," Young says. "Actually, it's a 320-detector row scanner, which directly relates to coverage. It doesn't generate slices; it generates volume."
Dynamic volume is the key phrase, according to the company. The system, which deploys 320 ultra–high-resolution detector rows (0.5 millimeters in width), can image an entire organ in a single 0.35-second gantry rotation, resulting in optimal image quality and a 4D clinical video showing up to 16 centimeters of anatomical coverage, as well as movement such as blood flow and organ function.
"That's what's most interesting about this scanner," says Jeff Dardinger, MD, director of imaging at St. Elizabeth Medical Center's Vascular Institute in Edgewood, Ky. "We're no longer limited to anatomy. We use the system to observe physiology and flow, watching things in motion. We've watched patients' vocal cords open and close and have seen their joints move when they flex them. We can also watch a beating heart and observe blood flowing through the brain."
The speed is particularly important for heart and stroke patients. Patients experiencing chest pain can be scanned in a single heartbeat. In patients presenting with acute stroke symptoms, an examination is accomplished in 60 seconds or less, speeding the critically important rapid assessment and subsequent treatment.
In developing the system, Toshiba engineered several improvements for its Aquilion architecture. The platform includes the company's most advanced quantum detector technology (Quantum V) with 0.5-millimeter detector elements and a new tube called the MegaCool V.
The system's coverage capacity eliminates the need to stitch together separate organ scans. Conversely, other scanners only capture a portion of an organ in a single pass and thus require multiple scans to obtain a complete image. By eliminating the need for multiple exposures, the AquilionONE reduces exam time and radiation dose (80% less than a typical 64-slice scanner exposure).
AquilionONE's capabilities serve a wide range of clinical applications. Beside stroke diagnosis and cardiology, these include neurology, vascular care, and orthopedics. In particular, the advantages it brings to brain studies have generated much excitement. "The system reveals the vessels, as well as perfusion, which enables physicians to see things such as blockages in the brain," says Young.
"We're able to image the entire brain in a split second, which has allowed us to determine if a patient has a stroke, a clot, or a hemorrhage and to see where these are," says Dardinger.
Young says the system has been adopted in all market segments, including imaging centers, community hospitals, large healthcare systems, and research institutions. "That's because of the diverse clinical capabilities it affords, which makes it different from conventional CT," he points out.
When St. Elizabeth Medical Center installed AquilionONE in August 2008, it became the first community hospital in the United States to implement the technology. Since then, the center has deployed the system in nearly 3,000 examinations.
"We have been using it for just about everything: routine imaging, head and neck, chest, and pelvis," says Dardinger. "But we're also using it in dynamic applications. For instance, we have performed dynamic mesenteric artery angiograms where we actually watch blood flow out of the bowels. We've also performed dynamic renal angiograms, watching blood flow into the kidneys. We've been able to do this because we don't have to move the patient in the detector. The detector just revolves around the patient. As such, we have been able to do and see things that we couldn't with other CT scanners."
Philips' Brilliant Innovation
RSNA 2007 saw the introduction of Philips Healthcare's 256-slice Brilliance iCT scanner, which images the entire heart in just two beats, reduces radiation dose by 80%, and speeds up scan time with a gantry that rotates four times in a single second.
The company began commercial shipments in 2008, and it currently has 50 units installed throughout the world. "It has been implemented in a variety of settings, including leading international healthcare facilities, academic institutions, and community hospitals," says Jim Fulton, Philips' senior vice president and general manager of CT.
Original delivery plans were scheduled for 2009, but Philips said demand compelled the company to accelerate its pace. Featuring the company's Essence technology platform, which consists of advanced x-ray tubes, detectors, and reconstruction design elements, the Brilliance iCT provides detailed images of an entire organ, including the heart and brain, and it reveals changes over time.
"But the scanner was designed to perform all types of procedures, not just heart and brain," says Fulton. "Essentially, customers can use it for any type of purpose they envision. With its high speed and power and wider coverage, it has proven particularly useful in the cardiac arena, but customers are using it on a regular basis for neuroradiology examinations and body imaging."
Equipped with 128-detector rows, the system acquires cross-sectional body images more than 3 inches wide in a single rotation that takes 0.27 seconds. Head-to-toe scans are acquired in about 10 seconds. The 256 slices acquired during one rotation are reconstructed at a rate of more than 100 slices per second.
Several technical elements differentiate the Brilliance iCT from other scanners. These start with the AirGlide gantry. "It revolves on a small cushion of air. That's how it got its name," explains Fulton. "Instead of a ball bearing, the scanner employs an air bearing, which increases speed and reliability and eliminates noise. The high gantry speed [220 rotations per minute] coupled with the high stability results in higher temporal resolution."
Secondly, the iMRC x-ray tube delivers the highest power capability on the market (up to 120 kilowatts), according to Fulton. The third differentiating element is Philips' Nano-Panel, 3D spherical detector, which is scalable from 64- to 256-channel configurations. "This component allows us to tile together a detector of any size that's needed from a clinical perspective, similar to how you put together pieces of a Lego toy," Fulton says.
On top of those pieces is the ClearRay collimator, a 3D antiscatter grid. "It provides us the ability to have all components looking at the x-ray beam. It reduces the amount of scatter evident in previous scanners," Fulton says.
In the United States, the Brilliance iCT has been installed at MetroHealth Medical Center in Cleveland, Methodist Hospital in Indianapolis, Washington Hospital Center in Washington, D.C., and Lenox Hill Hospital in New York City. Users report that the system provides greater dimension and depth through a range of clinical applications that include whole brain perfusion, cardiac CT, head and neck angiography, full field-of-view lung studies, virtual colonoscopy, and abdominal and pelvic imaging.
Siemens' Duality
At RSNA 2008, Siemens Healthcare unveiled its SOMATOM Definition Flash, a dual-source, dual-detector, 128-slice scanner that builds on its earlier SOMATOM Definition technology.
"The Flash represents a major step forward," says Elliot Fishman, MD, a professor of radiology and oncology and the director of diagnostic imaging and body CT at The Johns Hopkins Hospital in Baltimore, where the technology will be implemented in May 2009. This next-generation model improves on the dual-source concept that Siemens introduced at RSNA 2005, with advances that include a more powerful scanner, faster gantry rotation speed, and a larger x-ray detector.
"The first system will be installed in Germany in early 2009, and the first U.S. installation will take place in March or April at the Mayo Clinic in Rochester, Minn.," says Murat Gungor, Siemens' CT marketing manager. "It will be commercially available throughout the world around July."
Fishman points to three reasons why Johns Hopkins is implementing the system: speed, reduced radiation dose, and application potentials. "It offers the classic capabilities of CT but does everything better," he says. "As far as speed, the Flash reduces scan time to about a quarter of a second, essentially enabling you to freeze a heartbeat, and it's terrific in terms of lower dose. Also, we expect the dual energy to provide us with new opportunities, ranging from stone classification, noncontrast scans, and perfusion scans, which will not only detect tumors but reveal how they behave and how patients will respond."
The system's two x-ray tubes and two detector rows combine to make it the market's fastest scanner, according to the company. The aptly named Flash provides a scanning speed of 43 centimeters per second, enabled by a gantry that rotates about its own axis in just 0.28 seconds. It can scan the entire body in less than five seconds and image the chest in 0.6 seconds. As such, patients don't have to hold their breath during chest scans. This speed provides significant advantages when imaging older patients and children, as well emergency department and intensive care unit patients. "It will have a huge impact in the trauma setting, where clinicians need to get results very quickly," says Gungor.
The speed will also significantly impact cardiac imaging, he says. "This technology enables users to complete a cardiac examination in 250 milliseconds. As you're imaging a patient for such a short time, dose levels are substantially reduced," he says.
A spiral heart scan can be performed with less than 1 millisievert compared with the average effective dose that ranges from 8 to 40 millisieverts. Further, the dose values lie far below those of an intracardiac catheter examination, which increases opportunities for using CT scanners in routine cardiology examinations, according to the company.
High scanning speed also makes it possible to cover large areas with 4D imaging (up to 48 centimeters). Conversely, conventional systems are limited to a maximum of 16 centimeters due to the detector size involved.
Another significant advance over the previous SOMATOM model is a selective x-ray photoelectron spectroscopy photon shield that blocks unnecessary parts of the energy spectrum. This tin-based feature provides improved separation of the two simultaneous scans with low- and high-photon energy, without causing a higher radiation exposure. "There's no dose penalty," says Gungor.
Yet another improvement is the X-CARE application that selectively reduces exposure. "With this, we eliminate x-ray exposure to sensitive organs, such as the female breast or the thyroid, by 40%," says Gungor.
This is accomplished in a simple yet effective fashion, he explains. During the rotation phase, the x-ray tube assemblies are switched off when the tube is directly in front of the sensitive organ. "As soon as the tube comes behind the patient, we can turn it on again and continue collecting data," he says, adding that this occurs without any loss of image quality. Gungor expects that the system price will be on par with other premium systems.
"It's a whole new ball game," says Fishman, referring to how the Flash is revolutionizing CT imaging. But his comment could be directed at any of the premium, high-end CT scanners developed by the major manufacturers.
— Dan Harvey is a freelance writer based in Wilmington, Del., and a frequent contributor to Radiology Today.