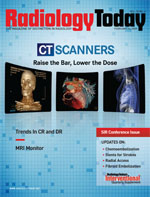 February 23, 2009
Uterine Fibroid Embolization
By James Benenati, MD
Radiology Today
Vol. 10 No. 4 P. 22
UFE has evolved from an experimental procedure to the standard of care at Baptist Cardiac & Vascular Institute.
Although uterine artery embolization has been in use for two decades to treat bleeding after childbirth, it wasn't until early 1997 that the technique was introduced as a potential treatment for uterine fibroids. Initial skepticism in the gynecological world has diminished as the technique, also known as uterine fibroid embolization (UFE), has proved durable.
Studies show that UFE offers symptom-control success rates of nearly 90%, even at five years, and outcomes for the minimally invasive procedure rival hysterectomy and myomectomy. Evidence now suggests that fertility can be preserved, making UFE an excellent alternative for fibroid therapy, especially for women desiring to have children in the future. The procedure has continued to improve through advances in embolic agents, catheters, pain management and preprocedural workup, and patient identification.
Based on increasingly favorable evidence and our experience at the Baptist Cardiac & Vascular Institute, we believe the majority of women with menstrual bleeding secondary to fibroids should be offered UFE as a first-line approach.
Technical Advances
Technical advances concerning UFE have helped increase success rates associated with the procedure. Initially, many women who may have been candidates for UFE experienced inadequate results due to the tortuosity of their uterine arteries. Standard-sized catheters proved to be difficult to use in extremely tortuous arteries, causing spasm and resulting in an inability to assess whether the embolization was adequate. Newer microcatheters can negotiate these tortuous vessels more successfully without causing vasospasm, providing better embolization results.
Initial developments in UFE focused on the embolic agents used in the procedure. Polyvinyl alcohol (PVA) microspheres and, to a lesser extent, gelfoam were initially the embolic agents of choice. Over the past decade, Embosphere has become the most widely used embolic agent for this procedure in the United States, although PVA microspheres and gelfoam are still used. Made of a trisacryl polymer matrix embedded with gelatin, Embospheres tend to be more consistent in size, which reduces the likelihood of clumping. These advantages make Embospheres easier to advance through small catheters and enables more even distribution within the targeted vessels. Subsequently, the particles can advance distally into the vessel, leading to a better, more permanent embolization.
Procedural Advances
A key to maintaining high success rates for any procedure rests on adequate screening and patient selection. Experience has taught us which patients are the best candidates for UFE, and we've found that properly screened patients rarely end up undergoing a hysterectomy.
Women with intramural and subserosal fibroids often fare best with UFE. Some patients are better served by myomectomy, such as a woman with a pedunculated subserosal fibroid on the outer edge of the uterus. Women with very large, single fibroids often do better with myomectomy as well. Submucosal fibroids may be treated successfully with embolization, but when there is a significant intracavitary portion of the fibroid, myomectomy or hysterectomy may be a better option. Approximately 75% of the patients we see in consultation are good candidates for UFE, and the remainder are recommended for other therapy.
Standard preprocedural workup at our institution includes an MRI, which is critical for identifying fibroid location and type and, therefore, whether the patient is a candidate for UFE. The vast majority of institutions employ MRI preprocedurally, although some still opt for ultrasound. Additionally, a Pap smear must have been performed in the past year. Screening also includes assessing whether patients are likely to comply with the recommended postprocedural care.
Pain management during and after the procedure is also critical. Initial problems with UFE often involved postembolization syndrome, mostly relating to inadequate pain management after the procedure. Our pain management protocol includes IV sedation during the procedure and the early and frequent use of anti-inflammatory agents. Although some people do go home the same day that UFE is performed, we prefer to keep most patients overnight. In-hospital pain management for the night after the procedure includes intravenous anti-inflammatories and narcotics with a patient-controlled analgesia pump. Patients are sent home with oral anti-inflammatories and Percocet, if needed.
Numerous studies have verified the success of UFE.1-6 Of particular note is the ongoing Fibroid Registry for Outcomes Data for Uterine Artery Embolization, with more than 3,000 patients treated at 72 sites to date.1 Three-year results show significant improvement in symptoms and quality of life, with low complication levels. Other studies have shown 84% to 88% of patients remained satisfied five years after the procedure and that UFE resulted in five-year symptom control rates of 73% to 89.5%.3,5,6
Several studies also have compared UFE to myomectomy or hysterectomy, and most reported equivalent results but fewer complications and quicker return to activities and work among patients undergoing UFE.7-11 Two studies found, not surprisingly, that UFE patients were more likely than surgical patients to require retreatment, including repeated UFE, myomectomy, or hysterectomy.7,8
Fertility
Over time, we've learned that it is possible for many women to maintain fertility after UFE. Several studies have documented this phenomenon, although there are caveats, including a possible increased risk of undergoing a Caesarean section.12-14 Although we have not formally conducted a study on fertility in our practice, we certainly are aware of numerous former patients who went on to have successful pregnancies.

Although many still consider myomectomy the standard of care for women who wish to maintain fertility, it isn't the best option in many cases. It's not a simple surgery, and a number of patients awaken from the procedure to learn that they have had a hysterectomy due to bleeding complications. A number of our UFE patients are those who have already undergone myomectomy—sometimes repeatedly, with resulting scarring and adhesions—and their fibroids have regrown. Sometimes, UFE is the only uterus-preserving option left. Additionally, women with many fibroids are not good candidates for myomectomy, and UFE may be the only uterus-sparing procedure that can be offered to them.
The technical success rate for UFE at Baptist Cardiac & Vascular Institute is 100%, and we've embolized arteries in more than 700 patients during the past 10 years. Our clinical success rate is nearly 90%, as we find about 10% of patients don't improve. Most of the failures tend to be in women with large ovarian arteries that are contributing to blood flow to the fibroid. Although it's possible to embolize those arteries, that approach is more likely to push patients into early menopause.
However, we have performed secondary unilateral ovarian artery embolization procedures in 14 patients to date, and none entered early menopause. We find women who are aged 45 and older are more likely to proceed to menopause after UFE. We typically don't treat women who are postmenopausal, when fibroid regression is more likely.
To date, only two patients treated with UFE at our institution have proceeded to hysterectomy as a direct result of complications from the procedure. In both cases, hysterectomy was necessary due to necrotic fibroid debris sloughing into the uterine cavity. This can create an opportunity for infection, but if caught early enough, may be medically managed in an effort to avoid hysterectomy.
Looking Ahead
UFE is a proven option for women with problematic fibroids and is particularly attractive as a uterine-sparing, minimally invasive procedure. The future may provide even less-invasive options. Currently, a novel procedure using MRI to guide focused ultrasound energy (highly focused ultrasound) is showing early promise in the treatment of fibroid tumors, particularly for patients who have a few, smaller tumors. Highly focused ultrasound is entirely noninvasive and, although it has tremendous potential, results are preliminary. We will be part of an FDA-sponsored, multicenter trial to evaluate the utility of highly focused ultrasound beginning in early 2009.
— James Benenati, MD, is medical director of the peripheral vascular laboratory at Miami's Baptist Cardiac & Vascular Institute.
References
1. Goodwin SC, Spies JB, Worthington-Kirsch R, et al. Uterine artery embolization for treatment of leiomyomata: Long-term outcomes from the FIBROID registry. Obstet Gynecol. 2008;111(1):22-33.
2. Spies JB, Cornell C, Worthington-Kirsch R, Lipman JC, Benenati JF. Long-term outcome from uterine fibroid embolization with trisacryl genatin microspheres: Results of a multicenter study. J Vasc Interv Radiol. 2007;18(2):203-207.
3. Katsumori T, Kasahara T, Akazawa K. Long-term outcomes of uterine artery embolization using gelatin sponge particles alone for symptomatic fibroids. Am J Roentgenol. 2006;186(3):848-854.
4. Smeets AJ, Lohle PNM, Vervest HAM, Boekkoii PF, Lampmann LEH. Mid-term clinical results and patient satisfaction after uterine artery embolization in women with symptomatic uterine fibroids. Cardiovasc Intervent Radiol. 2006;29(2):188-191.
5. Walker WJ, Barton-Smith P. Long-term follow up of uterine artery embolisation — An effective alternative in the treatment of fibroids. BJOG. 2006;113(4):464-468.
6. Spies JB, Bruno J, Czeyda-Pommersheim F, et al. Long-term outcome of uterine artery embolization of leiomyomata. Obstet Gynecol. 2005;106(5 Pt 1):933-939.
7. Hirst A, Dutton S, Wu O, et al. A multi-centre retrospective cohort study comparing the efficacy, safety and cost-effectiveness of hysterectomy and uterine artery embolisation for the treatment of symptomatic uterine fibroids. The HOPEFUL study. Health Technol Assess. 2008;12(5):1-248, iii.
8. Edwards RD, Moss JG, Lumsden MA, et al. Uterine-artery embolization versus surgery for symptomatic uterine fibroids. N Engl J Med. 2007;356(4):360-370.
9. Siskin GP, Shlansky-Goldberg RD, Goodwin SC, et al. A prospective multicenter comparative study between myomectomy and uterine artery embolization with polyvinyl alcohol microspheres: Long-term clinical outcomes in patients with symptomatic uterine fibroids. J Vasc Interv Radiol. 2006;17(8):1287-1295.
10. Mara M, Fucikova Z, Maskova J, Kuzel D, Haakova L. Uterine fibroid embolization versus myomectomy in women wishing to preserve fertility: Preliminary results of a randomized controlled trial. Eur J Obstet Gynecol Reprod Biol. 2006;126(2):226-233.
11. Goodwin SC, Bradley LD, Lipman JC, et al. Uterine artery embolization versus myomectomy: A multicenter comparative study. Fertil Steril. 2006;85(1):14-21.
12. Walker WJ, McDowell SJ. Pregnancy after uterine artery embolization for leiomyomata: A series of 56 completed pregnancies. Am J Obstet Gynecol. 2006;195(5):1266-1271.
13. Carpenter TT, Walker WJ. Pregnancy following uterine artery embolisation for symptomatic fibroids: A series of 26 completed pregnancies. BJOG. 2005;112(3):321-325.
14. Pron G, Mocarski E, Bennett J, et al. Pregnancy after uterine artery embolization for leiomyomata: The Ontario multicenter trial. Obstet Gynecol. 2005;105(1):67-76.