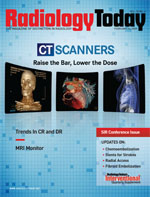 February 23, 2009
Bone Battle — DR and CR Fight for X-Ray Dominance
By Dan Harvey
Radiology Today
Vol. 10 No. 4 P. 8
Cost, flexibility, throughput, and image quality drive facilities' choice of x-ray systems.
Imaging organizations have two basic choices for digital radiography systems. CR came first, costs less, and offers greater flexibility for facilities moving away from film radiography. Direct digital radiography (DR) boasts better image quality and the potential for superior throughput but at a higher cost. However, as CR improves and DR costs drop, the factors affecting this decision are shifting.
Historically, CR deployment provided the predominant path to digital radiography and PACS. This technology converted much of the world to the digital mindset, explains Todd Minnigh, worldwide director of DR marketing for Carestream Health.
Direct DR's development came along and offered x-ray users a choice for moving away from film. The fact that CR and DR each offer different advantages and disadvantages raises the question of which technology represents the best strategy for a facility.
Workflow Benefits
CR and DR both offer robust digital imaging and advanced postprocessing capabilities. "Both capture and convert images onto a computer and allow for intelligent processing to eliminate mistakes and repeat examinations while providing impressive image quality," notes Rob Fabrizio, national marketing manager for Digital CR for Fujifilm Medical Systems USA.
But DR seems to provide an edge as far as productivity. That's what users are starting to find out, according to Minnigh. "DR provides the greater throughput, as it automates the imaging processing cycle," he says. "A DR-acquired image appears in as quickly as five seconds. CR, which involves more steps because of the cassette processing required, takes longer."
So while it's true that CR enhances workflow compared with film, DR streamlines the process even further, allowing facilities to see more patients in the same time frame or handle their imaging volume in fewer steps.
DR provides another important advantage. "With its better contrast and spatial resolution, it simply provides better images," says Scott Burkhart, Philips Healthcare's vice president for x-ray in America.
However, CR still offers advantages concerning flexibility, portability, and cost. All three reasons keep the technology popular in many facilities. "I've seen many sites, particularly the new constructions, attempt to go 'all DR.'" Burkhart says. "While this engages them in a noble effort, in the long run, they often realize that [utilizing at least some] CR provides the necessary portability to accomplish their mission."
This advantage is especially evident in trauma or operating room environments or in situations where bed- or wheelchair-confined patients can't be moved. "The ability to take the CR cassette to the patient is one of the big reasons why CR remains widely used," says Burkhart.
As such, some facilities find it advantageous to combine CR and DR capabilities. Indeed, just because a facility decides to install DR doesn't mean it is ready to relinquish CR.
Cost Factors
Depending on the vendor and the features included, CR customers can expect to spend $30,000 to $75,000 for a system. Significantly more costly, DR systems typically start around $200,000.
Over time, DR may provide the better return on investment because the increased patient workflow can require fewer imaging rooms, technologists, and other staff. Those changes can offset an up-front installation cost that far exceeds CR, says Fabrizio.
The cost difference likely will narrow, as is typically the case with any new technology. DR prices are gradually decreasing, making the cost difference less of an issue.
"More people are thinking about DR because of the economics involved," says Bruce Ashby, general manager of Viztek. "In our case, our CR sales are down by 11% while our DR sales are up 60%. Sure, we'd like to provide more CR, but calls for DR are becoming much more frequent."
Mainstreaming of DR
A remaining question involves future prevalence: When you compare the advantages and disadvantages, will DR eventually supplant CR?
The answer appears to be a qualified yes. CR will not disappear because its cost, portability, and flexibility make it the most cost-effective option in certain situations. At the same time, many think the change seems inevitable. DR has progressed beyond the early adoption phase. Radiologists, administrators, and technologists are beginning to fully comprehend the benefits of DR technology.
"Further," Burkhart notes, "as prices continue dropping, implementation has migrated from the largest high-volume facilities down into the smaller and medium-sized hospitals and imaging centers."
Ashby says that as DR prices continue falling and facilities realize the workflow advantages, DR will eat away at the CR market, which is why more manufacturers are moving into the DR space. "Also, customers are realizing that it's the smart thing to do," he adds. "We just did a project in Rhode Island that involved a two-person orthopedic group that bought DR. So even the smallest groups are opting for DR. That's not to say anything negative about CR, but the workflow piece has clearly proven itself."
To further illustrate that point, consider the new products that appeared at RSNA 2008. "A lot has changed in the area of DR, and this was underscored by introductions made at this past year's RSNA meeting," says Ashby.
Blurred Lines
Lines that existed between affordability, productivity, and image quality, as well as patient safety and satisfaction are increasingly blurring. For instance, Viztek introduced a portable DR detector, a 14- by 17-inch unit that easily integrates with most existing wall stands and tables without modification, according to the company. Deployable with standard grids, the portable Viztek DR detector offers flexible positioning and is capable of upright, tabletop, and numerous special views. The affordable technology is lightweight (8.6 pounds), water resistant, and produces images as quickly as five seconds. Its detectors can also be pulled out from the table and flipped up from the opposite side of the table for true cross-table work.
Carestream Health previewed the industry's first wireless, cassette-sized digital DR detector, its DRX-1 system. Even as a work in progress, it made an impression on RSNA attendees, Minnigh says. "It offers the best of both worlds," he says. "It provides the flexibility of a standard cassette with the throughput of a DR room."
Carestream hopes the FDA will approve the device for commercial use in 2009. The company expects that DRX-1 will be available in many areas throughout the world in early 2009.
Future users expect to be able to employ the affordable detector in all applications where a 14- by 17-inch cassette would be used without the need to modify existing rooms, according to Carestream. The company anticipates that DRX-1 will lead to increased use of DR in radiology departments, imaging centers, emergency departments, and operating rooms and for portable exams. Because this DR detector is a wireless cassette, it provides flexible positioning that enhances both efficiency and patient comfort, according to the company. Burkhart believes wireless detectors will be the next big evolution in DR. "Once you get there, you'll experience significant advantages over CR technology," he says. "The only drawback is the expense."
Ashby says the technology remains unproven in the United States. "No one is using a wireless panel, and everyone feels that tethered panels work fine," he notes. "Administrators indicate that they like tethered because they know that the remote control won't 'walk away' and get lost."
But Minnigh reports that customers and focus groups have told Carestream that they wouldn't mind doing without the wire, which can be cumbersome and a potential tripping hazard. Currently, vendors are weighing the costs and benefits of wireless detectors. Ultimately the question of wireless vs. tethered will be answered by customers. "Companies will have to help purchasers make that kind of decision," adds Ashby.
However, Fabrizio believes that wireless doesn't add any appreciable advantage as far as speed. "It's still new technology, and we feel it isn't quite there yet in terms of being fast enough," he says. "When you think in terms of DR flat panels, a primary reason that people buy them is to gain speed. But in wireless environments, I can't see where it will be that much better than CR for a wireless flat panel detector, as far as current technology."
 "It's an interesting technology and will probably become cost-effective in the future, but at this point, we don't recommend customers take that route," says Tom Briggs, Fujifilm's marketing manager for DR. (Fujifilm does not offer a wireless DR detector.)
Other Advancements
Also at RSNA 2008, Fujifilm unveiled its investigational Unity SpeedSuite that the company believes will enhance its already extensive line of DR systems. The Unity, which features the company's Focused Phosphor Detector technology for premium image quality and excellent detective quantum efficiency performance, can perform a wide range of exams with a single detector. Currently, it hasn't received FDA clearance for sale in the United States.
Philips spotlighted its comprehensive DR/fluoroscopy room solution that includes two digital detectors: one in the vertical stand and the other in the table of EasyDiagnost Eleva. The company reports that the solution combines high-quality DR and fluoroscopy and provides the flexibility to optimize room utilization. Moreover, it allows filmless and cassetteless workflow for high throughput.
Siemens showcased the Ysio, a next-generation DR system that features the wi-D, a wireless detector that enables maximum position flexibility. The wi-D, which handles like a cassette, can be removed from the table and placed directly underneath or next to the patient. This allows users to take exposures that are difficult or even impossible with fixed detectors. The Ysio offers customers several configurations based on their imaging requirements. It can be used as a wall stand with an integrated detector, a wall stand and table system with a wireless detector, or even as a mixed detector solution.
Other RSNA 2008 introductions included the following:
• The ddRPortable detector from Swissray: The lightweight, portable panel offers 3.5 line pairs per millimeter spatial resolution for excellent image quality and provides flexibility in emergency department environments and with patients on stretchers and in wheelchairs.
• Canon's CXDI-60G portable, flat-panel detector and the Canon CXDI-50G portable DR and CXDI-40EC DR systems: The work-in-progress portable, flat-panel DR system can view dynamic and capture static x-ray images.
• The IMIXhorizon SomaRad DR system from IMIX Americas: Designed for smaller facilities that seek a compact, affordable DR solution, the SomaRad features fully motorized positioning, remote control functionality, and high image quality.
• The REGIUS Digital Imaging Suite from Konica Minolta Medical Imaging USA: This DR solution affords the cost-effective flexibility of a combined DR and CR system.
Looking Ahead
Industry observers believe CR will hold on to its position but not for much longer. The general belief is that in the coming decade, DR will gain greater market share due to the aforementioned advances. Right now, many radiology departments within hospitals are even using both CR and DR as well as their older film systems.
Minnigh advises facilities moving into the digital environment to base their purchase decisions on workflow (current and potential) and regional demographics. "We know, by looking at census data, the U.S. demographics will include twice as many patients and approximately 30% less healthcare professionals due to the aging 'baby boomer' generation," he explains. "This will happen throughout the next 15 to 20 years. This will have an impact at the regional level, but we just can't say to what extent for someone in any particular area. As such, decisions need to based on whether your technology will support the patients you may have in the foreseeable future."
New equipment will generally have a life expectancy of 10 to 15 years, he continues. "If you plan to make a 15-year investment, that's going to place you right in the heart of the anticipated patient surge. So you need to buy equipment that will help you manage your future needs. ... Make the most appropriate investment according to where you will be tomorrow."
— Dan Harvey is a freelance writer based in Wilmington, Del., and a frequent contributor to Radiology Today.