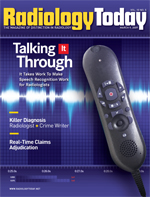 March 09, 2009
Killer Diagnosis
By Beth W. Orenstein
Radiology Today
Vol. 10 No. 5 P. 18
Where does a busy radiologist find the time to write novels? Often, it's nights and weekends. Sometimes, it's in the airport waiting for a plane to a medical conference. Sometimes, it's at tumor board meetings.
Keith D. Wilson, MD, was sitting at his workstation in the hospital reading CT scans when his technologists, who had been out for a walk on that autumn afternoon, came rushing into his office very excited. "They said, 'Dr. Wilson, we just saw someone sitting on the front steps of the hospital reading your book!'" he recalls.
The person who was reading his book was dressed in baggy clothes and appeared to be down on his luck, they told him. It wasn't exactly Wilson's dream of walking along the beach someday and seeing someone sitting on a blanket under an umbrella reading one of his novels. "That hasn't happened and probably never will," says Wilson, "but seeing what appeared to be a homeless person sitting on the front steps of the hospital reading my book, I thought, 'That is just classic. That is just perfect.'"
Moonlighting Radiologist
The director of MRI at Toledo Hospital and a member of Toledo Radiological Associates in Ohio, Wilson has never thought of giving up medicine to become a full-time writer. "No, no, no, never," he insists.
But he enjoys writing in whatever spare moments he can find and has so far published one paperback novel and two nonfiction books that are medical guides for fellow fiction writers. A fourth book, his second novel, is finished and expected to be published shortly.
His first novel, Life Form: A Novel of Medical Suspense, was published by Putnam in 1992. Wilson's second book and first nonfiction book, Cause of Death: A Writer's Guide to Death, Murder & Forensic Medicine, was published by Writer's Digest Books. The nonfiction reference provides writers with the medical details that they need to weave credible—and salable—stories. "It's about how to kill off a character in a book and do it legitimately," Wilson says.
Wilson's first two books were published within one month of each other, and Cause of Death was prominently featured in the Barnes & Noble catalogue. "For like five years, it was running front and center. Barnes & Noble used to send out a paper magazine and it was always there. You opened it up and in the very center was my book, Cause of Death," Wilson says.
Writer's Guide
His second nonfiction book, Code Blue: A Writer's Guide to Hospitals, Including the ER, OR, and ICU, was written with a physician colleague, David Page, and has an introduction by best-selling physician-novelist Michael Palmer (Natural Causes, Extreme Measures, Fatal, Critical Judgment). For Code Blue, to help medical mystery authors write credible scenes, Wilson and Page tried to conceive of and subsequently address all that could go wrong in a hospital. "It talks about accidents with drugs and doses, security for newborns, and medical records, although that's all gone electronic now," Wilson says.
Many bookstores stock Wilson's first novel, Life Form, under science fiction, but that is not a correct characterization. "It is based on reality, which is what I think makes it even scarier," Wilson says.
Life Form is about prions, abnormal proteins that scientists now believe may be responsible for some diseases. "They are the earliest life form on the planet. They contain no genetic material, no cells; they are just living chemicals," he says. Researchers believe that "they may cause diseases that we don't have answers for right now, but research is still being done on that."
Science Sources
Wilson's inspiration for Life Form came from an article he read about prions. "When I saw the article, I thought, 'What if the prions became part of a person's body, part of their cells? What if prions were in the drinking water?'" At about the same time, Wilson also read about a hydrogen fusion plant at Princeton University in New Jersey. He let his imagination run wild and came up with the idea for his novel that involved prions and water from a hydrogen fusion plant.
The book tells the story of people who remain healthy as long as they stay in the New Hampshire town where the water is laced with prions. But when a character leaves to join the Army, he dies. "It's kind of a reverse quarantine," Wilson says. "If you're in town drinking the water, nothing happens. But if you leave town, the prions, which are living chemicals that are actually holding the cells together, are gone … and boom."
From the time he was young, Wilson had always been an avid reader. He graduated from medical school in Ohio in 1969 and then went to Denver for his residency, staying there to teach. He returned to Ohio to a private radiology practice in 1977. Wilson had been practicing radiology for some time when he decided he would like to write like his favorite authors—Lee Child, Robert Ludlum, Vince Flynn, Ken Follett, and Jack Higgins—or at least try.
Self-Taught Writer
First, Wilson had to teach himself to write. He read whatever he could find on the subject and attended conferences for writers a few times each year. One book he read suggested a writing technique called branching. "That's where you come up with a central idea, say, a shark comes into New England. From that you branch out. Is it morning or night? Raining or windy? Is it summertime or winter? And you start developing the scene, what's going to happen. Before you finish branching out, you've done the writing. It's a nonlinear way to express yourself and one that really works, especially for me."
Wilson didn't want to write medical thrillers, as he preferred spy novels. But his agent advised him to write what he knows: medicine. "She said, 'This is where your expertise is,' and I said, 'OK,'" he explains.
However, none of his books features radiology or radiologists. But one of Palmer's has, Wilson says, because they were at a writer's conference together and Wilson mentioned MRI scanning to him. "He thought that was a pretty good idea and he put it in one of his books, but I haven't done that."
Whenever Wilson includes scenes involving science and medicine, he has a colleague who specializes in that field review his work. "If what I write involves neurosurgery, I have a neurosurgeon read that section," he says. "I've had people from the ICU review scenes from my book because I wanted to be sure I used the right drug. Because I practice medicine, what I write has to be accurate and come off correctly."
His wife, Cathy, also serves as an editor and a critic. "She has always provided me with help when I miss the mark," he says.
Wilson had finished his first book before he met his agent while attending a writer's conference in Boston. When the conference was over, many of the would-be authors went rushing up to her. Wilson figured he would never get her attention in the crowd, so he went outside where he sat on a bench and began talking to a professor from Northeastern University. The professor advised Wilson to contact her anyway, "and tell her, 'Look, I met you at the writer's conference, and you said I should send you the first 50 pages of my book.' It was a lie, but I did," he says.
Dr. Death
When fellow would-be writers found out Wilson was a physician, they would tap his brain for medical ideas for their books, and he soon became known as "Dr. Death."
Plunder, Wilson's second novel, is based on an article about people raiding the Mayan tombs in the Guatemalan jungle. Wilson's thought was, what if by plundering the tombs, they uncovered the same virus that had wiped out the great Mayan civilization, and it was now spreading through the jungle? "The twist is it also shows up in a monastery in Mexico, and that's the mystery to my novel," he says.
When does a busy radiologist find the time to write novels? Any spare moment he can find, according to Wilson. For him, it's often nights and weekends. Sometimes, it's in the airport waiting for a plane to a medical conference. Sometimes, it's at tumor board meetings. He keeps one ear open to the discussion—in case he has to answer a question—but he also turns over his papers and writes a few scenes. Then when he goes home at night, he enters what he wrote into his computer.
"I have gotten royalties [from the books], but I wouldn't get rich from it," he says. "It would be nice to have a really big seller but, in reality, I know it won't happen."
 His writing also serves as a release from the tension of a stressful occupation. "With medicine, you never want to make mistakes. You're always walking this fine line of doing the right thing. I take practicing medicine very seriously," he says. "With writing, if you goof up, no one is going to publish it, or they might say, 'This needs editing.' It doesn't mean you can slop words together and expect it to be published; you have to work hard to get somebody to look at what you wrote. But no one is ever going to die because of your book."
— Beth W. Orenstein is a freelance medical writer and a regular contributor to Radiology Today. She writes from her home in Northampton, Pa.