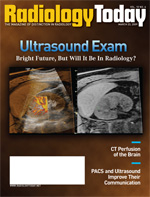 March 23, 2009
MRI Accreditation Help — How to Get What You Need
By Robert A. Bell, PhD
Radiology Today
Vol. 10 No. 6 P. 30
MRI accreditation and on-site quality control (QC) are becoming important issues for insurers. UnitedHealthcare has announced that after the fourth quarter of 2009, it will no longer reimburse outpatient MRI exams at nonaccredited sites.
But perhaps more compelling is a provision in the Medicare Improvements for Patients and Providers Act of 2008 signed into law late last year. All providers of advanced imaging services seeking federal reimbursement are required to be accredited by January 1, 2012. Since accreditation can take as much as six to 12 months to obtain, it's prudent to plan accreditation well in advance.
Accrediting programs sometimes operate as if MRI sites have superb physics help located down the hall, just waiting to be called, but this is rarely the case. Imaging administrators should recognize MRI technology is a different beast from mammography, CT, or nuclear medicine. The person who serves adequately as a physicist for some imaging modalities may not be competent enough to deal with MRI's special requirements.
The accreditation process depends on information and training provided by the site's physics expert. This person must have appropriate knowledge not only of MRI physics and technology but also the ability to independently evaluate your equipment and train your staff. Generally, this requires them to be able to run the scanner without substantial assistance from either service personnel or local technologists. Simply duplicating the vendor testing or monitoring as the vendor performs the testing really isn't an independent examination.
The facility's technologists need to be involved in the testing, but the process should not be dependent on them. The physics expert should teach local staff ways to better monitor their MRI unit and needs hands-on knowledge of the equipment.
Three Key Areas
Your MRI physics expert contributes in three major areas: independent testing, review of site QC performance, and as a knowledgeable source of information about MRI accreditation and QC. This article will discuss each area, with emphasis on ways to determine whether you are getting what you should from your expert.
1. Independent testing. MRI units are complex instruments that require timely and proficient service. Downtime can cost a facility thousands of dollars in unserved business per day and can damage its reputation. Although most sites pay well over $100,000 per year for their MRI service contract, vendors are often stretched thin to cover many systems. They may not have the time or the resources to adequately test important aspects of your unit on a regular basis. From my experience, based on annual testing of more than 1,400 MRI units, I've found something wrong with the equipment in more than one half of my inspections.
The MRI physics expert is usually the only person who can provide you with an unbiased assessment of your system's technical condition. He or she must be impartial, competent, and experienced. The ACR MRI accreditation program requires performance testing at least every 12 months and can be equally important as an annual check on the effectiveness of your local service provider.
2. Quality control. Local technologists spend the most time on the MRI unit and are most likely to notice changes in performance. On-site QC provides them with quantifiable tools to determine whether poor image quality is an instrument issue, patient dependent, or due to poor scanning technique. However, in about 30% of the systems I reviewed last year, on-site QC was not being done properly. Not only can this have implications for ACR accreditation, more importantly, a vital aspect of the review process is not functioning as it should. Your physics expert should check on this at least once per year.
3. Knowledge source. The physics expert should be knowledgeable in the technical aspects of the accreditation program and its requirements, as well as in basic MRI physics. If you have questions about the process, an artifact, or other instrument-related issues, you should go to the expert first. When you acquire phantom scans for accreditation, your physics expert should review them prior to submission to look for possible areas of failure. This step alone can save an $800 fee if you would have to reapply.
The ACR requires annual independent testing of all participating MRI systems. These exams are carefully defined in the ACR's MRI Quality Control Manual, a copy of which is sent to each site applying for accreditation. Reports that do not address all required categories will be rejected by ACR staff and will be returned for completion, which will delay the entire accreditation process. Make sure your physics expert has appropriate experience with your equipment, can run your MRI without assistance, and will guarantee that his or her testing and report meet all ACR requirements.  
Questions to Ask
When contracting for MRI physics assistance and annual testing, ask a few questions to determine competency. How long has the MR physics expert been doing MRI testing, and how many systems of your vendor and model has he or she done? What training did they receive? Can they name the categories of testing required under the ACR accreditation program? Can they describe how to assess them? Do they know what action limits are and how they should be assessed for your unit?
Your physics expert needs to know your equipment. Whether looking for a new person or evaluating your provider, ask questions about their familiarity with your equipment. Does this person know how to run the system, or does he or she require your technologist and/or vendor service to be present? In general, tech or service support should not be needed. If others are needed to run the system, make sure that your contract specifies the MR physics expert will pay all costs of these additional personnel. Service costs alone can be $400 per hour or more, and technologist overtime charges can exceed $50 per hour.
Report Contents
Does the contract detail all areas where testing will be done and what will be detailed in the report? If not, ask for a guarantee that your MR physics expert will return and complete the testing without additional costs to you if the physics report is deemed incomplete and is rejected by the ACR.
There are some items required by the ACR that are commonly omitted, including the following:
• luminance testing of the system monitor;
• testing of all specialty coils used clinically (not just your head coil);
• static field homogeneity evaluation; and
• a review of the previous year's QC documents with suggestions for changes to the action limits.
When negotiating a contract with the physics expert you select, be vigilant for "extras" in the contract. Some may quote you a low-cost contract but may omit critical items such as reviewing phantom scans prior to ACR submission or training staff in on-site QC. These can increase the contract costs by as much as $2,000. Make sure that everything you and your facility require are included in the contract pricing.
High-quality, competent MRI physics help can be an invaluable resource to imaging providers. Contracting with the wrong one can lead to poor instrument performance, inadequately trained staff, and accreditation problems. If you are contracting with an MRI physics expert, make sure the one you hire can do the whole job and do it well.
— Robert A. Bell, PhD, has provided MRI consulting services since 1987 and has personally tested more than 1,400 MRI systems.