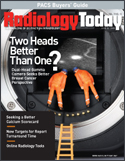 June 30, 2008
Fast Turnaround
By Selena Chavis
Radiology Today
Vol. 9 No. 13 P. 20
A new report's turnaround time guidelines show variation among different transcription jobs. Radiology reports are recommended for fastest turnaround.
In April, a joint task force created through the Medical Transcription Industry Association (MTIA) and the American Health Information Management Association (AHIMA) released the findings of its anticipated Turnaround Time for Common Document Types (TAT 4 CDT) study. The report's new standard for radiology transcription is four hours. (See chart below.)
Born from an ongoing initiative between the two groups to address the need for standards in healthcare documentation, the task force has a white paper pending final approval that provides definitions and findings for TAT and demonstrates how the complexities and elements that go into TAT affect clinical decision making.
"The evolution towards the EHR [electronic health record] seems to be driving the need for faster turnaround times," says Susan Lucci, RHIT, CMT, president-elect of the Association for Healthcare Documentation Integrity and a TAT 4 CDT task force member. "Our research revealed that there is a wide range of turnaround time in the industry, which equates to everybody doing their own thing."
The completion of the study comes as the second part of a three-pronged effort to define key industry standards, with the hope that the findings will provide a framework for useful dialogue regarding future best practices and benchmarks for quality documentation.
Only Facility Standards
"There really have been no standards in place," notes MTIA President and Webmedx Chief Operating Officer Jay Cannon. "Really, what this task force desired to do was provide a recommendation … to have a starting point for dialogue. I think we are going to have a document here that is a useful tool to improving clinical documentation."
According to Lucci, the study revolved around the experiences of directors and managers of healthcare facilities, as well as supervisors and managers of medical transcription service organizations (MTSOs)—specifically, whether the current state of the industry meets their needs.
The task force also sought to gain a better understanding of challenges facing the medical transcription industry, including financial concerns, the offshoring movement, and the electronic healthcare delivery movement.
Industry statistics reveal that time can range from an almost immediate response to 72 hours. Contributing factors include the use of domestic and offshore talent and the implementation of new and evolving technologies such as automatic speech recognition software. With so many variances in delivery and no clear standard, Cannon says it has become increasingly difficult for providers to have intelligent dialogue.
Launching Dialogue
Through the delivery of the TAT 4 CDT white paper, the task force hopes to improve that dialogue. Findings from this study have revealed, based on weighted averages, that major work types range from 24 hours for a discharge summary to four hours for a radiology report.
"The TAT 4 CDT effort is specific to define appropriate [TAT] requirements based on the needs for providing care. It will allow the industry to say what reasonable expectations are," says Dale Kivi, MBA, head of business development for California-based FutureNet Technologies.
Regarding the need for these standards, developing one suitable for all players in the healthcare community would improve business relationships between clinical departments and transcription departments and companies.
It would also improve transparency, allowing more data-driven decisions concerning medical transcription based on a better understanding of costs and cost comparisons. In much the same way, Kivi says the transcription industry is also hoping to improve patient care and revenue stream by addressing TAT time and quality. And with the TAT 4 CDT report now under final review, a study is currently underway that will provide recommendations for more definitive standards for measuring quality and addressing related issues, Kivi says.
Lucci adds, "[TAT 4 CDT] is going to create an environment that improves understanding of the impacts that influence [TAT] and the framework by which healthcare facilities can implement a project to improve TAT based on their own unique organization's needs."
Efficiency at What Cost?
While task force members and proponents of TAT 4 CDT are quick to point out that the goal of the TAT 4 CDT effort is to improve dialogue for addressing healthcare documentation needs, Cannon acknowledges that current struggles within the industry over possibly unrealistic expectations for TAT have fueled the need for an industry standard.
"What we saw in the industry was a demand for more rapid TAT," Cannon says, adding that increased efficiency often equates to higher production costs to maintain quality standards. "Everybody would like to have more rapid TAT, but the reality is that costs are getting higher."
Kivi agrees, noting that "both overseas talent and speech recognition have added increased competition in the industry," which leads to "increased expectations from providers for decreased cost and TAT."
Suggesting that the entire decision falls into a value proposition, Cannon says the discussion comes down to finding the balance for acceptable quality at a reasonable cost. "The [task force] established a correlation between cost and the performance standards that currently face the industry," he says. "I think what this is going to do is increase dialogue between the provider and consumer."
Kivi says there are three major areas that a national turnaround time standard will help improve: patient care, Joint Commission expectations, and revenue stream.
Lucci says it should also provide some opportunity to raise the bar for improvement. "It often depends on your facility's needs," she says, offering that the study reveals that wide variances in TAT time are often directly linked to environment. "Is it urgent care or are you a smaller community hospital where the urgency just simply isn't what it is in a big metropolis? [Establishing standards] can provide validation for whether you are doing well or not."
Wide Variance
Kivi adds that variances in TAT time between healthcare organizations and MTSOs are often driven by the health information director's experiences and physician expectations. "It might be 24 to 48 hours in one facility. In another, it might take six hours for the same work type," he says. "That doesn't make either side of those bookends of expectations right. TAT 4 CDT helps to identify what's appropriate."
— Selena Chavis is a Florida-based freelance journalist whose writing appears regularly in various trade and consumer publications covering everything from corporate and managerial topics to healthcare and travel.
Task Force Turnaround Time Recommendations
Along with more detailed best-practice provisions, the Turnaround Time for Common Document Types white paper pending approval by the American Health Information Management Association and the Medical Transcription Industry Association Joint Task Force on Standards Development provides recommendations for turnaround time by major work types. Their findings from research and survey data compiled based on a weighted average formula are as follows:
Radiology                                 4 hours
History and physical                        8 hours
Operative report               8 hours
Inpatient progress note            8 hours
Consult                         12 hours
Discharge summary                       24 hours
Behind the Recommendations
According to Susan Lucci, RHIT, CMT, president-elect of the Association for Healthcare Documentation Integrity and a Turnaround Time for Common Document Types (TAT 4 CDT) task force member, a number of findings from the study were key to the development of the TAT white paper. Some of these findings include the following:
• Medical transcription, including the editing of draft reports created with speech recognition technology, is currently the dominant and preferred method of creating narrative documentation in the U.S. healthcare system and is likely to remain a critical practice for at least 10 years.
• In many instances, fluctuating (unpredictable) dictation workloads and a critical shortage of skilled transcriptionists are factors affecting TAT.
• The evolution of the health record in emerging systems, such as electronic health records and personal health records, will increase demand for quicker TAT of patient information to achieve desired financial and clinical benefits.
• Speech recognition technology, which is expected to become more prominent in the documentation solutions marketplace, can enhance TAT.
• Medical transcription production will continue to expand globally, which can improve TAT in some cases.
• Faster turnaround time on transcribed reports in cases where skilled workers are critical to the process will likely increase overall costs.
• Market adoption of TAT 4 CDT in which expectations are properly set and managed will improve patient care and safety and provide a more efficient healthcare operation.
• TAT 4 CDT must be readily and easily implemented, given today's market realities, without compromising the future market's demands.
• The dynamics of change in the marketplace require healthcare documentation standards to be reviewed no less than every three years, and more frequently if hospital organizations demand it.
• In all cases, regular dialogue between all constituents affected by documentation TAT will result in a better and more consistent outcome.
— SC