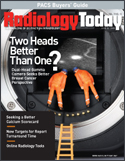 June 30, 2008
Nuc Med on the Network
By Jim Knaub
Radiology Today
Vol. 9 No. 13 P. 6
"Up until several years ago, the DICOM standard was a foreign language in nuclear medicine," says Michael Rittman, an IT product manager in Siemens Medical Solutions' molecular imaging division.
And, at the time, it was a language that few bothered to learn. While CT, MR, and x-ray images were steadily making their way onto PACS archives over the past 10 years, nuclear medicine images resided on completely separate networks, if they were digitized at all. It wasn't uncommon for a physician reading nuclear medicine to use four to six workstations, says J. B. Wang, PhD, chief technology officer for Thinking Systems Corporation, a PACS company that specializes in bringing nuclear medicine exams onto DICOM networks.
A walk around the exhibit hall at the Society of Nuclear Medicine (SNM) annual meeting in New Orleans earlier this month showed how that is starting to change.
One Stop
"Facilities need a powerful workspace that is user friendly and can be the common platform for their unique needs," says Raffi Kayayan, PhD, a senior marketing manager for Philips Medical Systems' nuclear medicine workstations. The latest software update to Philips' Extended Brilliance Workspace workstation will bring nuclear medicine image manipulation and management capability onto its popular iSite PACS. The software, which was shown at SNM, has received the necessary FDA approvals and should be commercially available at the end of the year, according to Kayayan. Siemens' Leonardo multimodality workstation and GE's Xeleris nuclear medicine workstations offer ways to archive their nuclear medicine SPECT and PET images into their respective companies' DICOM environments.
These efforts to incorporate nuclear medicine into PACS contrast to early efforts in this area. Smaller companies, such as Hermes Medical Solutions and Thinking Systems, started by working on the nuclear medicine side and wanted to make their images compatible with DICOM networks from the beginning.
"We don't go to our potential customers and say we'll be your PACS system; we say we'll interface with your PACS," says Mark Vossenkemper, a regional marketing representative for Hermes.
As PACS expands into more organizations and facilities, as well as more departments within those organizations, a different idea has taken hold and grown: Imaging users should be able to access and analyze all kinds of images through one workstation on one DICOM system.
"In the central reading room, people want to have everything in front of them in the right place," Rittman says.
"Integration is the key," Kayayan says, in agreement with Rittman. "Customers want one step into the same DICOM archive or [for example] import images directly into the radiation therapy module."
Hybrid Growth
And as hybrid imaging continues to grow, more functional images are being merged with anatomical CT and MR images. Bringing nuclear medicine's core cardiology and oncology applications onto the PACS network can improve workflow and simplify medical image distribution. Such an integrated network can improve workflow and reduce administration costs, Rittman says.
The idea of one workstation for all modalities makes sense to end users; actually doing that is not a reality in most settings. Using a specialty viewer vendor such as Hermes or Thinking Systems and interfacing it with another PACS is common and probably isn't going away any time soon. Part of the specialty companies' selling proposition is that they were doing it first and do it better by continually improving their products with each software update.
Vossenkemper says about one half of Hermes' customers have existing PACS networks that they integrate with company's nuclear medicine suite, and the other half use the Hermes Gold archiving and communication system. Typically, according to Vossenkemper, larger facilities have a PACS in place and integrate the nuclear medicine software to that archive. Smaller hospitals and private medical practices are more likely to use Hermes' archiving across their enterprise. Thinking Systems' Wang says Thinking Systems' customers tend to follow a similar pattern.
Just a few years ago, nuclear medicine's color and motion posed a major problem for PACS. Now vendors small and large are working toward developing solutions to bring nuclear medicine and molecular imaging into the network.
— Jim Knaub is editor of Radiology Today.