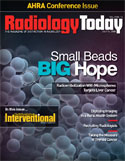 July 14, 2008
Ozark Overlook
By Kathy Hardy
Radiology Today
Vol. 9 No. 14 P. 14
Community Medical Center of Izard County implemented PACS and RIS as its initial step toward an electronic health information system for the 25-bed, critical-access facility with satellite clinics in Arkansas' Ozark Mountains.
In a rural community, imagine maintaining a unified network of healthcare facilities, physicians, and patients using paper, film, and manpower. That was the situation at Community Medical Center (CMC) of Izard County, located on the Upper White River in the heart of the Ozark Mountains. This nearly 60-year-old organization, headquartered in a 25-bed critical-access facility in Calico Rock, Ark., provides inpatient and outpatient services, as well as 24/7 emergency services, to a community of nearly 13,000 people. Until July 2007, the facility provided these services without an electronic image archiving communication system, relying instead on film, paper, and couriers.
That changed one year ago when CMC implemented PACS and RIS at its headquarters and satellite clinics in the neighboring communities of Melbourne and Horseshoe Bend, thus electronically connecting the community network of healthcare facilities. Better connectivity means better efficiency and, ultimately, enhanced patient care, according to A. M. Grasse, MD, a physician at CMC.
"In our hospital system, we have two satellite clinics located about 20 or 30 miles from the hospital," Grasse says. "X-rays are taken at the satellite clinics, and I can later review them myself or I can review films other physicians have taken at the home base. We don't have to depend on courier service."
"Any system that interfaces with a health information system speeds the process of gaining access to patient information," adds Philip Hughes, CMC's IT director. "With an electronic system, there is less effort required on the part of the people involved. It takes the people work out of it."
Calico Rock, located approximately 150 miles north of Little Rock, relies on its PACS to keep its staff of 10 physicians and more than 100 employees connected to patients and their medical records. Hughes began working at CMC in January 2007, just as the center was closing in on the completion of a major expansion project—adding a new emergency department and surgical suite. Between his start date and the grade opening of the new space in May 2007, Hughes orchestrated the incorporation of this new space into the existing medical center space.
"We had to address the expansion of our network and telemetry, as well as meet the overall needs of the new facility," Hughes says. "We had to join the two sides together—the old and the new portions of the building."
As the dust settled on construction and ribbon-cutting ceremonies concluded, Hughes faced his next challenge: implementing PACS into the facility's network.
Just as any medical facility operating before PACS and digital imaging, CMC's radiology department was using film and relied on physical storage space to maintain a patient's medical history. The time issue with this method is well documented and added to that was the nature of CMC's imaging process. While images are taken at the center or its clinics by any of six radiological technologists, they are read by North Arkansas Radiology Associates, located 52 miles away at the White River Medical Center in Batesville. The center is also associated with primary care clinics, physical therapy centers, and home and hospice services.
"Before PACS and digital radiology, we just had films," Hughes says. "That meant completing radiology studies took a long time. The images were taken and then were delivered by courier to White River Medical Center for reading. That's one hour away. You could expect a one-week turnaround from the time the images were taken to when the patients received study results. But once PACS was onboard and the RIS technology, we could get a stat reading in 30 minutes. With PACS, radiologists have the ability to view images as if they were on site."
The medical center performs routine diagnostic x-rays and surgical imaging; CT scanning of the abdomen, pelvis, head, spine, and extremities; ultrasound scanning of the abdomen and pelvis, as well as vascular sonography; bone density testing; screening mammography; and MRI of the brain, spine, and extremities.
However, CMC also acts as a one-stop medical facility for the rural community. The facility's clinical services include minor office surgeries, both laparoscopic and general surgical procedures such as hernia repair and mastectomy, a full range of medical lab services such as blood counts and urinalysis, physical therapy such as whirlpool wound care treatments and kinetic and neuromuscular rehabilitation, and urgent care procedures.
The next closest medical facility is Baxter Regional Medical Center, a 268-bed hospital located about 30 miles from Calico Rock in Mountain Home. After that, the nearest facility is White River. With distance being an issue, particularly when providing urgent care, patients come to CMC seeking everything from emergency services to same-day medical procedures. Hughes says that implementing PACS has improved the level of service the facility can provide.
"In this setting, PACS technology has become a necessity that allows our patients access to prompt, excellent care in their own community," he says. "It reduces their waiting time and is particularly helpful in emergency situations."
Medical facilities of all sizes can learn that implementing PACS can be a seamless, cost-effective way to increase operational and staff efficiency, provide electronic access to exams and reports, improve patient care, and eliminate the high cost of producing and storing film studies. PACS provides CMC with a comprehensive approach to the storage, retrieval, distribution, and presentation of medical images.
"The greatest accomplishment in implementing this system is the cost savings potential and workflow improvements it brings to the hospital—more specifically, streamlining the process by which data travels from the point of admission through discharge. The fewer times data is reentered manually, the less likely it is that erroneous data will affect patient treatment and business processes," Hughes says.
The medical center went live with PACS in July 2007. After reviewing several systems, Hughes says the center went with Viztek's Opal-RAD PACS and RIS. They liked the "customer-centric" aspect of the system. While capturing images is its primary function, the system creates electronic patient profiles that can be saved and referred to later as the patient seeks further treatment. This patient record has the ability to store all relevant patient data, reports, and impressions, as well as capture and archive DICOM images from any modality and transport the information to any location.
"Another aspect of this system is its flexibility," Grasse says. "That is, if a film is too dark, we can adjust this on the system. Also, it gives us the ability to magnify the areas affected in a possible fracture or degenerative aspect of the spine to further evaluate a fractured or degenerative disc. Also, along with viewing the x-ray, the reading of the radiologist can be reviewed at the same time at the workstation."
According to Steve Deaton, vice president of sales for Viztek, the PACS implemented at CMC has a Web server that allows physicians to view exams over the Internet. This was vital, he says, given the center's remote locations.
"They don't have a radiologist on site," he says. "With this PACS, radiologists can access images over the Internet, complete their reports, and post them as ready for physicians to read. This greatly increases their report turnaround time."
The Telerad component also enables physicians to access CMC's central PACS. In addition, exams can be transferred by any method, from T1 lines to a regular telephone line. This year, Hughes says, Viztek added the On-Call feature, which allows remote physicians to download unread studies locally using custom filter settings." This reduces the time it takes for our reading physicians to access and read patient studies," he says.
Hughes adds that Viztek's system allows for "per-user customization, enabling technologists and radiologists to view images in a way that best suits their needs. Viewer settings can be customized based on the preferences of the end user, their authority, and their specific needs pertaining to that particular study. If a radiologist likes to look at images a certain way, for example, if they prefer a certain series length, that can be set up automatically, based on the user's login."
Deaton says customization is common with a majority of their customers, particularly smaller facilities with less business infrastructure.
"With facilities like Community Medical Center, we're working closely with the actual users," he says, "as opposed to the corporate-level executives. The people making the decisions are the users of the product."
Customization aside, Hughes says the Opal-RAD viewer is periodically updated to include additional features such as multiplanar reconstruction and series autolinking. These enhanced tools result in more sophisticated views of patient studies.
"We found Viztek to be an innovative company that addressed our issues," he says. "They care enough about their product to work with it at the customer level. The system was not just out of the box."
The center's transition from film to digital imaging went well, Hughes says, with "nearly unanimous" agreement that digital imaging is an improvement over film, both technologically and economically.
"In a series of studies of a patient who has pneumonia, previous films are readily available for us to follow the progression of the case," Grasse says. "Previously, we had to go in the files and have the technicians pull up the hard film. This has made the system much more flexible.
"Another benefit is the expense of hard film," Grasse continues. "Previously, we were spending $1,100 a month for hard film, plus the cost of film required for CT scanning was very costly. This is now a savings with the digital system."
This PACS also offers Hughes some simplification of his duties, as he can remotely troubleshoot any system issues. That's important, Deaton says, when you consider the distances between CMC, its satellite clinics, and its reading radiologists.
"With a cell phone and the Internet, the administrator can work through any issues with the system, Deaton says.
Hughes refers to the implementation of PACS and RIS as one stage of a migration toward the overall goal of implementing a complete electronic health information system. A small center such as CMC that provides multiple services and relies on outside sources for support can only benefit from electronic communications, he says. With that, the center is currently upgrading its lab information system and, once that process is completed, the plan is to develop an interface for the two systems to talk to each other. The next area in the electronic progression is most likely the pharmacy, he says.
"When we implemented PACS, we included a server for each of our three locations to allow for site-to-site replication," Hughes says. "This allows our clinical patients and their physicians to receive quick read times for their studies while also adding a layer of redundancy to our imaging systems."
As a private, nonprofit healthcare entity, Hughes says financing is CMC's primary challenge when implementing new information systems for their ancillary services and, ultimately, interfacing them with their hospital information system. CMC qualified for funding through a U.S. Department of Agriculture Rural Development program, which covered two thirds of the overall project cost, he says. This federal program supports essential public facilities and services such as health clinics and emergency service facilities, with the ultimate goal of helping rural communities meet their unique needs.
Overall, the implementation of PACS and the electronic networking at CMC and its clinics goes a long way toward helping this rural facility achieve its mission of providing cutting-edge medical care close to home.
"Our reputation of providing excellent patient care is important to us," Hughes says, "and the implementation of digital radiology services, including computed tomography angiography, has helped our hospital and clinics continue to improve this mission. The most important benefit of our new system is our improved report accuracy and turnaround time. These are important determinants of quality care and patient satisfaction."
— Kathy Hardy is a freelance writer based in Phoenixville, Pa., and a frequent contributor to Radiology Today.