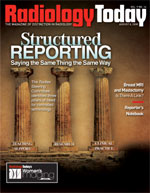 August 11, 2008
Breast MRI and Mastectomy — Is There a Link?
By Kathy Hardy
Radiology Today
Vol. 9 No. 16 P. 20
Mayo Clinic clinicians noted an increase in mastectomy among women with breast cancer after they introduced MRI into the screening and diagnosis process. Next they want to learn what that might mean to the diagnosis and treatment of breast cancer.
"We've seen a pendulum swing in mastectomy rates in the last three years," says Matthew P. Goetz, MD, an assistant professor of oncology at the Mayo Clinic. "Clearly, the data show an increase."
And researchers want to learn why.
According to the scientifically gathered data by researchers at the Mayo Clinic, it appears that more women with breast cancer seeking treatment at the clinic—specifically those who undergo diagnostic MRI prior to surgery for early-stage breast cancer—are choosing mastectomies rather breast conservation therapy. These women present a higher rate of mastectomy compared with women who do not undergo preoperative MRI.
However, the researchers are still considering the other factors women and their doctors contemplate when making their ultimate treatment decisions.
"What we didn't look at is what factors were important to the patient," says Kathleen R. Brandt, MD, an assistant professor of radiology. "Mastectomy is an extremely personal decision. Some women are comfortable with mastectomy. They feel that it's the best choice for them. Other women want to try to preserve their breasts."
Informed Patients
Patients with breast cancer often come to physicians and medical facilities well educated about their disease and the multitude of screening, detection, and treatment options available to them. Brandt contends that this increased level of knowledge could be a factor in the clinic's recorded increase of mastectomies since 2003.
"Women are more knowledgeable today," Brandt says. "Through the Internet and better teaching by doctors, women are better informed now than they were 10 years ago. Patients have a better understanding today that lumpectomy and chemotherapy may not get all the cancer, so they may decide to go with a mastectomy."
This retrospective study involved 5,414 women who had surgery for early-stage breast cancer at the Mayo Clinic between 1997 and 2006. Researchers reviewed trends by year and considered whether the women underwent preoperative breast MRI. The data showed that mastectomy rates declined from 44% in 1997 to 30% in 2003; however, they rose to 43% in 2006. The percentage of women who had breast MRI increased from 11% in 2003 to 23% in 2006. Statistics also showed that the mastectomy rate was significantly higher in women who had a presurgical MRI (52%) compared with women who did not have MRI and chose breast removal (41%).
Additionally, women who underwent MRI prior to surgery were about 10% to 15% more likely to have a mastectomy compared with women who did not undergo MRI. Researchers found, however, that while women who had MRIs had more mastectomies, mastectomy rates also increased in women who did not undergo MRI, Goetz says.
MRI's Changing Role
Within the past 15 years, breast MRI has emerged as an adjunct and, in some high-risk groups, an alternative to mammography. The American Cancer Society now recommends certain women at high risk for breast cancer begin MRI breast screening in addition to mammography at age 30, instead of the usual screening recommendation of mammography beginning at age 40 for women at normal risk for breast cancer. Studies from the early 1990s show that MRI detects more cancerous lesions than mammography. MRI provides more detailed information than mammography. It is considered a more sensitive screening but less specific, meaning it may result in false positive results, subjecting women to unnecessary biopsies.
"When a question is raised by MRI, ideally we would like to see a needle biopsy performed before a decision is made regarding a course of treatment," Brandt says. "That way, the patient wouldn't have a question about whether or not the lesion is malignant or benign."
The National Institutes of Health issued a report in 1990 stating that breast conserving therapy is as effective as mastectomy for overall survival for most women with stage 1 or 2 breast cancer and is preferable because it provides survival equivalent to total mastectomy while preserving the breast. Following the release of that report, lumpectomy with radiation therapy became the standard of care for most women with early-stage breast cancer, and mastectomy rates declined. Modified radical mastectomy continued to be appropriate for some patients, but breast conservation therapy was regarded as the optimal treatment for most women. Survival rates were also good, Goetz says.
This trend began to change around 2003. At that time, Brandt and others began recording the instances of women undergoing preoperative breast MRI and what course of treatment was ultimately followed. "We wanted to be able to track and monitor the effects of breast MRI and look at findings proactively," she says.
What's Driving Change
Brandt and other Mayo Clinic medical professionals observed that more women were choosing to have mastectomies, yet there was no change in clinic surgeons' decision making.
"We noticed a change in our practice, in that a lot of our patients were now undergoing MRI prior to surgical treatment," she says. "We were seeing a shift in our treatment, as well as a shift throughout the country."
"With a lack of change among the surgeon preferences, we wanted to see why more women were choosing mastectomies," Goetz adds. "Clearly, we could see the data showing an increase."
Goetz points out that during the past four to five years, women have had more aspects to consider for their breast cancer treatment, including advancements in MRI and other imaging modalities. The question this issue raises is whether MRI exams somehow contribute to increasing the mastectomy rate in breast cancer patients.
"The problem with most technology is the issue of sensitivity vs. specificity," Goetz says. "We need to do this on an individualized basis. We need to identify patients at the highest risk and others who will most benefit from the new technology rather than applying new technology to all patients. This would potentially reduce the impact of false positives."
This doesn't mean, Goetz says, that new technology is bad. "I'm not saying MRI is a bad test," he says. "But as institutions, we need to be smart about how we apply this."
Who Are the Right Candidates?
Brandt says that she has seen some cases in which MRI helped patients reach a clear decision about how to handle their breast cancer, but others where it may have "muddied" the issue. At the Mayo Clinic, physicians typically seek tissue confirmation before reaching a decision, she says.
"It's not clear cut," she says. "We need to decide if MRI is beneficial for every woman."
Goetz also notes that as new technology is introduced, there is a learning curve, which could lead to more false-positive readings initially. "Radiologists might call more false positives in the first year of using a new technology than in the two or three years after the technology has been introduced," he says.
Another factor in the decision-making process could be that more women are considered candidates for breast reconstruction, particularly with the availability of improved methods.
"Ten years ago, women with breast cancer didn't have as many options as they have today when it comes to breast reconstruction," Brandt says.
Individual Therapy
Goetz believes that with this data in hand, the next step could be individualized therapy instead of relying on aggregate data. He uses gene profiling as an example.
"A woman with a particular history could undergo gene expression profiling," he says. "Tissue would be taken and studied. From those results, a course of therapy could be determined. If a woman has a high risk of local recurrence, why not use gene therapy to determine whether or not she has cancer? We're not there yet, but we're getting there."
Brandt agrees with the individuality of each patient's situation and stresses that this is why scientific evidence is an important part of making the decision on stage 1 and 2 breast cancer treatments.
"You can't just look at anecdotal evidence of how women are making the decision to undergo mastectomy," she says. "You need to look at the science."
Another area to explore is whether other facilities are seeing the same increase in mastectomy rates. "I've heard other people saying they're seeing this trend as well, but they're being cautious," Goetz says. "Our data covers a relatively short period of time. It would be good to continue to look at this trend in future years, as well as at other facilities."
Some facilities have gone to ordering MRI scans for all invasive breast cancer patients, Brandt says.
"MRI has the sensitivity necessary to detect cancer but not the specificity," she says. "That leads to concern that women are going too far in the other direction, deciding to have mastectomies rather than less drastic treatments."
Goetz notes that with the potential for false-positive results, women may want to avoid any potential cancer risk.
"A woman may have experienced a number of false positives, undergone several biopsies, and eventually decided to just take care of this situation and have the breast removed," he says.
For the future, Goetz suggests that studies at other facilities could shed more light on this issue of why women are pursuing mastectomy rather than lumpectomy. No matter what the screening process, he says, the ultimate goal is still a cure for breast cancer.
"The missing piece in this study is how does this affect long-term survival rates," he says. "Fifteen percent to 30% of undetected cancers were found. That sounds good, but will this affect long-term survival?"
— Kathy Hardy is a freelance writer based in Phoenixville, Pa., and a frequent contributor toRadiology Today.