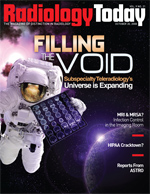 October 20, 2008
MRI and MRSA? — Infection Control in the Imaging Room
By Beth W. Orenstein
Radiology Today
Vol. 9 No. 21 P. 14
Cleaning an MRI machine isn't easy, but the increase in MRSA cases may make it an essential infection prevention measure.
Are MRI centers contributing to the spread of methicillin-resistant Staphylococcus aureus (MRSA) infections?
Peter Rothschild, MD, a diagnostic radiologist and renowned expert on open MRI, believes so. And he has begun a crusade to get those responsible for MRI suites to take infection control more seriously to combat the strain of staph that's so resistant to the broad-spectrum antibiotics commonly used to treat it, that it can be fatal.
In June, Rothschild, founder and president of Patient Comfort Systems Inc of Hayward, Calif., published a white paper online titled, "Preventing Infection in MRI: Best Practices for Infection Control in and Around MRI Suites." Patient Comfort Systems produces MRI pads built with a permanent antimicrobial agent in the covering of the foam cushion. In the white paper, Rothschild argues that because MR suites contain such powerful magnets, they are rarely cleaned properly and that established infection control procedures such as hand washing are often ignored.
"This is especially prevalent in free-standing outpatient centers and mobile MRIs where there is intense pressure to quickly turnaround patients," he says. "That's why there are growing concerns that at least some of the spread of infectious agents that we have been seeing more of lately could be coming from outpatient imaging centers and radiology departments in hospitals."
Tobias Gilk, president and MRI safety director for Mednovus Inc in Overland Park, Kan., says the potential of MRI equipment to be a source of infection has become more pronounced as MRI's clinical applications have expanded in the nearly 30 years since its introduction as a diagnostic tool. Mednovus offers ferromagnetic detection products for MRI screening and provides safety review and design consulting services.
Twenty years ago, Gilk explains, MRI was used almost exclusively for scanning the knees and heads of reasonably healthy ambulatory patients. "Today, we're using MR for stroke assessments, for emergency department patients coming in," Gilk says, "and we're using MR on patients who have a growing number of other health problems, which may include infectious diseases. It has been a concern for a while and is a growing concern as the clinical applications for MRI really began to expand."
 The problem, according to Gilk, is that "while we're seeing a wholesale shift in the way MR is being used clinically, there have not been corresponding changes in the ways that we design and build the machines or the suites in which they're sited to respond to the infection control issues."
Emanuel Kanal, MD, director of MR services and a professor of radiology and neuroradiology at the University of Pittsburgh Medical Center and the chair of the American College of Radiology's panel on MRI safety, says MRI equipment must be cleaned properly to prevent the spread of infection, just like any other surface that comes in contact with patients.
However, Kanal says he is not aware of problems caused by the lack of cleaning of MRI equipment. "I'm also not aware of anyone having any infection or problem because of it," he says.
Rothschild believes infection control in the MR suite is being overlooked by experts and deserves attention before it becomes an even more serious problem.
Rothschild says he started looking into the issue of infection control in the typical MRI suite a few years ago after his wife, also a physician, suffered a head injury and had to undergo an MRI at a major medical center before she could be discharged. She noticed that the patient being scanned immediately before her was from the isolation ward and that everyone in the suite was wearing gloves and masks.
 "She overheard that the patient was scheduled for a brain biopsy for an unknown infectious process and was felt to be very contagious," Rothschild says. His wife pleaded with the technologists to clean the pads and the coil before her scan, "to which the technologist replied that there was no time because the department was much too busy to clean between patients."
Rothschild says that despite her protest, his wife relented, believing she had to have the MRI before going home. "Fortunately, so far, she has not developed any infection; however she is still extremely upset with the lack of concern by the staff," he says. The incident concerned him because Rothschild believes, "If it's happened to my wife, it's happening to thousands and thousands of other patients, and neither my wife nor any patient should have to endure this experience."
Imaging personnel often believe that they are preventing infection by putting clean sheets on the MRI pads before each patient. However, Rothschild says, "The Centers for Disease Control and Prevention has made it clear that a clean sheet is not protection against bacteria and is not an acceptable procedure for infection control."
Rothschild was reminded of how widespread the problem is when, in May 2007, a patient believed to be infected with a drug-resistant strain of tuberculosis made headlines around the world. The patient was quarantined in a specially designed hospital room with a specialized ventilation and filtration system, yet he was allowed to leave his room to visit the radiology department for a CT scan. The radiology department did not have the same degree of protection in place and "was putting the department and hospital at risk. This is not an isolated event but happens every day around the country. No matter how contagious a patient is, the MRI or CT cannot be brought to their room," Rothschild says.
MRSA was first identified in 1961 but in recent years has become a growing concern in hospital and outpatient settings. Rothschild says MRSA is most commonly transmitted by direct or indirect contact with people who have developed MRSA infections or are asymptomatic carriers.
"A major concern for imaging centers is that MRSA can be carried by asymptomatic persons," Rothschild says. It is estimated that up to 53 million people worldwide are asymptomatic MRSA carriers, with 2.5 million of those residing in the United States.
In his white paper, Rothschild wrote that "approximately 1% of the U.S. population is colonized with MRSA. Both infected and colonized patients contaminate their environment with the same relative frequency. Therefore, any patient lying on an imaging table could be a carrier capable of contaminating surfaces in the radiology suite. MRSA and other pathogens can live on inanimate surfaces, including common table pads and positioners, for periods as long as several months."
Rothschild says he is particularly concerned about the mattress pads used in imaging departments and outpatient centers. "What is most concerning is that very few MRI centers clean their pads even once a day, much less between patients. In the late 1980s and early 1990s, when the original pads were developed, they were not designed to withstand the current wear and tear of between 5,000 to 10,000 patients per scanner per year for many years. Many pad coverings are thus frayed and worn out, making them impossible to clean and a danger to patients and staff."
According to Rothschild, the older pads do not incorporate newer technologies, such as permanent antimicrobial agents, developed to assist in infection control. Also, the seams are sewn tightly with specialized machines that protect the foam core from contamination, he says. "This state-of-the-art technique is critical, since MRSA can not only spread by direct contact, but researchers have shown that is also possible to be spread through the air. This could occur from bacteria growing in their foam core and then aerosolized through any holes or loose seams in the pad covering as air is forced out of the pads when the patients lie on them."
 Rothschild points out that imaging facilities have not made cleaning the MRI and pads a priority, often because it is viewed as a time-consuming task that will decrease throughput, thereby lowering the center's productivity and negatively impacting its financial well-being.
 The magnet bore can pose as much risk for MRSA exposure as the pads, Rothschild says. Patients often come in contact with the surface of the bore or are very close to it. Rothschild adds that "properly cleaning the inside the bore of an MRI unit is an especially difficult, dangerous, and cumbersome task without specially developed tools. The fact that most cleaning tools cannot even be brought inside the MRI room, much less into the confined space of the bore, makes this task very difficult."
A scientific poster from Irish researchers at RSNA 2006 reported that MRSA lurked in the corners of the hospital's magnet. "The study only tested one magnet at Dublin's Mater Misericordiae Hospital but found that there was MRSA growing in the bore of the magnet," says Rothschild. "Not surprisingly, there have been no follow-up studies and even this study did not get much reaction. I feel that an extensive study that cultures multiple MRIs for infectious pathogens will never be done in our litigious society without a court order due to the disastrous medical-legal consequences if MRSA colonization is shown to exist. The fact that MRSA can grow for months on a surface could result in possibly exposing hundreds of patients to this life-threatening disease."
Antonio Bayon of Newtown, Pa., and his two partners, all of whom were MRI service engineers for GE Healthcare, have developed a nonmagnetic tool, the MagnaWand, for cleaning inside an MRI magnet. Bayon says they developed the wand because they realized that cleaning inside the magnet can be complicated.
"It is a very lightweight tool and comes with disposable sponges," Bayon says. "You spray any disinfectant that kills bacteria on contact onto the disposable pad and lightly touch the tunnel, the table, or any other surface the patients come in contact with. Once the intended area is cleaned, you simply detach the disposable from the wand without touching it with your hands."
The MagnaWand kit comes with a bottle of Steris Coverage Spray TB Plus, which has a broad range of properties to kill bacteria, viruses, and fungi. Bayon says sales of the tool, which cost less than $1 a use, have been slower than expected. Since it began in June 2007, about 80 hospitals have ordered directly from MagnaWand, and another 200 to 300 have shipped from its three distributors. At last count, he says, there were some 20,000 facilities with MRI equipment in the country. "When we embarked on this business, that's the number we went with, and we figured if we got 10%, it would be a good business," he says.
Bayon agrees the issue is that imaging facilities don't want to take the time to clean. "Nowadays, they're very busy. Patients come in and go out; the schedules are almost always full and often tend to run late. The last thing the technologists want to do is waste any more time cleaning the tunnel of the magnet."
On the bright side, Bayon says, some facilities, such as Children's Hospital of Philadelphia, have made it a policy to use the wand and its disposables regularly. "They keep a log of when it is cleaned," he says. "That way they have a written record."
 Gilk believes that, at the very least, MRI suites need to be equipped with sinks (or conveniently located nearby) so the technologists can wash their hands between patients to prevent the spread of infection. However, few are doing so. "We look around and see a hundred MR suites and perhaps five have hand sinks, and the vast majority have no prep stations either in the initial design of the suite or in the design of its retrofit."
Because of the powerful magnet, there are technical difficulties with providing hand-washing stations within the MR suite. However, Gilk says, "We provide fire suppression sprinkling systems in the MR suite, so why don't we have sinks for hand washing? That makes no sense to me." It requires an extra degree of care, and it requires plumbing the sink in a nonstandard way to work with the radiofrequency shielding around the MR suite, but it is by no means insurmountable, he says.
The problem, Gilk says, is that "while we're seeing a wholesale shift in the way MR is being used clinically, there have not been corresponding changes in the ways that we design and build the machines or the suites in which they're sited to respond to the infection control issues."
Building codes for MR suites don't address the issue, but Gilk is hoping that the next version of them that is soon to be released will remedy this. Rothschild believes further research needs to be done to determine the percentage of MR suites that harbor MRSA and the risk to infecting patients. "Such studies would be difficult not only from a medical-legal perspective but also because patients don't necessarily exhibit symptoms of MRSA after leaving the MR suite, and they may take weeks to seek medical attention," he says. Rothschild is confident, however, that when these studies are conducted, they will confirm his suspicion that radiology facilities could be a serious source of the spread of infection.
"While it will be painful and expensive for MRI centers and hospitals to address these safety issues," Rothschild says, "it only takes minutes for these infection control steps and cleaning to take place, and they must do so before it becomes a national problem requiring government intervention and regulations."
Working with infection control experts from The Joint Commission, Rothschild has developed 11 procedures to incorporate into an infection control policy for MRI . The goal is to decrease the risk to patients and staff from MRSA and other life-threatening infections. These procedures are a prominent part of his online white paper, which is available at www.patientcomfortsystems.com/MRI_infection_control_white_paper.pdf
— Beth W. Orenstein is a freelance medical writer and a regular contributor to Radiology Today. She writes from her home in Northampton, Pa.