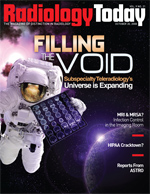 October 20, 2008
ASTRO Reporter's Notebook
Radiology Today
Vol. 9 No. 21 P. 20
Editor's Note: This article was written from press materials prepared by the media relations staff detailing featured studies from the American Society for Therapeutic Radiology and Oncology's (ASTRO) 50th Annual Meeting.
Proton Therapy: Fewer Secondary Cancers
Patients who are treated with proton therapy external beam radiation show a decreased risk of developing secondary cancers compared with photon radiation treatment, according to a study presented last month at ASTRO's annual meeting.
The study, "Comparative Analysis of Second Malignancy Risk in Patients Treated With Proton Therapy Versus Conventional Photon Therapy," contradicts theories suggesting that proton radiation may actually increase the incidence of secondary cancers because of scatter radiation. When proton radiation is delivered, neutrons are produced by nuclear interactions and are scattered as a result.
"This study could have a substantial impact on the care of patients," said Nancy Tarbell, MD, senior author of the study and a radiation oncologist at Massachusetts General Hospital in Boston. "Since cancer patients are surviving for longer periods of time, side effects of therapy are becoming increasingly important for doctors to consider when developing treatment plans. Since this is a retrospective study, however, we will need additional studies to further prove this hypothesis."
Photon radiation is the standard external beam radiation therapy treatment, while proton radiation is a more targeted treatment that delivers less radiation to bordering normal structures.
The retrospective cohort study matched 503 patients who underwent proton radiation treatment at the Harvard Cyclotron with 1,591 patients treated with photon radiation therapy from the Surveillance, Epidemiology, and End Results cancer registry from 1974 to 2001. According to the study, 6.4% of patients who underwent proton therapy developed a secondary cancer, compared with 12.8% of patients who had photon treatment.
Quality Assurance Programs Improve Clinical Trials
Quality assurance programs can strengthen the quality of cancer clinical trials, including cooperative groups conducting National Cancer Institute-supported clinical trials, thereby improving the standard of patient care, according to a study presented at ASTRO's annual meeting.
The Quality Assurance Program at the University of Massachusetts Medical School, provided by the Quality Assurance Review Center (QARC) of Worcester, Mass., was founded in 1980. Its services include site credentialing to ensure that those looking to conduct clinical trials have the expertise, equipment, and tools necessary to properly participate in research trials. The Quality Assurance Program also establishes benchmarks to monitor the ongoing trials and provide feedback to the physicians conducting the trials. This monitoring helps ensure that patients get the best treatments possible while making certain that the data obtained from the trials are valid and statistically significant.
From 2003 to the present, the QARC performed reviews on radiation therapy protocols for 6,449 patients enrolled in National Cancer Institute clinical trials. Cases are reviewed prior to or very early in the radiation therapy course so treatment modifications can be implemented to make the treatment compliant with the study requirements. This study shows that this improved the overall quality of the clinical trial and its potential outcomes.
"Clinical trials are one of the most important tools that the cancer research community has to evaluate treatments and protocols in an effort to cure cancer," said T. J. FitzGerald, MD, a study author and radiation oncologist at the QARC. "This study shows that a quality assurance program, like ours at QARC, can help cancer researchers conduct better clinical trials. This in turn helps patients get the best treatments possible, while recording the data in a way to help other cancer patients and further help the cancer community better understand what treatments work best."
Do Medicare HMO Cost Fears Keep Cancer Patients Out of Clinical Trials?
The number of newly diagnosed cancer patients aged 65 and older who are enrolled in Medicare's Health Maintenance Organization (HMO) plans has increased by 6% within the past four years and may limit their participation in clinical trials because they believe they cannot afford the plan's out-of-pocket expense, according to a poster presentation at ASTRO.
While nearly two thirds of cancer patients are aged 65 and older, less than one third of patients in this age group are enrolled in clinical trials. This disparity suggests it may be related to Medicare HMO payment policy, which requires additional personal expense for clinical trial participation and may vary depending on the HMO plan, according to the poster presentation "Does Medicare HMO Reimbursement Policy Hinder Clinical Trial Participation?" Medicare reimbursement policies differ between fee-for-service and HMO plans.
 "Clinical trials are the cornerstone in finding better, more effective cancer treatments," said Chyongchiou Lin, PhD, lead author of the study and an associate professor of health economics at the University of Pittsburgh Cancer Institute's department of radiation oncology. "The National Cancer Institute [NCI] has made clinical trial participation a top, national priority, yet current Medicare reimbursement policies show it might be a barrier for participation by a large number of patients with Medicare HMO coverage and discourages cutting-edge treatment options for a very vulnerable population. The current policy should be reexamined to be consistent with NCI initiatives."
The study shows that the overall proportion of newly diagnosed cancer patients who had consultations and were insured by Medicare HMOs increased from 21% in 2003 to 27% in 2007 in five hospitals participating in the University of Pittsburgh Medical Center McKeesport Radiation Oncology Community Outreach Group, a consortium of hospitals in western Pennsylvania funded by the NCI's Radiation Research Program and the Cancer Disparities Research Partnership that focuses on improving access and outcomes for underserved populations with cancer. The research team in the lead community hospital participating in the program found that in 2007, patients eligible for innovative clinical trials opted out of enrolling in a "Medicare-qualifying" clinical trial due to the financial burden of participating.
Adding Whole Brain Radiation to Radiosurgery Boosts Risk of Learning and Memory Problems
Cancer patients with tumors that have spread to the brain who undergo stereotactic radiosurgery and whole brain radiation have more than double the risk of developing learning and memory problems compared with those who only undergo stereotactic radiosurgery, according to a randomized study presented at ASTRO.
"Results of this study show that initial stereotactic radiosurgery alone coupled with close observation could become the standard of care for patients newly diagnosed with brain metastases to best preserve their neurocognitive function," said Eric L. Chang, MD, lead author of the study and a radiation oncologist at the University of Texas M. D. Anderson Cancer Center in Houston. "Results of this study could change the practice of how brain metastases are managed in the United States."
Stereotactic radiosurgery is a specialized external beam radiation therapy that pinpoints high doses of radiation directly on the cancer in one day instead of over several weeks. Whole brain radiation therapy treats the visible lumps of the cancer and the invisible tumor deposits that are so small, they may not be seen on the most sensitive imaging tests. As a precaution, the entire brain is treated to try to stop the spread of the tumors.
The presentation, "Phase III Randomized Clinical Trial of Radiosurgery With or Without Whole Brain Irradiation in Patients Newly Diagnosed With 1 to 3 Brain Metastases," reported on 58 patients who were newly diagnosed with one, two, or three brain metastases and were randomized to receive stereotactic radiosurgery combined with whole brain radiation or stereotactic radiosurgery alone from January 2001 to September 2007.
The trial was halted after interim results showed that patients who received both stereotactic radiosurgery and whole brain radiation had a 49% decline in learning and memory functioning at four months, while patients who underwent stereotactic radiosurgery alone experienced a 23% decline in neurocognitive functioning. Neurocognitive outcome was measured by the ability of patients to immediately recall a list of 12 words after three attempts. For patients who received initial whole brain irradiation, nearly one half of the patients lost the ability to recall five words from the same list over three attempts compared with before they received the treatment.
Radiation Before Surgery Reduces Quality of Life and Risk Recurrence for Rectal Cancer Patients
A one-week course of radiation before surgery for rectal cancer leads to a reduced risk of recurrence but with some impairment in quality of life concerning sexual and bowel function, according to an international study presented at ASTRO.
Surgery is the primary treatment for rectal cancer. Traditionally, cancer found in the lower 15 centimeters of the bowel is surgically removed. Removing the tumor leaves a risk of cancer regrowth within the bowel and surrounding tissues that is incurable in the majority of patients and can cause side effects that are difficult to control. Depending on the location and stage of the cancer, doctors may also recommend radiation therapy and chemotherapy, which can be given before or after surgery.
The Medical Research Council CR07 trial looked at data from 1,350 patients throughout the United Kingdom, Canada, South Africa, and New Zealand. The trial compared routine use of a one-week course of radiotherapy before surgery with a selective use of radiotherapy after surgery to reduce the risk of recurrence. In the postoperative group, patients at high risk of a local recurrence received 25 treatments of radiotherapy daily over a five-week period combined with chemotherapy after surgery.
In the report, "The Impact of Short Course Pre-Operative Radiotherapy on Patients' Quality of Life: Data From the MRC CR07/NCIC CO16 Randomised Clinical Trial in Patients With Rectal Cancer," comparison of the overall treatment approaches found that 4% of patients in the preoperative radiation group had local recurrence of the cancer after three years compared with 11% of patients in the postoperative group. It also found that preoperative radiation patients had a 78% chance of survival without cancer recurrence five years later compared with 72% among the postoperative patients.
To assess the impact of the treatments on quality of life, patients completed two detailed questionnaires prior to treatment and on a regular basis for three years. The results show that physical functioning was decreased at three months but then returned to previous levels, indicating that patients appeared to recover well from their treatment in most cases.
The quality-of-life study showed that male sexual function deteriorated at three months, apparently due to surgery. There was a further, smaller deterioration thereafter due to the use of preoperative radiotherapy. There was also a difference in bowel function due to the preoperative radiotherapy.
"We know that this and other trials have consistently shown that radiation before surgery reduces the risk of local cancer returning; however, this has to be balanced against any negative side effects," said David Sebag-Montefiore, MD, principal investigator of the study and a radiation oncologist at the St. James' Institute of Oncology in Leeds, United Kingdom. "The results of our quality of life study should help doctors and patients to discuss both the benefits and risks of preoperative radiation before surgical removal of rectal cancer."