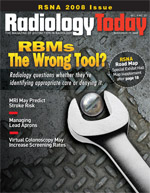 November 17, 2008
Scanning Chicago's Food Scene  — Your Guide to the City's Best Eating and Entertainment
By Sharon Palmer
Radiology Today
Vol. 9 No. 23 P. 40
Welcome to Chicago, the avant-garde food capital of the world. Make sure you set aside enough time to explore and take a bite out of the city's inventive cuisine by visiting its retro city diners, ethnic eateries, award-winning restaurants, and neighborhood establishments. Radiology Today highlights five Chicago restaurants that local food experts put on their "must-taste" list and features a top 10 list of fun things to see and do in and around the city.
Restaurants in the Spotlight
1. NAHA
500 North Clark Street
Chicago, IL 60610
312-321-6242
www.naha-chicago.com
When food critics rave about NAHA, they reach into their bag of words and pull out terms like chic, A-list, and "it." One might think they're talking about casting for the latest Hollywood hit, but then again they are describing one of the up-and-coming contemporary stars of the Chicago restaurant world. NAHA has rightly earned a reputation for serving up cool, eclectic food in a sleek, urban setting that pays homage to both California and Mediterranean influences. To top it off, chef Carrie Nahabedian recently took home a 2008 James Beard Foundation award (the culinary version of an Oscar) for Best Chef Great Lakes.
Nahabedian calls NAHA's design an expression of who she is. "It is very urban, with windows opening to the great skyline and the beautiful architecture of Chicago. You can see the whole city passing by. It's very airy; you don't feel like someone is sitting on top of you. People feel relaxed here; they don't feel rushed. Everything is custom designed for the restaurant, even the flowers and branches on the tables. The chairs are custom, and you won't find them anywhere else," she says. Nahabedian confides that high-profile guests tend to frequent NAHA, and they feel safe enough within the restaurant to leave their bodyguards at the bar.
Intersecting with the hip vibe of NAHA is a remarkable sense of family. Nahabedian opened NAHA with her cousin, restaurateur Michael Nahabedian, who oversees operations. Michael's brother, Tom Nahabedian, an architect and the founder of a Beverly Hills design firm, applied his artistic eye to every element of NAHA's design—from the fabrics and graphics to furnishings and kitchen design. Nahabedian believes her close relationship with Tom culminated in a wonderful kitchen in which she feels comfortable working.          
What culinary inspirations await at NAHA? Nahabedian says, "The cuisine reflects my years of experience in cooking in different backgrounds and arenas. I like to cook seasonally and am true to the products I use. My food is American cuisine with a Mediterranean flair. I know my clientele well, and I put food on the menu that I would enjoy seeing if I were a diner," such as an organic risotto from Italy with squash blossoms, roasted summer squash, and braised Pleasant Valley goat or Yukon Gold potato gnocchi with marcona almonds, heirloom tomatoes, and kale. There's also squab with foie gras, crisp potato cake, Armenian rose petal marmalade, and licorice roots, which she notes sells out every time it's on the menu.
Nahabedian's dedication to ingredients shines through as she shares her use of Pleasant Valley goat raised at a farm run by teenagers, her housemade ricotta cheese, summer green beans, and Great Lakes whitefish. No wonder NAHA is on the A-list.
Lunch: Monday through Friday 11:30 am to 2 pm
Dinner: Monday through Thursday 5:30 pm to 9:30 pm; Friday and Saturday 5:30 pm to 10 pm
Entrées: $33 to $47 per person
2. Alinea
1723 North Halsted Street
Chicago, IL 60614
312-867-0110
www.alinea-restaurant.com
How can you capture the magnetism of Alinea in words? Let's try tossing out a few: sensibility, drama, performance, genius, art. Yes, Alinea's creative style may be tough to define, but one thing's for sure: Plenty of people around the globe are talking about it. Penny Pollack, dining editor of Chicago Magazine, describes Alinea as "Chicago's cultural jewel"; Gourmet magazine called it the "best restaurant in the country" a year after its opening; and Restaurant magazine rated it No. 21 on its World's 50 Best Restaurants List this year.
Led by star chef Grant Achatz, who worked with Thomas Keller at the legendary French Laundry (Yountville, Calif.), Alinea started earning accolades from the moment it opened its doors in 2005. Achatz quickly became known for his culinary inventions that deconstruct foods, ingredients, and techniques to create a new culinary experience that brings all the senses to life.
But Achatz doesn't just glom onto the technical aspects of molecular gastronomy that are so en vogue today; he takes it a step beyond science to a level that he calls performance art. "It is a natural progression from the food I was doing at French Laundry. My inspiration comes from everywhere; it could come from walking down the street or looking at a museum. I can't define it," he says.
Ask Achatz for an example of a dish that illustrates his culinary concept, and he offers up one from last fall's repertoire featuring tempura-fried pheasant skewered on a burning oak branch complete with russet leaves. The branch is set on fire and moments before it's presented, the fire is extinguished so that the pheasant is served amid the aroma of a smoldering oak branch.
"I grew up in Michigan, and the smell of burning oak leaves is reminiscent of my childhood. When I smell this dish, it transports me back," says Achatz. "When you take a delicious bite of food, it involves the aroma, not just the flavor. We are introducing aroma for the sake of an emotional trigger that makes a powerful experience. We call this progressive American cuisine; we are crafting an experience that is not just about satiety or filling a growling stomach. We craft an experience that is like going to watch a great movie, play, or theatre that involves all of the senses."
Achatz has become somewhat of a celebrity, not only because he's received culinary acknowledgments such as the 2008 James Beard Outstanding Chef Award, but also for his own story of tragedy and triumph. Last year, at the age of 33, this boyish, fit star of the culinary world was diagnosed with stage four squamous cell cancer of the tongue. Doctors recommended the removal of nearly three fourths of his tongue to save his life, but Achatz opted for aggressive chemotherapy and radiation treatment. Last December, doctors informed him that his cancer was in remission, and the culinary world rejoiced.
Alinea offers two dinner seatings each night with a dramatic procession of small, sensual experiences on his tasting or tour menu. Just in case you haven't heard, a reservation at Alinea is a highly coveted commodity. But like securing tickets to an acclaimed Broadway performance, it will definitely be worth the wait.
Dinner: Wednesday through Sunday, two seatings per night: 5:45 pm and 8:15 pm
Tasting Menu (approximately 12 dishes): $145 per person
Tour Menu (approximately 25 to 27 dishes): $225 per person
3. Spiaggia
One Magnificent Mile (corner of Michigan and Oak)
980 North Michigan Avenue, Level 2
Chicago, IL 60611
312-280-2750
www.spiaggiarestaurant.com
Hailed as one of the finest Italian restaurants in America, Spiaggia has spent the past 24 years garnering a treasure trove of awards and weaving its way into the hearts of Chicagoans. One might say that Spiaggia has become a Chicago institution, thanks to chef/partner Tony Mantuano, who has been credited with helping redefine Italian cuisine, not only in the Midwest but throughout America.
"I'm fortunate because I've lived and worked in Italy at three-star Michelin restaurants that have a sense of Italian elegance that is often lost in the Italian American approach," says Mantuano of his culinary inspiration. Rather than constraining his flavor palette to a particular region of Italy, Mantuano "goes for all of the regions in Italy," as he keeps his eyes open to trends in new restaurants in Italy and what he calls the "Italian soul" of this rich cuisine.
A healthy respect for ingredients is tantamount for Mantuano. "There are incredible farmers' markets in Chicago where the produce is spectacular. I try for a balance of local foods and certain things that I have to import, such as lamb that I get from Wisconsin and the best extra-virgin olive oil," says Mantuano. His strategy is definitely hitting the mark, as Spiaggia is Chicago's only four-star Italian restaurant, as rated by the Chicago Tribune and Chicago Magazine.
Beyond the cuisine, the splendor of the rooms casts its own spell over Spiaggia. Translated as "beach," Spiaggia boasts a magnificent view of the lake from every table due to its tiered design. Custom-designed Italian chandeliers softly light the champagne-toned booths and 40-foot windows frame vistas of the water for a "view that gives a jolt to even the most jaded guests," according to Mantuano.
What specialties does Mantuano recommend at his legendary restaurant? Guests can select from an a la carte dinner menu that follows the Italian dining tradition of antipasto, pasta, entrée, cheese, and dessert; or the tasting menu, which provides eight courses of selected house delicacies that Mantuano says "highlight really great ingredients from Italy." In particular, Mantuano recommends sampling the pasta, since his full-time pasta-making team handcrafts every morsel, and the Italian cheeses, which are stocked in one of the country's only temperature- and humidity-controlled cheese caves.
Mantuano features his inspired Italian cuisine at the more intimate venue, Café Spiaggia, and the trés élégante Private Dining Rooms of Spiaggia. "My dining room is a Ferari, and the café is a Fiat. They're both fun to drive, but they're different," says Mantuano.
Spiaggia
Dinner: Monday through Thursday and Sunday beginning at 6 pm; Friday and Saturday beginning at 5:30 pm
Lounge: 5:30 pm to 11 pm
Entrées: $17 to $47 per person
Café Spiaggia
Lunch: Daily 11:30 am to 2:30 pm
Dinner: Monday through Thursday 5:30 pm to 9:30 pm; Friday and Saturday 5:30 pm to 10:30 pm; Sunday 5:30 pm to 9 pm
Entrées: $17 to $29 per person
4. North Pond
2610 North Cannon Drive
Chicago, IL 60614
773-477-5845
www.northpondrestaurant.com
Arts and crafts sum up the dining philosophy at North Pond—from the 1912 building perched on the edge of a pond and fashioned according to the arts and crafts design movement to the cuisine inspired by local farms. "The arts and crafts style of the restaurant's rooms is consistent with the food. Arts and crafts is all about the integrity of the craft. The ingredients highlight the craftsmanship, but they do not overwhelm a product with bells and whistles. "It is controlled, which is what we do here," says North Pond chef Bruce Sherman.
Sherman traveled the world absorbing culinary culture before returning to his hometown of Chicago to apply his vision to North Pond in 1999. Since then, he has picked up a number of accolades—from James Beard nominations to a Best New Chefs award by Food & Wine magazine—for his cuisine, which focuses on bold flavors and fresh ingredients from local fields.
"My philosophy is that I utilize the best produce at its seasonal peak, and seasonal means local. My menu is created with the seasons in mind. In September and October, you tend to find the best apples you'll get all year. The hard squashes are delicious, the beets are great, and pheasant is good in the fall. In the winter, I'm using root vegetables with wild wood pigeon. The menu fluctuates so much," says Sherman, who is frequently compared to Alice Waters.
To ferret out the best seasonal, local products available, Sherman forges relationships with farmers, recognizing them by name on the restaurant's Web site. "It takes a great deal of time to build and maintain a deeper relationship with farms and farmers," notes Sherman, but his time investment has helped deepen his connection with the Earth, which is reflected in his respectful cuisine. Sherman also fosters his sense of community by matching guests' donations for featured wines to community organizations that support sustainable agriculture, nature conservancy, and homeless shelters.
Even with a rapidly shifting menu dependent on the quality of the produce on any given day, North Pond does have its classics. Sherman says he always includes farm eggs as a hot appetizer, with garnishes that change with the seasons. For instance, in the fall, guests might find an egg appetizer with spinach and morel mushrooms.
Sherman also favors the earthy appeal of beets. In the summer, he featured a first course of yellow fin tuna medallions, squash blossom, and green bean tempura with candied beets, chive cream, and flower petals.
Entrées conjure images of the bucolic countryside with offerings such as Dijon-crusted grass-fed beef with roasted faro and cipollini onions. And it's a pretty safe bet that on a crisp October evening at North Pond, Sherman will turn one perfect apple into a simple yet fabulous dessert.
Dinner: Wednesday through Sunday beginning at 5:30 pm
Brunch: Sunday 10:30 am to 1:30 pm
Entrées: $30 to $37 per person
Seasonal Tasting Menu: $85 per person
5. Nacional 27
325 West Huron Street
Chicago, IL 60610
312-664-2727
www.nacional27.net
In the mood for a night on the town? Consider rolling into Nacional 27, a modern Latin restaurant, ceviche bar, and salsa club that food critics call "sizzling." "Our ambience is a little like South Beach or Miami, with high ceilings and long curtains around the dining room," says Adam Seger, Nacional 27 general manager, mixologist, and sommelier.
What you won't find at Nacional 27 is the same standard fare that you might find at your favorite Mexican restaurant at home. "Our cuisine is basically inspired by the 27 countries of Central and South America and Latin Caribbean. We call our cuisine modern Latin because it is influenced from many countries in a modern way. We're taking classic dishes and making the flavors more bold and pronounced," says Seger.
Bon Appétit magazine reported that Nacional 27 makes "bold flavors of the year sizzle." This is accomplished through a penchant for taking classic Latin comfort foods and mixing them up a little. Take the slow-roasted Gunthorp Farms pork cubano, which is served with sweet plantains, black beans, coconut rice, and orange mojo. Or the Creole mustard-crusted and citrus-marinated snapper served with carrots, chayote, and preserved lemon crema. The ceviche is a calling card at Nacional 27, with offerings such as ahi tuna and watermelon with a spicy wine vinaigrette. The Latin tapas menu includes dishes such as shrimp adobado skewer with pineapple vanilla salsa and artichoke and goat cheese arepa with hearts of palm and mustard crema. No wonder Nacional 27 has been called Chicago's hottest Nuevo Latino restaurant.
Guests can find one of Nacional 27's finer pleasures by the glass. The restaurant maintains a Wine Spectator award-winning wine list that pairs with its lively cuisine. And the restaurant is famous for its drink menu, which includes a long list of rums and tequilas, as well as mixed drinks. "Our signature drink is El Corazon, which is a passion fruit and pomegranate margarita rimmed with salt and peppercorns. We are also certainly known for our mojitos. Lots of people have a late dinner and stay on for dancing," adds Seger, who notes that the central dining room opens up to a bamboo dance floor for Salsa and Merengue dancing at 11 pm on Fridays and Saturdays. On Tuesdays, the restaurant features live Latin jazz, and Thursdays call forth Latin beat percussionists to the floor. If you're itching to feel the beat while in Chicago, there may be no better place to make it happen.
Dinner: Monday through Thursday 5:30 pm to 9:30 pm; Friday and Saturday 5:30 pm to 11 pm
Entrées: $20 to $28 per person
Chef's Tasting (five courses): $45 per person
— Sharon Palmer is a freelance food and nutrition writer in southern California.
10 Things to Do While You're in Chicago
Have some free time on your hands amid your conference activities? Check out our top 10 list of things to do while you're visiting the Windy City.
1. Brookfield Zoo. Listen to the call of the wild with a quick cab ride to Brookfield Zoo, one of the best zoos in the country, located on 216 beautifully landscaped acres. Animal exhibits include Butterflies, Sharks! at Stingray Bay, Australia House, Bear Grottos, Children's Zoo, Feathers and Scales, Fragile Desert, Fragile Hunters, Fragile Rain Forest, Habitat Africa! The Forest, Habitat Africa! The Savannah, Hamill Family Play Zoo, Hoofed Animals, The Living Coast, Pachyderm House, Perching Bird House, Pinniped Point, Regenstein Wolf Woods, Salt Creek Wilderness, Seven Seas, The Swamp, and Tropic World.
First Avenue between Ogden Avenue and 31st Street in Brookfield, Ill.
www.czs.org
Weekdays 10 am to 5 pm; weekends 10 am to 6 pm
Adults: $11; seniors: $7; children aged 3 to 11: $7
2. Architectural Cruise of Chicago. Take to the water to enjoy the splendor of Chicago's famous skyline, which was transformed from a swampy plot of land into today's magnificent display of skyscrapers. Several companies offer architectural cruises with varying schedules and pricing:
• Chicago Architecture Foundation Architecture River Cruise: Ticketmaster at 312-902-1500, www.architecture.org
• Chicago Line Cruises: 312-527-2002, www.chicagoline.com
• Seadog River & Lake Architectural Tours: 888-636-7737, www.seadogcruises.com
• Shoreline Sightseeing Architecture Cruises: 312-222-9328, www.shorelinesightseeing.com
• Wendella Chicago River Architecture Tour: 312-337-1446, www.wendellaboats.com
3. Frank Lloyd Wright National Historic District Walking Tour. Dedicate some fresh air and exercise to the brilliance of Frank Lloyd Wright. Wright's home and studio are in Oak Park, the location of the largest collection of Wright-designed buildings. A variety of Frank Lloyd Wright Tours are available:
• Design Detectives Family Tour
• Frank Lloyd Wright Home and Studio Guided Tour
• Historic District Guided Walking Tour
• Historic District Self-Guided Audio Tour
• Wright Plus Housewalk
Additional information, tickets, and schedules for tours are available at www.gowright.org or E-tix: 800-514-3849.
4. The Morton Arboretum. Founded in 1922, The Morton Arboretum has 1,700 acres of beautifully tended grounds with 4,000 kinds of trees, shrubs, and plants from around the world. Attractions include a visitor center; plant clinic; Gingko Restaurant and Café; 16 miles of hiking trails; 900 acres of natural areas, including the Schulenberg Prairie, children's garden, maze garden, and trail around Meadow Lake; and the Sterling Morton Library devoted to botany and horticulture.
4100 Illinois Route 53
Lisle, IL 60532
630-968-0074
www.mortonarb.org
Daily 7 am to sunset
Adults: $9; seniors: $8; youths aged 3 to 17: $6
5. The Theater. Chicago is no stranger to the theater, with a wide variety of live theatrical and stage performances available in theaters scattered across the city and its environs. Chicago was put on the theater map during the June 2008 Tony Awards when the play August: Osage County, written, directed, and performed by Chicago's Steppenwolf Theater's ensemble, earned five Tonys among its seven nominations. Whether you're interested in taking in a big hit like Wicked or a quirky performance like Dr. Egg and the Man With No Ear, Chicago's theater community offers it all. The League of Chicago Theatres, an alliance of theaters that promotes and supports Chicago's theater industry, may be a useful resource in selecting an upcoming performance.
For more information, visit www.chicagoplays.com or call 312-554-9800.

6. Chicago Lakefront Path. A source of immense pride to Chicagoans, the lakefront is unique because it unites the neighborhoods of Chicago that share the unique path system bordering Lake Michigan for both transportation and recreation. The Lakefront Path is more than a walking path; it is an 18.5-mile linear park that includes beaches, volleyball courts, playgrounds, baseball diamonds, tennis courts, and soccer fields. The path widens in the downtown area to make room for outdoor concerts and festivals. Where else can you combine a bike trip with a variety of local lakefront attractions, such as the Navy Pier (600 East Grand Avenue) and the Adler Planetarium & Astronomy Museum (1300 South Lake Shore Drive)? Rent a bike through Bike Chicago (www.bikechicago.com, 888-245-3929) at several locations on the lakefront.
Information about and a map of the Chicago Lakefront Path are available at www.chicagoparkdistrict.com.
7. Millennium Park. The idea for Millennium Park was born when Mayor Richard Daley directed his staff to create a new music venue to transform an unsightly railroad area in 1997. The project culminated in an award-winning center of architecture, monumental sculpture, and landscape design over 24.5 acres that opened in July 2004. The star of Millennium Park is the Jay Pritzker Pavilion, an outdoor concert venue fashioned from a billowing mass of stainless steel ribbons. The Crown Fountain, Lurie Garden, and Cloud Gate sculpture are other important features in the park. The Millennium Park Welcome Center offers maps and program schedules.
The park is bordered by Michigan Avenue to the west, Columbus Drive to the east, Randolph Street to the north, and Monroe Street to the south.
www.millenniumpark.org
6 am to 11 pm
Free admission
8. Cultural Food Walking Tour. Take a walk on the delicious side with a cultural food tasting and walking tour of Chicago. Chicago Food Planet offers Chicago Food Tasting & Cultural Walking Tours through the city's tastiest boroughs. On the Near North Food Tour, you can sample award-winning stuffed pizza, visit an authentic Jewish deli, and more. The Bucktown/Wicker Park Food Tour includes visits to a Chicago hot dog stand and chocolate truffle lounge.
For tour information and reservations, visit www.chicagofoodplanet.com.
$40
9. The Art Institute of Chicago. The Art Institute of Chicago maintains one of the finest art collections in the world. RSNA exhibitors host first-class evening events at the Art Institute, but going during regular hours gives you full access to the collections, including African; American; Ancient; Architecture and Design; Arms, Armor, Medieval, and Renaissance; Asian; Contemporary; European Decorative Arts; European Painting and Sculpture; Indian Art of the Americas; Modern; Photography; Prints and Drawings; Textiles; and Thorne Miniature Rooms. The European painting collection is very popular, since it includes many famous paintings. This might be your only chance to view original, iconic works such as Georges Seurat's A Sunday on La Grande Jatte (1884) or Claude Monet's Water Lily Pond (1900).
111 South Michigan Avenue
Chicago, IL 60603
312-443-3600              
www.artic.edu
Monday through Wednesday 10:30 am to 5 pm; Thursday 10:30 am to 8 pm (free admission 5 pm to 8 pm); Friday 10:30 am to 5 pm; Saturday and Sunday 10 am to 5 pm
Adults: $12; children, students, and seniors aged 65 and older: $7
10. Chicago Jazz. Throughout the last century, Chicago played a central part in the blues and jazz movement. With an influx of young workers from around the world with money to burn, "bright light" districts cropped up in the city, and an immense migration of jazz greats made their way to Chicago to perform in them.
Today, Chicago continues to offer a variety of jazz clubs, concerts, and festivals. One of Chicago's most beloved jazz establishments is historic Andy's Jazz Club & Restaurant (11 East Hubbard Street, 312-642-6805, www.andysjazzclub.com). The Green Mill (4802 North Broadway Avenue, 773-878-5552, www.greenmilljazz.com), a former Al Capone hangout, is another legendary club worth visiting. Check out Chicago Jazz Magazine (www.chicagojazz.com) for information about other jazz venues for a bluesy night you'll long remember.
— SP