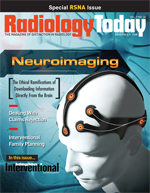 December 1, 2008
Dealing With Rejection
By Lindsey Getz
Radiology Today
Vol. 9 No. 24 P. 24
What happens when payers just say no—on a regular basis? It's a sign that it's time to make changes to your denials management strategy.
Handling denied claims can be an enormous time drain for imaging departments and facilities. But worse yet, denials can result in delayed and sometimes even lost revenue. There are denials that are unavoidable, and it's understandable that mistakes will be made, but the key to better denial management is to prevent as many of them as possible in the first place, says Nina Pascucci, a consultant with Beacon Partners, a healthcare management consulting firm in Boston.

"Spend the extra time making sure you have it right before the claims even go out the door," she says. "Why spend time doing that work over again and resending the claim or putting together an appeal? Make an effort to correct errors right away, and you will ultimately waste less time and money and get reimbursed faster."
"The goal for every claim is to submit it clean the very first time," adds Cheryl Gregg Fahrenholz, RHIA, CCS-P, president of Preferred Healthcare Solutions. "The cost, including time spent to resolve denials and process appeals, can end up being more than the amount of the claim."
It's inevitable that even well-run organizations will deal with denials, and when they do happen, it's crucial that they are handled properly. While it consumes time, making the effort to correct errors and resubmit claims can restore deserved revenue.
First and foremost, when a practice receives a denial, it should not simply be processed as a write-off and set aside without an investigation, says Fahrenholz. "When the practice [or department] receives a denial, make every effort to understand the reason for the denial," she says. "If the claim is denied because the patient was not part of the plan at the time of the service, then further investigation may be required. If it is simply a data entry error of a transposed number on a patient's insurance card, then the staff should not only correct the error but also take the necessary steps to resolve the issue."
That means not only correcting the error on the claim form but also on the original paperwork or file to ensure that any future claims for that patient are not submitted with incorrect information. Handling the situation may mean providing the data entry error directly to the employee for correction, adds Fahrenholz, who also suggests tracking all errors for each employee. "This error information should be utilized during the annual evaluation for the employee," she says. "When the practice trends accuracy rates, it is easy to identify problem employees."
While hospitals have them, Fahrenholz suggests that a radiology group can benefit from hiring a healthcare information management (HIM) professional can help struggling practices better manage their denials. "Not only do HIM professionals have the background for managing health records and information systems, but they also possess the skill set to assist the practice with many other aspects, such as revenue cycle improvement," she explains. "As a result, this coding and financial background offers some key skills for denials management."
Tracking and Trending
A large part of better-managed denials is collecting and recording information. "You have to be very diligent about collecting information," says Taylor Moorehead, a partner at Zotec Partners, which offers medical billing, practice management, and radiology information systems software. "For each claim, you need to know exactly what they want to see. One carrier may have denied your claim because they want to see a prior exam history. You need to track and collect that information. That way, the next time a claim goes out to that particular carrier, it has the necessary data and doesn't get denied."
But some facilities are overwhelmed at the prospect of keeping track of so much information and, as a result, are not handling the data collection process efficiently. "The mindset has to change," says Pascucci. "Practices need to put more emphasis on the investigation process that's involved with denials. If the practice gets a lot of denials, they should start tracking them and figuring out exactly why they are happening so often. If the practice is operating on a manual system, the key is education. Track the denials to figure out why they're happening and then educate the staff so it doesn't happen again. The bottom line is that you can't correct the problems until you figure out what they are, and the only way to really do that is to track data."
Tracking and trending should be completed for all denial codes, adds Fahrenholz. Use a tracking spreadsheet to keep claim denials organized; specific departments can also be monitored. The breakdown can be by facility location, physician, sub-specialty, and specific procedure, among others. "By utilizing data from a denial tracking form, trend patterns can be identified," notes Fahrenholz. "For example, there may be a consistency of denials by one physician. Identifying the denial issues, investigating the potential solution, communicating your findings with the physician, and monitoring the results are all of the necessary steps toward a resolution. Just don't forget to follow up with the good news to the physician and/or practice administration. Prevent future denials by educating on the errors and reporting the positive financial impact to the practice."
Well-kept records can also help practices in situations where claims were not denied but handled incorrectly. "It's important for practices to do variance reporting," says Pascucci. "Staff need to analyze what they were expecting to get back and what they really got back. It could be that the insurance carrier is incorrect, and you can appeal to it and receive the rest of that owed amount. Or it may be that you were incorrect in expecting more than you were owed. But the only way to know is to have good records."
The use of an automated system can help in this regard, continues Pascucci. "A lot of automated systems now allow you to manage your expected amount so that your variances shouldn't be far off at all," she says. "Otherwise, it's difficult to keep track of what benefits are covered and what ones aren't for every single payer."
"Practices that have managed care modules implemented in their practice management or billing systems have a great advantage over practices that do not have an electronic mechanism to monitor underpayments or downcoding," agrees Fahrenholz. "It is the responsibility of the practice to know when they are paid the correctly negotiated and contracted rate for the services they provide. This can be extremely difficult to monitor manually, especially if the practice is contracted with numerous payers. Some are simply happy to receive any amount and may not pay attention to the specific dollar amount reimbursed, but that's lost revenue to the [organization]."
If the incorrect payment is actually an overpayment, the practice is still responsible for recognizing that an error was made. "When a practice receives an overpayment, then the funds need to be returned to the payer," says Fahrenholz. "For example, if a claim is submitted with the modifier '-52' [reduced service], and the payer reimburses the full dollar amount, even though the payer is at fault, the practice is responsible for identifying the error and obligated to refund the excess money. Receiving the erroneous payment and cashing the check may increase the practice's liability for a false claim."
Complex Denials
Denial issues are not always cut-and-dried. Medical necessity denials, for instance, can drastically vary from payer to payer and can make preventing and fixing errors more complicated. "There is no universal set of rules," says Moorehead. "And the fact that all carriers have their own internal rules makes it more difficult. The key is that you need to stay on top of things. In some ways, it's a game. Insurance companies are always looking for reasons why they don't have to pay a claim, so your goal is to stay ahead of that game and know exactly what they say they need in order to accept your claim."
For practices to keep up with that game, they must not only maintain good records but also stay on top of changing information to ensure that claims are handled correctly and paid on time. "For starters, know the coverage guidelines for each payer," says Fahrenholz. "To tackle this issue from the beginning, identify the top 10 payers by running a payer mix report from the practice management or billing system. Next, identify the top procedure codes that are denied. Then, comparing these lists, review the payer Web sites or administrative manuals for coverage guidelines. Some of these guidelines will list acceptable frequencies of service along with a listing of diagnosis codes that support the medical necessity."
When medical necessity denials occur, an appeal often requires input from the provider. "Every payer publishes the proper appeal process, and this process must be followed exactly," stresses Fahrenholz. "The practice will only have one opportunity for the appeal, and it must justify the rationale for the service. The appeal may include, but not be limited to, clinical documentation of the service performed, the physician's clinical necessity for providing the service, and additional supporting documentation such as Medicare coverage guidelines, CPT coding book references, specialty medical society published research, and more."
Turning to Technology
While the organization's size may affect how many claims are put through, it isn't necessarily related to how many denials are returned. "I don't think it's an issue of what size the practice is," says Pascucci. "It's an issue of how technology based they are. You may have a small practice with very few staff handling claims, but they have a great automated system. Or maybe you have a huge practice with plenty of staff, but they are still on a paper-based system. They may have many more denials simply because of more human error."
The use of technology such as medical billing software can aid the denials management process by preventing errors in the first place, as well as easing the burden of processing denials that do still occur. "When you have a paper system, the process of denials can be a real burden," says Pascucci. "And from what I've seen, the paper trail is moving out the door. Turning over to an automated revenue cycle can make a significant difference. Whether it means the practice is using electronic medical records or they just use electronic billing, having either one would help decrease the number of denials they get. That saves the practice a lot of time and money because staff doesn't have to spend hours understanding why denials are occurring and correcting them, especially if they aren't happening in the first place."
Vanessa Love, an accounts receivable specialist with TLC Pediatrics in Texas, says that using card scanning technology from Innovative Card Scanning has significantly decreased TLC's number of denials, most of which were related to human error. "Our problems were things like forgetting to photocopy an insurance card, filing an unreadable copy, or transcribing the numbers wrong," says Love. "We had between 10 and 20 denials per week. Since implementing a card scanning system at the check-in desk, we have only a few denials per week."
In addition to eliminating human error in the data entry process, Love adds that utilizing card scanning technology has also cut down on wasted time. "Time is money," she says. "You don't have to employ someone to do all that data entry, or their time can be spent better doing something else. It's easy—just like swiping a credit card through the machine at the checkout—and it scans both sides at the same time. It shows patients that you're a business and one that's technologically savvy, too. You're serious about how you run your practice, and you're serious about ensuring the practice gets paid for its services as well."
Using software to handle claims and denials can also provide electronic tracking and automate several processes. "One example that happens often is that a particular insurance company may not deny the claim but 'pend' it for further information," says Moorehead. "Say they want a copy of the dictated report for a particular procedure, along with the claim. You then have to go in and effect that change, print out a copy of the physician report, and resend it, hoping they will finally process the claim. It takes a lot of time. But technology has allowed us to create some automation around that series of events so that for certain denials, the system will automatically print a copy of that report and then automatically log those actions."
However, Pascucci points out that no matter how great the technology, the number one issue is that staff need to be properly trained on any new equipment and systems. "If you have someone doing coding and authorizations of procedures and they weren't trained well, no matter what the technology is that's being used, if it's not being used properly, the errors will still happen," she says. "No matter how you're operating—manually or electronically—the absolute key to denials management is education at all points of the process."
— Lindsey Getz is a freelance writer based in Royersford, Pa.