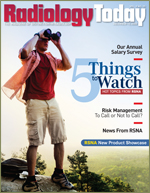 December 15, 2008
RSNA Products and Services Showcase
Radiology Today
Vol. 9 No. 25 P. 19
Visage Imaging to Showcase Advances in Thin-Client Technology
Visage Imaging, Inc introduced new clinical applications and advanced tools for 2D, 3D, and 4D visualization and postprocessing at RSNA 2008. The new applications and tools are fully integrated with the Visage CS Thin Client/Server platform, which satisfies diagnostic imaging needs in a healthcare environment by offering anytime, anywhere access to images from multiple modalities to virtually any number of concurrent users. Visage Imaging will showcase advances in thin-client technology with demonstrations of its latest software release that targets new clinical applications such as CT and MR angiography, cardiac analysis, perfusion analysis, and oncology.
With the Visage Imaging solution, imaging centers can purchase and maintain one server-based system without worrying about the cost and upkeep of multiple workstations. The server system also can be scaled to grow as imaging demands increase. The solution can process and view large volumes of imaging information and manage thin-slice data. While the Visage CS solution focuses on radiology, it also provides surgeons, neurologists, and other referring physicians access to original 3D data, enabling them to perform their own reformations and postprocessing.
For more information, visit www.visageimaging.com.
Resonance Technology Upgrades Headset, Automated fMRI Processing
At RSNA 2008, Resonance Technology showcased a range of enhancements to its CinemaVision patient comfort audio-video systems and FuncLAB automated functional MRI (fMRI) image data processing technology. CinemaVision's new audio phone is integrated into the device's audio-video headset designed, and the unit also has enhanced noise cancellation technology to enable a technologist to hear the patient distinctly, even during scans.
The CinemaVision headset delivers a resolution of 240,000 pixels for each of the two displays. It provides digital stereo sound with passive noise-attenuation technology and an intercom for ongoing communication between the patient and technologist. The entire headset fits within the MRI coil, making setup fast and simple. Patients are able to see the technologists' faces and communicate with them during the scanning process. Stereo sound levels may be adjusted by patients directly from within the magnet. Additionally, technologists can select their own virtual entertainment during the scanning process, independent of a patient's choice.
As part of its fMRI technology, Resonance Technology debuts the first ever 1,000 Hertz MRI eye tracker camera with proprietary data analysis software. Used with Resonance Technology's VisuaStim audio-visual stimulation module, it provides a complete fMRI presentation and patient response system for research and clinical applications.
Resonance Technology also will announce its next generation of funcLAB turnkey fMRI solution, which integrates the Quad-Core processor technique in its line of hardware and software products. Quad-Core technology uses four combined CPUs in a small-footprint system to analyze complex fMRI data. The 19-inch, rack-mounted server solution delivers enough data-intensive image analysis power for higher resolution 3T MRI. The server line of products provides up to 16 terabytes of RAID-10, fault-tolerant DICOM data storage for multimodality and multiuser operation fully integrated into clinical workflow and PACS archiving.
funcLAB is suitable for clinical practices and academic applications. It combines a complete functional imaging task presentation featuring 3D graphics and sound capabilities with fully automated data processing, eliminating complex, time-intensive manual data analysis. The fMRI data processor server attaches to the department network. Functional and anatomical images are automatically sent in DICOM format from the MRI device to the processor. No manual intervention is needed. After identifying and associating the data to a specific study and sensory task, the system processes the information. The resulting brain maps of anatomy fused with functional results are available on site and over the Web through a browser-based interface.
For more information, visit www.mrivideo.com.
iCRco Introduces 52-Inch DR
iCRco, Inc debuted "the only 52-inch DR in the world," says Stephen Neushul, president and CEO of iCRco. "This machine has Scan Head technology that provides one continuous image and eliminates stitching. Its ultrahigh resolution, full-body scanning is capable of scanning a complete spine." Other features found on the new Longbone DR machine are a solid state, sealed sensor and the fastest available speed for anything that long.
For more information, visit icrcompany.com.
Swissray Unveils DRive Kit for Conventional to Digital Conversion
Swissray offered its latest innovation, a flat-panel detector combined with its DR software, SwissVision, as a kit called Swissray DRive. The new Swissray flat panel detector delivers improved image quality and comes with a 17-inch square format. SwissVision software is user friendly and allows synchronous workflow with fast patient throughput.
For more information, visit www.swissray.com.
Viztek Introduces Portable DR Detector
Viztek introduced a portable DR detector that enhances workflow and supports flexible positioning for a full range of exams. The 14- X 17-inch unit integrates easily with most existing wall stands and table buckys without modification, and it delivers images in as few as five seconds.
The Viztek DR panel is enclosed in a durable, lightweight shock- and water-resistant casing that weighs 8.6 pounds. It has the highest line pairs per millimeter at 3.6 with a 100% fill factor, supporting efficient collection of light and imaging from multiple exams. Additionally, the DR features a 14-bit a/d conversion.
Working with standard grids, the portable Viztek DR detector offers flexible positioning and is capable of upright, tabletop, and numerous special views. The detector, paired with Viztek's enterprise-level Opal PACS, is a solution for a full range of practices and medical specialties, including general imaging practices, imaging centers, and orthopedic specialties.
For more information, visit www.viztek.net.
Kubtec Supports the Fight Against Breast Cancer
To inaugurate its newest tool for the biopsy suite, the XPERT 20, and to lend its support in the ongoing fight against breast cancer, KUBTEC pledged to donate $2 for every badge that was swiped at its booth during RSNA 2008. The money will be donated to Passionately Pink for the Cure, a program of Susan G. Komen for the Cure.
"This year, we wanted to do something to honor the people we do this for; the patients, the newly diagnosed, and those who have been cured—not to mention the staff, the doctors and surgeons, the researchers, educators, families, friends, and all the other people that participate in the struggle against breast cancer," says Susanne Dresser of KUBTEC.
Along with the XPERT 20 for the biopsy suite, KUBTEC displayed the XPERT 40, the only system with a 20- X 20-centimeter detector for imaging surgical breast specimens, and the XPERT 80-L for research applications.
For more information, visit www.kubtec.com.
Canvys Introduces Image Systems Professional Series Grayscale Displays
Canvys, a division of Richardson Electronics, introduced the new Image Systems Professional Series Diagnostic and Clinical Review LCD displays at RSNA 2008.
With its proprietary calibration feedback system software, Image Systems' branded displays offer users reliability and accurate, DICOM-compliant images. The Image Systems FPP19FXP (2 megapixel [MP]), FPP20HXP (3 MP), and FPP21CXP (5 MP) grayscale displays feature one-touch, illuminated on-screen display controls, a digital ambient light sensor to constantly monitor light conditions in the reading room, and a new luminance uniformity control function to provide 90% brightness uniformity across the screen.
For more information, visit www.canvys.com.
Compressus' MEDxConnect Features Interoperability With Centricity and iSite
Compressus Inc introduced the next generation of its interoperability and connectivity solutions with the release of the MEDxConnect System version 2.5. The new release features a full integration with GE Centricity PACS and enhancements to the company's interoperability solutions package that increase efficiency and automation. The software solution indexes, integrates, and routes all relevant patient medical information in real time, as MEDxConnect enables organizations with disparate multivendor systems to function as one virtual enterprise.
Supporting a thin-client environment, MEDxConnect version 2.5 is fully interoperable with GE Centricity PACS and Centricity IW. Compressus also recently completed new integrations with Philips iSite, Hologic SecurView, Visage Imaging, and PowerScribe speech recognition software, expanding its portfolio of workstation, voice recognition, RIS, and PACS integrations. The ability to address all PACS viewing environments allows ease of use while helping to maintain and leverage previous IT and infrastructure investments.
In addition, the addendum enhancement feature builds on MEDxConnect's single Virtual Worklist solution, which enable users to automatically prefetch all types of patient information, including historical and demographic data, prior reports and images, and physicians' notes from disparate information and imaging systems, irrespective of vendor, and distribute it to the appropriate physicians in real time. In addition to prefetching the user-configured number and type of studies and patient information, the system also provides a list of other data that are available. Users now have the option to permanently attach this new data to the original study packet, ensuring availability for referring physicians or future reads.
Other new features include the order management module OM2, which automatically creates an electronic order in cases where there is no RIS. The OM2 now creates the order in Health Level Seven. The study forward feature enables users to pass studies to specialists or colleagues for consultations. Version 2.5 also expands the ability for groups to customize routing and worklist rules through general, modality, and subspecialty worklists.
For more information, visit www.compressus.com.
GE Showcases Latest Ultrasound Technology
GE Healthcare showcased several of its new ultrasound systems at RSNA 2008. The LOGIQ E9 is an ultrasound system for radiology and vascular applications that fuses ultrasound images with those from other imaging modalities such as CT and MR. The new LOGIQ E9 includes Volume Navigation, a tool that incorporates two key components to maximize the system's new ultrasound architecture, Fusion, to combine real-time ultrasound imaging with the high spatial and contrast resolution of CT, MR, or PET and a GPS-like technology to track and mark a patient's anatomy during the ultrasound exam.
GE also introduced the LOGIQ e Breakthrough 2009, the first ultrasound system to combine real-time clinical images and control capabilities on the same touchscreen user interface.
In addition, GE featured the LOGIQ P6, which enables clinicians to meet the needs of patients across multiple clinical settings. The system combines premium capabilities in a small footprint, is easy to move, and can fit in the smallest exam spaces.
Finally, the Voluson E8 was featured with its improved probe imaging capabilities, which enable clinicians to see more anatomical detail. New automation software has been migrated across the women's healthcare ultrasound systems, including SonoVCADheart, GE's proprietary technology that streamlines the acquisition of volumetric images of the fetal heart, and SonoAVCfollicle, which delivers an efficient method of calculating the number and volume of ovarian follicles.
For more information, visit www.gehealthcare.com.
RST Debuts Radiation-Blocking Garments
Radiation Shield Technologies (RST) introduced the new Demron-M radiation-blocking garments at RSNA 2008. Demron-M, as well as the entire Demron product line, is a radiopaque, nanopolymeric compound fused between layers of fabric and manufactured into medical garments that provide total radiation protection.
Made of liquid metal, Demron is cool, lightweight, flexible, and environmentally friendly. It can also be washed, discarded, and recycled.
Demron-M products introduced at RSNA include the following:
• Demron-M Disposable Mask: A nonwoven, disposable x-ray mask that provides total radiation protection.
• Demron-M Bra: A bra designed to reduce the transmission of radiation in patients undergoing brachytherapy for treatment of breast cancer. By wearing the bras, patients may be discharged home without the risk of exposing family members and others to radiation. The bra also may be used to reduce radiation exposure for women in high-risk environments.
• Demron-M Forearm Shield: A lightweight x-ray shield designed to protect clinicians' forearms while they work with x-ray beams. The forearm protectors provide much-needed attenuation from radiation without reducing clinicians' mobility.
• Demron-M Drop-Off Flex Apron and Two-Piece Vest and Skirt: One- and two-piece garments that provide total radiation protection and enable clinicians to work comfortably for long periods. The aprons have a drop-off feature that makes them easy to slip on or remove when working in sterile environments.
For more information, visit www.radshield.com.
Bracco Imaging Showcases Expanded Portfolio
Bracco Imaging S.p.A. and its U.S.-based subsidiary Bracco Diagnostics Inc unveiled its expanded product portfolio at RSNA 2008, including contrast media and delivery systems for CT/cardiology, MRI, nuclear medicine, and virtual colonoscopy.
With the recent acquisition of E-Z-EM, Bracco Group's affiliate ACIST Medical Systems, Inc obtained E-Z-EM's contrast delivery, contrast data management, and point-of-care testing business, including the Empower line of contrast injector delivery systems.
Other RSNA highlights include the following:
• EmpowerMR: The next-generation power injector for MR, EmpowerMR utilizes a hydraulic system that allows for virtually no injector radiofrequency in the scanner room, consistent flow rate delivery, pressure performance on demand, and compatibility up to 7T environments.
• EmpowerCTA: Based on the EmpowerCT design and technology, EmpowerCTA offers all the same features, including patented extravasation detection, tilt sensor/lockout, arming at the injector, ease of use, flexibility, and expandability.
• IRiSCT: Linking all Empower injectors in a department across a hospital's existing network, including those in remote locations, IRiSCT creates an integrated data management system.
• StatSensor: This point-of-care, handheld device analyzes a finger prick sample of blood for creatinine levels.
• ACIST CVi System: This system has a short learning curve. Preset guidelines for both cardiac and peripheral procedures simplify set up.
In addition, a recently introduced education initiative that Bracco offers radiologists, nephrologists, and radiologic technologists is a new MRI portal, EnhancedCME.com. Focused on MRI, this portal offers a library of medical education programs by key opinion leaders and experts in MRI to assist in the understanding of the latest information available to healthcare professionals. Bracco recently expanded its course listings by offering new and enhanced programs and initiatives highlighted on EnhancedCME.com, including additional content and videotaped programs offering CE/CME programs for a number of MRI topics.
For more information, visit www.bracco.com.
ZONARE Introduces Advancements for z.one Ultrasound Platform
ZONARE Medical Systems, Inc showcased at RSNA 2008 new software advancements for its proprietary ZONE Sonography technology coupled with new transducer technology to address the growing population of difficult-to-image patients. ZONARE also showcased high-resolution imaging capabilities and software advancements, including a high-resolution, high-frequency transducer, elastography applications, and 3D imaging capabilities.
The difficult-to-image patient population makes up a large percentage of those examined with ultrasound and includes people who are overweight, elderly, muscular, or who have a thick body wall. ZONARE's new software for ZONE Sonography technology, when combined with the company's new C4-1 transducer, allows more accessible imaging of technically difficult patients with advanced image clarity. The C4-1 is a small-footprint, curved-array transducer. It offers improved access and imaging performance, resulting in improved penetration with sensitive Doppler imaging.
ZONARE also showed its new L14-5w high-resolution, high-frequency transducer, which offers broad bandwidth for improved imaging of small parts, breasts, and superficial anatomy. Its wide field of view has an aperture of 55 millimeters, offering virtual apex capability, and it has 10 frequencies, including three fundamental, one tissue harmonic, two compound imaging, and two each for color Doppler and PW Doppler modes.
In addition, the z.one ultrasound system features new elastography applications that enable qualitative visual assessment of the mechanical stiffness properties of tissue. The high-resolution elastography images are generated and visualized using a variety of gray scale and colorized maps and the L10-5 and L14-5w transducers are supported.
The 3D ultrasound imaging capabilities are available for the z.one ultra system with primary applications for obstetrical imaging during the second and third trimester. The new C8-33D curved linear transducer offers mechanical sweep array, 3D fetal surface rendering, 3D multiplanar rendering, and additional diagnostic tools. The new 3D imaging capabilities are also available for general abdominal ultrasound imaging. ZONARE's 3D ultrasound imaging expands the clinical utility of the z.one ultra system and may reduce exam time, enabling physicians to spend additional time on patient care.
For more information, visit www.zonare.com.