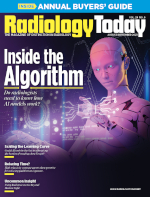 Relaxing Time?
By Keith Loria
Radiology Today
Vol. 24 No. 6 P. 22
High relaxivity MRI contrast agents show promise for reducing patients' gadolinium exposure.
Relaxivity is a measure of sensitivity used for MRI contrast agents. High relaxivity agents can provide equivalent image contrast via a lower dose, compared with lower relaxivity agents, but it is just one factor that can contribute to improved image quality.
Lawrence Tanenbaum, MD, vice president, chief technology officer, and director of advanced imaging at Radnet Inc, explains contrast agents make abnormal tissues light up, but there is variability in how bright that light may be, based on the lesions and the contrast agent used.
"That can make the difference on whether we can see something or not see it," he says. "The effectiveness of the contrast agent can be measured in very precise ways."
On MR images, relaxivity is the measure used to look at the effectiveness of a contrast agent. If it's high, the enhancement is improved, and abnormalities are more conspicuous. Ahmed Abdelal, North American head of medical and regulatory affairs for Guerbet, says high relaxivity contrast agents can allow for lower doses while delivering high image quality. However, "There are a number of factors that influence relaxivity, such as structure, hydration number, and molecular weight," he says.
Guerbet and Bracco Diagnostics have partnered on a high relaxivity macrocyclic contrast, gadopiclenol—called Elucirem and Vueway, respectively—which was approved by the FDA in September 2022.
"Gadopiclenol combines two things that everyone's wanted but has not yet been present in the same agent, which is truly high relaxtivity, the ability to be very potent in providing an extra signal, and at the same time, being macrocyclic in terms of keeping the gadolinium atom within the molecule and not letting it escape," says Steven Sireci, MD, executive director of medical services for Bracco Diagnostics. Previously, there were some agents that had "high-ish" relaxtivity, but they were not macrocyclic.
"This agent is approved at half the gadolinium dose of other approved macrocyclics with similar indications in the United States." Sireci says. Gadopiclenol is designed with two water molecule exchange sites, which doubles the relaxivity, allowing the use of half the gadolinium dose, compared with conventional gadolinium-based contrast agents (GBCAs).
Increasing the relaxivity can allow the use of GBCAs at lower doses. A lower dose can reduce the lifetime quantity of gadolinium injected into patients and potentially lower the environmental footprint over time with reduced anthropogenic gadolinium.
Signal Boost
Bayer Pharmaceuticals was the first company to get an MR agent to market in 1988 and now has a high relaxivity macrocyclic agent in the works. In June, the company initiated a phase III clinical development program called QUANTI to evaluate the safety and efficacy of the new agent, gadoquatrane.
Gene van den Ende, head of Americas medical affairs radiology at Bayer Pharmaceuticals, says high relaxivity MRI agents work by shortening the T1 and T2 signals, offering a more intense signal.
"If you're looking at things like the concentration of the product, the cardiovascular outputs of the patient, what imaging region they are looking at, and how fast they inject, all of these things can also impact," she says. "One of the main influences on signal enhancement and signal intensity is the relaxivity of the product." When considering higher relaxivity products, some may provide an increased signal intensity, while others may reduce the gadolinium within the product.
Ruud Zwerink, general manager of AI at Philips, says one of the advantages of high relaxivity contrast agents is an increased contrast between lesions and normal tissue. Lesions absorb more contrast and show a higher signal, whereas contrast does not stay in the normal tissue because it is washed out through vasculature.
"Sometimes lesions are difficult to detect due to other hyperintense structures such as fat, but when lesions take up contrast, they light up (eg, tumors)," he says.
High relaxivity agents also supply information about vascular physiology and lesion characteristics based on how contrast flows into the structures; they can offer structural information, such as the shape of a lesion; and they offer functional information, such as how quickly vessels fill up. Still, at the FDA-approved dose for various agents, there is no approved efficacy benefit to using the highest relaxivity contrast agents, says Mark Hibberd, CMO of GE HealthCare's pharmaceutical diagnostics segment.
GE HealthCare is working on a first-of-its-kind manganese-based macrocyclic MRI contrast agent. Typically, MRI agents are gadolinium based, but manganese is a trace element naturally occurring in and efficiently eliminated from the body.
"Where gadolinium retention may be a perceived concern, our nongadolinium manganese-based MRI agent, which is in early clinical development, could provide an alternative," Hibberd says. "We recently announced the launch of Pixxoscan (gadobutrol) in Europe. Pixxoscan adds to our MRI contrast media portfolio, which includes macrocyclic Clariscan (gadoteric acid), as well as Rapiscan (regadenoson), used in stress cardiac MR to aid diagnosis of coronary artery disease and offering an alternative for patients who cannot exercise."
A Long Road
As with most pharma, high relaxivity agents are strictly regulated, and it's a long pathway to getting a product to market.
"It's fairly challenging for most research and development pharmaceutical companies to get these out there," van den Ende says. "It could be 15 years to get it from identification to market."
Hibberd explains there are numerous stages and challenges in bringing contrast agents to market, including research and clinical development, regulatory approval, manufacturing, supply chain, and support delivery.
When developing new contrast agents, Abdelal says the key is to first identify unmet medical needs of the community. "Like with any pharmaceutical product, developing a new drug requires extensive research and development followed by clinical development to ensure the safety and efficacy of a drug," he says. "It can take several years before a product can come to market. In addition to drug discovery and timeline, cost is another challenge when developing a new drug."
From the MR perspective, these agents need to be safe, provide high contrast (high relaxivity), require as little as possible, and be as affordable as possible, Zwerink says.
Thinking Clinically
Each GBCA is approved with specific indications for use. For example, gadopiclenol injection is indicated in adult and pediatric patients aged 2 years and older for use with MRI to detect and visualize lesions with abnormal vascularity in the central nervous system (brain, spine, and associated tissues), and the body (head and neck, thorax, abdomen, pelvis, and musculoskeletal system).
Sireci says the first customers of gadopiclenol are trying it out on a variety of images, to determine which ones would benefit the most from the lower dose. "Depending on the interests and the patient populations of the various practices, they can use it for whatever they want," he says. "It's early days, just a few months on the market, but so far, the early adaptors are giving them a good run."
Currently, there are limited examples of high relaxivity agents being used clinically, as these agents are very new. The only approved agent, Hibberd says, is administered at one-half the molar dose of previous agents, allowing less gadolinium to be injected into the body.
Given the relatively short time they have been authorized, there is limited evidence of the success of high relaxivity agents beyond data from clinical development programs.
"The safety profile of these high relaxivity agents has not been established in large populations at this time," Hibberd says.
Tanenbaum says a minor drawback of high relaxivity agents is that they can interfere with the bright effects, but that happens rarely.
The main drawbacks, Zwerink says, are the safety concern for patients, citing possible allergies, challenges for patients with impaired renal function, and accumulation of contrast in the body.
Van den Ende says there are always challenges with introducing new agents, including issues with patient reactions, although allergies are extremely rare. "We have safety in about 80,000 patients in our clinical studies, just looking at the product, and it's all about benefit/risk," she says. "We know that in patients with severe renal disease, we need to be cautious about choosing contrast agents."
There are also cost concerns for hospitals, as well as workflow complications for technologists and longer exam times. Abdelal says all GBCAs carry risks and come with a black box warning. "It is always important for each patient to discuss with their health care providers the benefit vs risks, when undergoing an MRI exam with a GBCA," he says.
Looking Ahead
The global use of MRI contrast agents is expanding. Research into nongadolinium alternatives to find the next generation of contrast agents is as well, to meet future and currently unmet needs.
"Other research is looking at artificial intelligence-based software to help with increasing the sensitivity of contrast agents at lower doses for different indications," Hibberd says.
MRI contrast agents are indispensable, and it's one of the most interesting spaces in health care today. "With innovation and commitment to the community, MRI contrast agents will continue to evolve to allow improvement in visualization and diagnosis, in addition to new MRI techniques and integration of AI," Abdelal says.
AI is being used in many ways, and people are naturally going to see whether they can build AI algorithms that reduce the need for contrast in totality or reduce contrast dose.
"I think there will be developments in AI and also continued research and development in nongadolinium contrast agents," van den Ende says. "Some of these we are looking into now, but it will take time, research, and development to make sure they are safe and effective for patients."
— Keith Loria is a freelance writer based in Oakton, Virginia. He is a frequent contributor to Radiology Today.