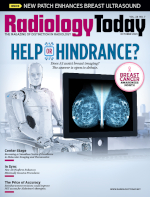 In Sync
By Rebecca Montz, EdD, MBA, CNMT, PET, RT(N)(CT), NMTCB RS
Radiology Today
Vol. 24 No. 7 P. 18
A new augmented reality platform enhances minimally invasive procedures.
Imagine a world where clinicians perform minimally invasive procedures using augmented reality (AR) to obtain live imaging combined with 3D X-ray vision. As of July 2023, this has become reality, thanks to MediView's XR90 platform that uses live ultrasound imaging overlaid on a 3D visualization of patient-specific anatomy. MediView, an Ohio-based medical technology company, has combined AR, telecollaboration, and evidence-based insights with the intent of improving medical imaging, clinical efficiencies, patient outcomes, and access to high-quality medical services. MediView partners with GE Healthcare and Microsoft to deliver technologies such as the XR90 platform, with the goal of enhancing procedural guidance, navigation, and telecollaboration.
The XR90 system recently received 510(k) clearance from the FDA. This is the first 510(k) clearance for an AR device utilizing live medical imaging combined with 3D X-ray visualization for health care. Mina Fahim, president and CEO of MediView, says XR90 data insights and visualization will provide clinicians with an intuitive way to see their patients' anatomy, informing clinical decision making while performing minimally invasive procedures.
The platform is a visualization and navigation system for minimally invasive ultrasound and CT-guided needle-based procedures for soft tissue and bone. It creates a cross-sectional virtual model of the patient's anatomy based on their CT imaging and combines the images with live ultrasound to help physicians perform minimally invasive procedures, such as biopsies and tumor ablations, says Bradley Pua, MD, a vascular and interventional radiologist at Weill Cornell Medicine in New York. The device utilizes AR to precisely overlay detailed and colorized 3D CT images of a patient's internal anatomy, including organs, bones, and vasculature, with real-time tracked ultrasound and instrumentation. The result is a view of the patient's internal anatomy under their skin with full depth and detail.
The XR90's AR capabilities include a holographic light ray that tracks surgical instruments to the images, CT-based 3D holographic anatomy display, and live ultrasound that is displayed anatomically into the patient. Once the hologram is registered to the patient, with the assistance of an electromagnetic field, all instruments, trajectories, and movements are then tracked. While the procedure is being performed, the clinician has the ability to use fused datasets to perform the intervention in an easier manner, says Charles Martin, MD, a vascular and interventional radiologist at Cleveland Clinic. The 3D vision and precise tracking capabilities increase visibility and accuracy for minimally invasive procedures. 
Clinical Insights
Although the platform is not yet in clinics, the FDA clearance opens the possibilities to establish the utility of AR for improving procedural workflows, enhancing patient outcomes, and potentially expanding clinicians' abilities in minimally invasive image-guided procedures, says Robert Short, MD, PhD, a vascular interventional radiologist at Dayton VA Medical Center and an associate professor of surgery at Wright State University in Ohio.
Pua says the XR90 allows for visualization of targets that may not be readily seen on ultrasound alone and allows clinicians to quickly toggle on and off for various anatomic parts (skin, bone, vascular structures, etc), potentially facilitating safer and more accurate lesion targeting. He adds that the technology is portable and can be used in various settings, from procedure suites and operating rooms to inpatient bedside procedures and office-based procedures. Gaurav Gadodia, MD, a vascular and interventional radiologist for VIR Chicago, says previous research has shown that clinicians' comfort, accuracy, and confidence have improved, along with providing safer and faster care utilizing less radiation. Martin agrees that clinicians are always looking for ways to perform more efficient, safer procedures with improved outcomes— especially in challenging cases.
The platform can help streamline workflow. For example, when clinicians redirect their attention to flat panel monitors positioned away from patients and procedural sites, it disrupts their ergonomics and hand-eye coordination. The evolution of minimally invasive surgery and procedures has, unfortunately, resulted in clinicians looking at screens during laparoscopic, robotic, or endoscopic surgeries. It also affects radiologists during fluoroscopic, sonographic, CT, or MRI-guided procedures, Pua says.
AR-based technologies allow clinicians to refocus their attention directly on the patient without compromising the imaging information they have at their disposal, Pua says. The platform also delivers visual information and reference material to clinicians for analysis of procedural options during preoperative planning.
"I have found that it is an incredibly useful system to better understand anatomy and eases the complexity of the procedures in which we deployed the technology," Martin says.
Seeing Potential
The technology is useful for targeting structures that are seen well on contrast-enhanced cross-sectional imaging, such as CT or MRI, but not seen well on ultrasound. The ability to superimpose both images and register them on a patient can make diagnostic procedures, such as biopsies, or therapeutic procedures, such as ablations, more accurate, Pua says.
"It would not be hard to imagine a future in which this technology would have evolved to a point to obviate many CT-guided procedures, perhaps reducing radiation exposure to patient and operators," he adds.
Short says the greatest potential for immediate application and exploration is in interventional oncology. Interventional radiologists are experts in using imaging to target tumors for biopsy or thermal ablation. They are used to place needles or therapy probes into tumors using X-ray, ultrasound, or CT with 2D images projected on a screen. Short says 3D spatial reckoning is mainly done mentally. It is typically a combination of studying a patient's prior scans and a deep understanding of radiographic anatomy. The goal is to be on target and minimize collateral damage.
"By being able to have a heads-up real-time display of the target, as well as a precise depiction of sensitive structures, there is the potential to be more precise, faster, and more complex," Short says.
Martin agrees that there are potential benefits of using AR for procedural planning and guidance, from improved focus and anatomic understanding to facilitating greater clinician confidence, accuracy, and speed. Due to the nature of percutaneous procedures, benefits of AR include decreased needle manipulations, less indwelling needle time, and better ablation coverage, he adds.
Addressing Challenges
It will take time for people to trust XR90's capabilities, but Gadodia is confident that it will assist in training clinicians and increasing their confidence levels. The platform has the potential to increase real-time global collaboration between clinicians with shared visualization, communication, and the ability to provide guidance during procedures for collaborative patient care. It also has the potential to support understaffed facilities and rural communities.
The heads-up display can be advantageous, particularly with projection of AR 3D images of relevant anatomy. However, a heads-up display is a wearable device that needs to be comfortable, not interfere with sterile technique, and, most importantly, add value rather than being tech for tech's sake, Short says. He adds that having worked with the system, he found it to be surprisingly comfortable.
Pua says another advantage of the platform is that it allows clinicians to harness the strengths of various radiologic modalities and merge them into one. He believes that although this technology is still in its infancy, it shows great promise.
There are still some challenges to using this technology, however, such as the need to iterate on its ability to coregister moving anatomy. Another challenge, Pua says, is that current iterations of the headsets often have a medium-term battery life of about five to six hours, which may be acceptable for many procedures but may not be adequate for longer operations. Additionally, many systems are still bulky and can become uncomfortable or cause dizziness after extended use.
"While these are current challenges, as with many challenges in technology, only time remains an obstacle to overcoming them," Pua says.
Fahim says the XR90 platform is a new technology that has never been seen or used before in health care, and it will take time for it to become accepted and reach facilities across the world. "Bringing technology to the bedside all over the world presents lots of opportunities to introduce a new era in medical imaging by combining technological devices that students, clinicians, and patients may all benefit from, but this is just the beginning," he says.
Growing Platform
The future of platforms such as XR90 will not only aid in targeting but could potentially allow clinicians to make smaller and more accurate incisions, treat diseases such as cancer more completely, and allow providers to communicate while performing an operation or procedure, Pua says.
Short says the ability of physicians to collaborate in real-time with the headsets has significant implications for training young doctors or remotely supporting cases taking place elsewhere. He adds, "I am particularly excited about the prospects for our veterans and within the Veterans Health Administration system, as this is a tool to expand access to care to sites where expert support can enable others to offer minimally invasive therapies."
Gadodia believes the XR90 platform will enhance care in rural communities and equip facilities with the best capabilities to care for patients.
Education is another area that has the potential to be enhanced by AR platforms. Pua says the education system continues to evolve from an apprenticeship model to a more didactic model, and leveraging tools such as XR90 may help close the gap between novice and experienced providers.
Short is optimistic about XR90's ability to help move the needle toward minimally invasive nonsurgical therapies. "I think it will inspire confidence in physicians and patients alike that therapies such as image-guided ablation are safe and highly effective," he says.
Martin says that assessing the XR90 in an early-stage environment allowed him the opportunity to experience firsthand the improved visualization of anatomy and ergonomics. "AR is here to stay, and I can't wait to see where it takes us next," he says.
— Rebecca Montz, EdD, MBA, CNMT, PET, RT(N)(CT), NMTCB RS, has worked at the Mayo Clinic Jacksonville and University of Texas MD Anderson Cancer Center in Houston as a nuclear medicine and PET technologist.